PUMPKIN SPICE FOR BABIES & KIDS ARE HERE!
As parents we want to share everything that we enjoy with our kids. Whether it is our favorite movie or meal we can't wait to introduce our children to that particular item. As we are now approaching the fall months we are seeing everything pumpkin! From lattes to beer to cookies to scented candles; pumpkin is taking over the world once again. Some love seeing the return of this seasonal tradition. Others, not so much.People on social media love to show where they stand on the whole pumpkin situation. You can now tell in an instant if someone loves that big ol' orange squash or if they loathe the fact that we are getting besieged by everything pumpkin.For those who love all things pumpkin and have a newborn, I have good news. At Life of Dad made a bunch of items for your baby that are either infused with pumpkin or scented with it. Well, not really. We just had some fun with Photoshop to celebrate this tradition. Maybe companies will see the need to produce these items for those families who love anything touched by pumpkins!
Diaper Care:
We have two items in this category. One is the disposable diaper bags and the other is scented wipes. We all hate the smell of a stinky diaper, but with the pumpkin scented wipes and diaper bags the stench of that dirty diaper is gone. Now we get to inhale the autumnal scent of pumpkin as we clean our baby's hiney.
Hair Care
Nothing is more relaxing to a baby then a warm bath. Now bath time just went from good to great. Just think how much your baby will enjoy the smell of pumpkin all around them as you shampoo their hair with the Life of Dad Pumpkin Scented 2 in 1 shampoo and conditioner.
Food
Babies love their bottle. With the Life of Dad Pumpkin Spice Formula you and your child can both enjoy a pumpkin flavored drink. You will be sipping a Pumpkin Spiced Latte while your child is chugging the oh-so tasty pumpkin formula. It is a win-win.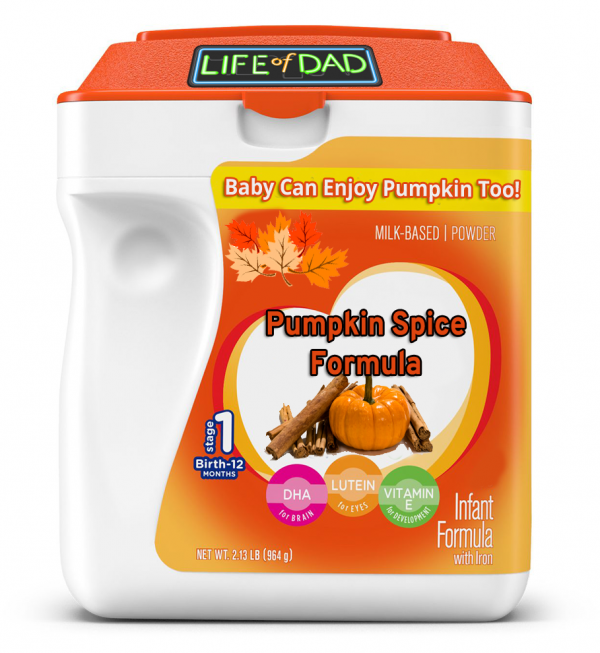 4: Pacifier
When the diaper is clean and they just ate and are still fusing there is only one solution. The Life of Dad Pumpkin Flavored Pacifier. Your child can enjoy that pumpkin flavor wherever he or she goes. We sell them in a three pack because we all know that babies love to drop their pacifiers in the most inconvenient places.