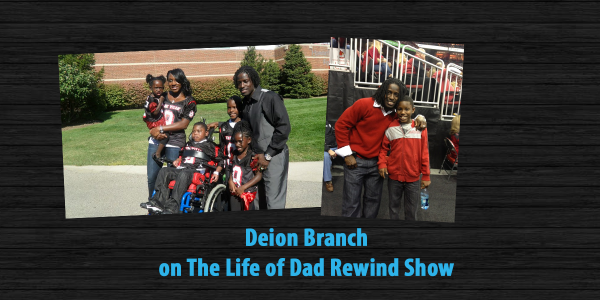 Deion Branch is this week's guest on The Life of Dad Show – Rewind Edition
On The Show
The Life of Dad Show, host Art Eddy shares an interview he did a few years back with Deion Branch. Art had a great talk with Deion about fatherhood, his foundation, and his time in the NFL.
About Deion Branch
Deion Branch was named the Most Valuable Player of Super Bowl XXXIX. He tied former San Francisco 49ers wide receiver Jerry Rice and former Cincinnati Bengals tight end Dan Ross for the Super Bowl reception record with 11 catches for 133 yards.
Deion also does fantastic work off the field. He started up the Deion Branch Charitable Foundation, which is a non-profit organization whose mission is to offer support to children's mental, physical and emotional well-being by assisting programs and initiatives aimed at improving their quality of life. The foundation is close to Deion's heart as his son, Deiondre was diagnosed with Viral Meningitis at an early age. For more information on his foundation go to deionbranchfoundation.org.
Follow Deion on Twitter at @deionbranch84
This week's Art of Conversation is brought to you by Tumzee.
Does your baby hate tummy time? Experts recommend up to 30 minutes of Tummy Time every day to encourage fine and gross motor skills and help develop strong arms, neck, and shoulder muscles. Tumzee® is designed for babies who are old enough to hold their head up on their own, and can be used until your baby has learned to crawl. The unique design allows for babies to be positioned on their tummies on a 15-degree incline, letting your baby engage with toys, games or books and easing the frustration that many babies feel during tummy time. Tumzee makes tummy time, happy time. To learn more please visit www.tumzee.com.
About The Life of Dad Show
The Life of Dad Show is the multimedia flagship property of the world's largest network for fathers. With 600,000 downloads of its popular podcast and 300,000+ viewers of the Facebook Live show since 2017, The Life of Dad Show has gathered advice, stories and strategies from an unparalleled list of household names, from Shaq to Jim Gaffigan, to Michael Strahan and Mark Hamill, each offering a glimpse into their personal life as a dad. The show airs Mondays and Wednesdays on Facebook Live, YouTube and Instagram TV. The podcast comes out weekly.
Subscribe to The Life of Dad Show on iTunes and leave a review and you could win a Life of Dad prize pack.