This week's collection is a featured Anime Collection. 
Welcome to the Life of Dad Collector of the Week! As a fellow geek and collector of all things Pop Culture I wanted to showcase some cool collections that dads share in the Life of Dad Geek Dads group on Facebook. It is a cool group of dads that talk about the latest movie, comic books, and video games that they are enjoying at the moment.
Whatcha Got?
Some of the dads in the group would start a thread about something they collect which got me thinking. We should have a page on our site that is dedicated to dads showing off their collections. It can be comic books, bottle caps, records, helmets or whatever they are into! We want to see what your passion is and why you started up that collection. I believe that in each collection lies a better story. We want to share your story!
My Geek Show co-host, Patrick Quinn and I will talk about on our Facebook live stream called The Geek Show.
This week's collection is from Michael M.
This week's collector is Michael. He was kind enough to share his passion for Anime, especially for Dragon Ball Z. As you can tell from his collection he is a serious collector! He has one heck of a collection that is definitely worth sharing. Here is what Michael shared with us about his collection.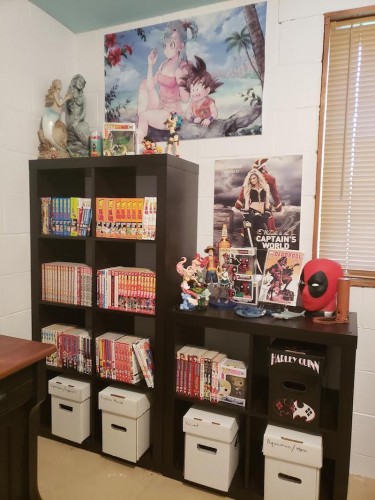 Michael wrote the following…
I've had collections of one type or another most of my life. Comic books, movies, video games, various statues, etc. About 6 months ago my family fell on some hard times and I had to sell everything to get us through. I sold about 15 years worth of collection. It was a rock bottom moment for me sitting in an empty man cave. But then I found a cheap set of Dragon Ball Dvd's and everything turned around.
I discovered a love for anime and manga that I never knew I had. Nowadays, t I purchase everything at used book stores or through sellers on facebook. Each book only costs a few dollars here and there. Overall I have amassed a collection that I am very proud of, but each individual purchase is small, therefore not putting a financial strain on my wife and kids.
This collection means more to me than I can put into words. When I sit down at my desk after work to do my school work, it makes me happy to look at it. I hope the collection continues to grow, and I hope my story inspires others to keep pushing when they are on hard times. And as an ending note, I just want to say how grateful I am to have a wife that supports me in my crazy collecting. And many thanks to all the Geek Dad Collectors out there that have lent their kind words to me in the past few months as well. God bless, and happy hunting!
Thanks for sharing Michael. We love your story. You put your family first and sold off a lot of your collection. That is not an easy thing to do, but you put your family first. Well done sir!
If you want your collection featured on our website here at Life of Dad and talked about on The Geek Show please email me art@lifeofdad.com. All you need to do is email me a few photos and a a paragraph or two about that collection.
Check out the first Life of Dad Collector of the Week and his Super Mario Bros. collection.