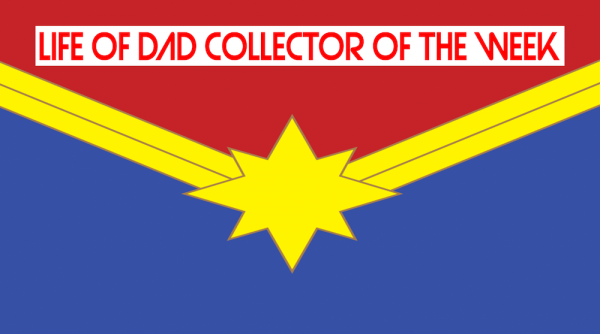 Welcome to the Life of Dad Collector of the Week! As a fellow geek and collector of all things Pop Culture I wanted to showcase some cool collections that dads share in the Life of Dad Geek Dads group on Facebook. It is a cool group of dads that talk about the latest movie, comic books, and video games that they are enjoying at the moment.
Whatcha Got?
Some of the dads in the group would start a thread about something they collect which got me thinking. We should have a page on our site that is dedicated to dads showing off their collections. It can be comic books, bottle caps, records, helmets or whatever they are into! We want to see what your passion is and why you started up that collection. I believe that in each collection lies a better story. We want to share your story!
My Geek Show co-host, Patrick Quinn and I will talk about on our Facebook live stream called The Geek Show.
Geeking Out Together
This week's collection is from me and my daughters.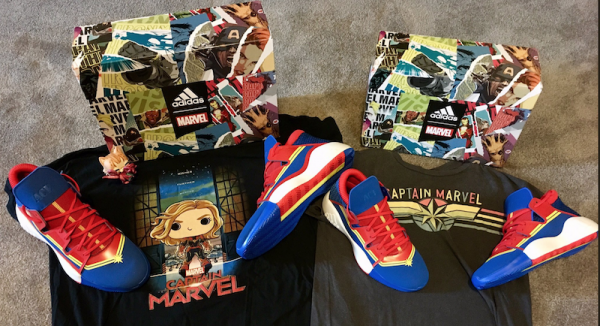 My daughters and I love all things comic books. When the movie, Captain Marvel came out in theaters my daughters couldn't wait to see the movie. They loved the fact that the movie was centered around a female hero. Right around Avengers: Endgame's release in the theaters adidas came out with some Marvel themed sneakers. As a sneakerhead and comic geek this was definitely in my wheelhouse.
Apparently it was in my daughters' wheelhouses too. So I picked up sneakers for us to have dad and daughter matching kicks! It is really cool to share a hobby with your kids. We love watching the Marvel movies together and talking about what we will see next in the theaters.
Speaking of movies Captain Marvel is available on Digital in HD and 4K Ultra HD and Movies Anywhere May 28, and lands on Blu-ray and Blu-ray 4K Ultra HD June 11th. At yesterday's espnW Summit NYC, Marvel Studios hosted a Captain Marvel panel and revealed an all-new trailer and in-home release dates for its first female-led franchise film, centered on Carol Danvers a.k.a. Captain Marvel.
The release includes featurettes that highlight the transformative journey of Brie Larson (Captain Marvel) and her character's impact on audiences around the globe; the influence of Nick Fury (Samuel L. Jackson) on significant events within the MCU; the perfect pairing of directors Anna Boden & Ryan Fleck; the ongoing conflict between the Skrulls and the Kree; and the raw talent behind the fetching feline named Goose. Viewers also gain access to six deleted scenes, director commentary, a gag reel loaded with funnies, flubs and Flerkens, and never-before-seen concept art and production photography. Viewers can bring home the film two weeks early on Digital 4K Ultra HD, HD and SD and gain access to two exclusive features, including a behind-the-scenes visit with the Visual Effects team that makes the filmmakers' visions of the MCU come to life and an inside look at the epic team effort that goes into an action-packed sequence within a Marvel Studios film.
If you want your collection featured on our website here at Life of Dad and talked about on The Geek Show please email me art@lifeofdad.com. All you need to do is email me a few photos and a a paragraph or two about that collection.
Check out the Life of Dad Collector of the Week series HERE!