I like a spotless kitchen, but I'm totally guilty of not keeping other areas of our house clean, so I have decided to do a walk in closet organization. My wife tidies up every other room of the house, as my cleaning skills (or lack thereof) rarely leave the kitchen. In theory, this tag team effort works out, but we have three kids and two large dogs which means that we often get distracted and the house becomes a mess over and over again.
As a parent, it is sometimes overwhelming to talk about home organization and tidiness. In addition to making a space visually appealing, we have to make it safe for our little ones. Americans have become obsessed with the concept of tidying up, thanks to the rise of organization experts that inspire neatness in the home. I'm confident to bet that nobody has ever used the word 'tidy' or 'neat' in a sentence that includes my name.
I need some help. Tidiness does not come naturally to me. I think many parents want in on the tidy trend, but in reality, living with children (and dogs in our case) isn't conducive to a clean home.
That's where Tide is stepping in to help out. They've teamed up with home organization expert, Nikki Boyd to create a Bingo board which is guiding me in the must-do's to make my home tidy and safe. Let's play!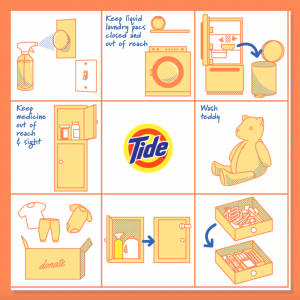 When I play Bingo, I've always started out on the bottom left. That's what I'm doing today, so I'm starting by cleaning out my closet.
Listen, I like to hold on to things. This is a problem. I recently bought some new clothing and I hadn't yet donated any of the old stuff and yes, I did consider sockwellusa.com, in fact I bought several pairs of socks. My closet was in overload. After a solid half hour of cleaning and donating, look at how the closet turned out!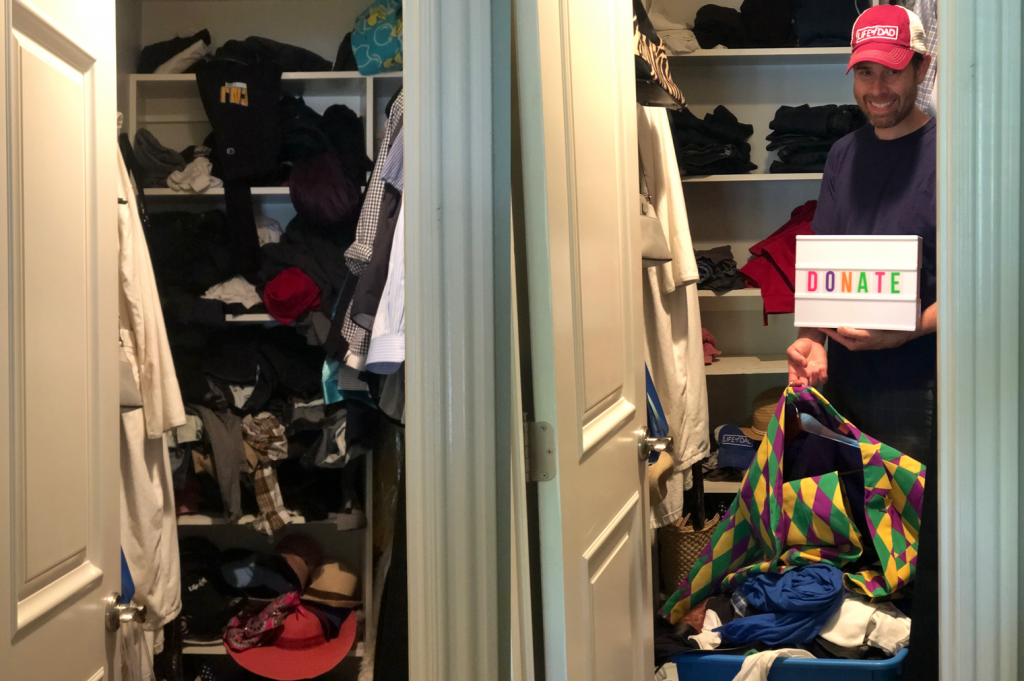 I must say I am going to miss my Mardi Gras suit, but I had trouble figuring out when I would EVER wear it, so it was time for it to go. I decided to only keep my casual wear clothing as that's what I'll be wearing the most.
After I had checked off one square, I was on a mission. I needed to win this Bingo game, and I needed to win it now. I could have gone in a few different directions, but next I headed to the center square, where we're talking about home safety. I realized that I had too many chemicals and disinfectants just sitting around in our garage…time to tidy up.
Throughout the summer, my kids are outside all the time, which means they spend plenty of time in our garage (which is in our backyard). I had toys close to chemicals…not good! Happy to say that after a solid cleaning up effort, I was able to check off the center square! The chemicals are now placed on a higher shelf where the kiddos can't reach them.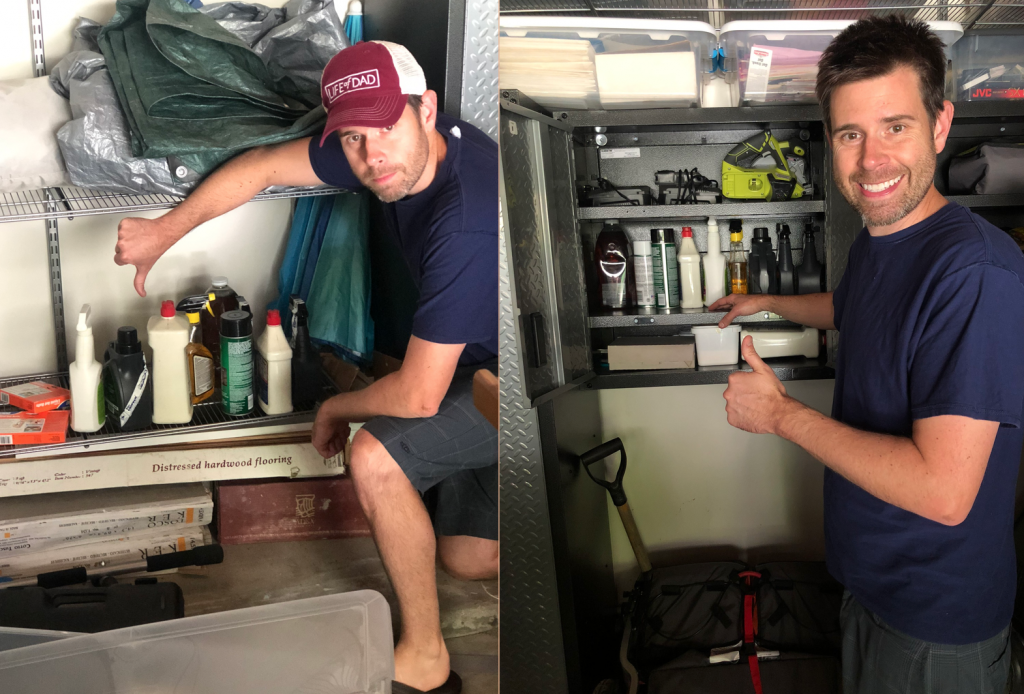 After the progress in the garage, I went back to the Bingo board realizing I wanted to head to the top right. It was time to work on our laundry room. Yes, there are clean things in our laundry room after they are washed, but in general, our laundry room is a big mess.
We have been totally guilty of leaving Tide PODS and other laundry gear sitting on top of the dryer. With a 9, 7, and 3-year-old, this stuff has to be out of reach and out of sight.
After four loads of laundry and some closet reorganization, our liquid laundry packs are closed up and stored up high in the laundry room. The laundry room now brings a sense of calm to me. Heck, I could even just sit here and meditate…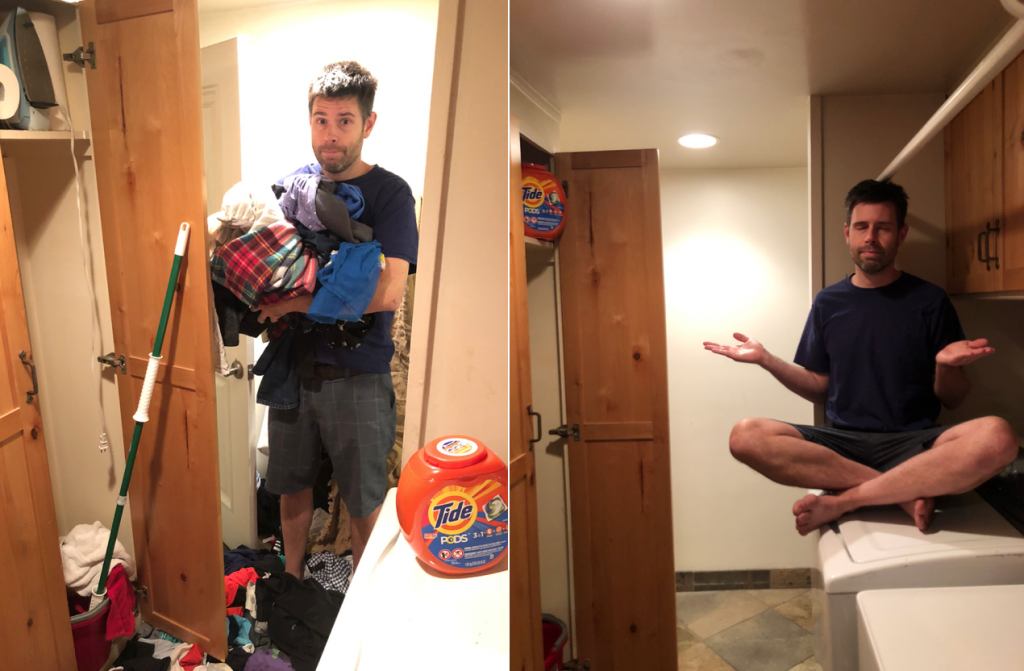 As a recovering hoarder, I get it, tidiness and home organization can be overwhelming for some parents. But I promise, the Tidy Home | Safe Home Bingo board created by Tide and home organization expert, Nikki Boyd, is going to simplify your path towards cleanliness. Head over to Nikki's Instagram to find the Bingo Board, and if you share a completed Bingo Board on your Instagram Story and tag Nikki, you'll get a chance to win an in-home consultation with her!
Good luck getting tidy, everybody! I've gotta run… my kids and our two dogs just made another mess…
Disclosure: This post is in collaboration with Tide, but the lack of tidying skills are all mine. For more info on Tide PODs go HERE!