Comedian Josh Blue, who is widely revered as the winner of Last Comic Standing with cerebral palsy has successfully transcended the reality competition novelty and gone on to achieve respect from both critics and fans. He is a single father of two children, so a lot of his stand up is about fatherhood and how he balances his work while raising his kids.
Although his inspirational story is what sets him apart, Blue possess an undeniable likeability and comedic timing that breaks down stereotypes of people with disabilities, one laugh at a time. He exploded onto the national comedy scene by capturing the attention and endearment of the country as the winner of NBC's Last Comic Standing. Having already established himself as one of the most sought after comedians on the college circuit, his weekly appearances on Last Comic in the summer of 2006 expanded his fan base exponentially. In 2011, Blue starred in Comedy Central Presents: Josh Blue, which received rave reviews and was named the 11th best special on the network.  Most recently, Blue debuted a one-hour Showtime special, Sticky Change, where he cracks jokes and tells stories about everything.  The special is currently available on Netflix.
Art Eddy: Right now you are out on tour. How do you approach each tour? How do you introduce new material when you are out on the road?
Josh Blue: Every show is like a snowflake. I just attack the audience each tour is how I look at it. The problem with my touring is that it is not like I am on a tour bus and I am gone for three months. I get a on a plane every four days and fly to a new city. Then I fly back to Denver. That is where my kids are.
As far as material goes I don't really ever write anything down so my material just happens on stage. It surprises me as much as it surprises the audience.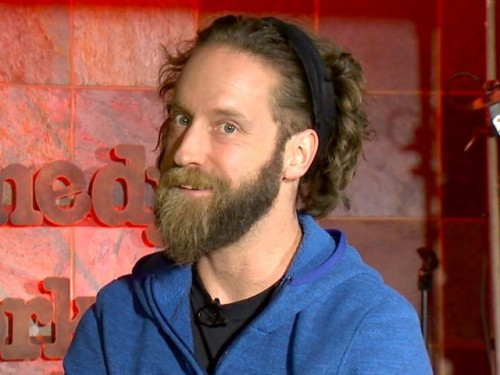 AE: It seems that now with the way the world is very sensitive when it comes to certain jokes how do you handle what to say and not to say on stage or do you just not worry about any backlash from your material?
JB: I don't.
AE: What is you learn as a stand-up comedian when you were on NBC's Show Last Comic Standing?
JB: What is amazing is that I had a pretty good career as a stand-up comic, but when I won that show I took an amazing level of success with me. It is cool. America got to watch me on national TV and they voted me the winner. They have been really supporting me ever since. I have been selling out shows for the last eleven years. What an amazing experience it was to make people laugh and now I get to do it at a nationwide and world wide scale.
AE: What got you into stand-up comedy? When did you realize that you wanted to get into this career?
JB: I am still not sure about it. I actually started studying stand-up in college. I fell in love with it very early. I actually got credit at my school to do stand-up. I kind of knew that I had the gift pretty early on. I guess I never really realized that I could make it into a career until I got into the real world. I got a real job and I was like (forget) this, let's do something fun.
AE: For me I always say that my kids help me with creating content for my site here at Life of Dad. You talk about your kids on stage. When you see something that they do that you want to incorporate it into your show do you make a note of it and work on it later or do you sit down and work on it right away?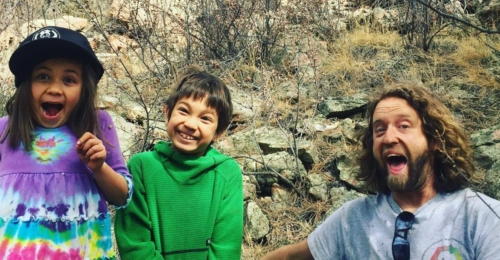 JB: Again I don't really write anything down, but I do take mental notes. When they say something funny or something happens or they help me get through a new realization of what fatherhood is then I get to bring that out on stage. It is pretty cool that I get to, I wouldn't say vent, but let the rest of the world in on what I am experiencing. A lot of times people from the audience will say yeah my kids did that. It is pretty cool.
AE: What were some of the first few thoughts that popped into your mind when you found out that you were going to be a dad?
JB: Holy (stuff). I was terrified. No to tell you the truth I always wanted to be a dad. When I was a kid I always pictured myself as the cool dad in the neighborhood that all the kids would be like can your dad come out and play? Now that I am here I am not that dad because I am feeling old. I just enjoy being with my children.
I have fifty percent custody. So basically when I am not a touring comic I am a full time dad. I love it so much. They are little people that I accidentally made.
AE: What are some of the core values you look to instill in your kids as they grow up?
JB: Kindness. Being kind to others, animals and the planet. Just realize how fortunate we are to be alive every day. I think a lot of us get caught up on our day to day lives and we don't realize that none of that (stuff) really matters. You are still alive. So what you didn't get the parking space that you wanted or whatever. It is so easy to get upset about meaningless bull(stuff).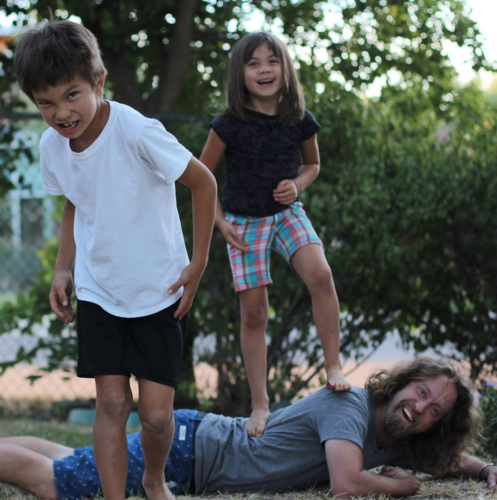 AE: As a single dad how do you balance work and family?
JB: It is interesting. I was a touring comic before I was a father. So the kids were born into this lifestyle. Being a single dad and being married isn't that different because when I was on the road it was like I had fifty percent custody anyways. When I would come home the wife would tag out and she would go do her (stuff.) This is just our way of doing it.
I try to travel not as much as I used to. I was doing about 200 shows a year on the road. That is a lot of time away from these little people that don't get small again. It is interesting you hear these older parents say you got to love these kids while they still like you and be around them as much as possible when they are little. I have really taken that to heart. What is great is that even though I am gone so much when I am home I get to be dad.
I am a very hands on dad. I am jumping on the trampoline daily. The neighbors must think I am completely insane because I am a grown man giggling on a trampoline every day.
AE: What advice do you have for new dads?
JB: RUN! RUN! (Both laugh.) No, man just be present. Be there for your kids. Engage with them. Sit on the floor and play cars with them as much as you can. Like I said they don't stay little forever. You would just hate to miss out on the opportunity to be a part of their life. I feel like that sticks with them hopefully. I don't know yet. Maybe the will be like thanks for the time dad, eff off, but we will see. (Both laugh.) Just be present. Put your cell phone down and listen to what your kids are saying.
Life of Dad Quick Five
AE: Do you guys have a favorite family movie that you all love to watch together?
JB: The Princess Bride is so fun. It is one of my favorites of all time. I love hearing my kids walking around quoting that movie. A little girl doing that in an Andre the Giant voice is perfect.
AE: Do you guys have a favorite song that you all like to sing to or dance to as a family?
JB: It is funny my son likes Bob Marley. So we are getting down to some Reggae. I don't let them listen to Barney and (stuff) like that. I tell them daddy can't handle that. (Both laugh.)
AE: Describe the perfect family vacation.
JB: My kids would be in Disney World and I would be in Hawaii. (Both laugh.)
AE: Was there a comedian that inspired you to become a stand-up comic?
JB: There was Bill Cosby. Unfortunately that is so tainted now. He was the first stand-up that I saw. The way he talked about his family, his life and his storytelling and now it is such a shame that a whole body of work is destroyed.
I also just love Chris Rock. He is my idol. The way he tells jokes. The stuff he is saying should not be funny. If anyone else said this it would be horrible and racist. The way he says it is not just hilarious, but it is also educational.
AE: Is there a venue that you would love to perform at that is on your bucket list?
JB: The Apollo. It would fun to play The Apollo.
Follow Josh on Twitter at @JoshBlueComedy and go to his website for tour dates at www.joshblue.com.