Mike Golic makes up one part of ESPN Radio's weekday morning show Mike & Mike. Mike used to play in the NFL most notably for the Philadelphia Eagles in his nine year career. When Golic retired he started working for ESPN in 1995 as an NFL studio analyst on NFL 2Night and later on NFL Live and also worked as color commentator for the Arena Football League and ESPN/ABC college football games until the mid-nineties.
In 2016, Golic was inducted into the National Association of Broadcasters Broadcasting Hall of Fame with his Mike & Mike co-host, Mike Greenberg. Golic, along with Greenberg, released Mike & Mike's Rules for Sports and Life which reached number 3 on the New York Times Best Sellers List.
If you listen to Mike and Mike you know that Golic and Greeny talk about their kids. That is one of the reasons why I am a fan of their show. They talk about fatherhood and are very relatable to me when they discuss about dad issues. Tommy Riles and I got to chat with Mike Golic about fatherhood and more.
Art Eddy: What are some of the core values you looked to instill in your kids as they were growing up?
Mike Golic: It was the same core values that I grew up with and my wife grew up with. If you want to get somewhere in life it is going to take hard work. There is no shortcut to success at all. We were really old school in my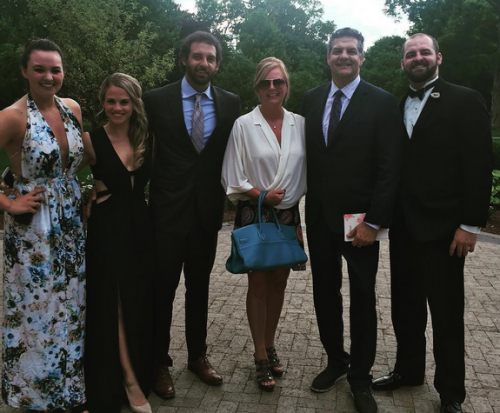 upbringing. My wife was as well with her parents.
We had the same values with our kids. Our philosophy when we were starting to have kids was that one hundred percent was going to be into our kids. We will support anything that they do. Get behind them anyway we can. We will teach them the value of hard work. Obviously education, but hard work in anything that you want to achieve in an era where we have a microwave society. Everything can be done kind of quick and there are shortcuts that people want to take in life. Teach them that you can't really do that to find success. There can never be a shortage of hard work at all. We really, really tried to instill that value into our kids.
Tommy Riles: When you were playing in the NFL how did you balance work and family?
MG: That is the beauty of it. When you are at work you put your time into your work. You are there for a decent amount of the day two to three days a week. The beauty of it is when you come home, my daughter Sydney wasn't born yet until the year after I retired, but Mike and Jake were born in 89 and 90. I retired in 1994. They were young, but they were old enough where I could bring them around the locker room.
They fully didn't grasp what I was doing. When I came home from a game, practice, or training camp to them dad was just coming home. That was it. It was great. I was done with work. That was the one thing I hear people say about pro athletes is that you shouldn't be doing that. You should be studying. You should be looking at your next opponent. I would say wait a minute. I know the amount of time I need to spend on my craft. I would rather be a full person. When I have a family that includes me being with my family.
I do my work. I make sure that I am prepared. When I come home I am with my family. I don't bring my work home. The boys were at an young enough age like I said where they really didn't comprehend what I was doing so they just wanted to play with dad. Not dad the NFL player, just dad.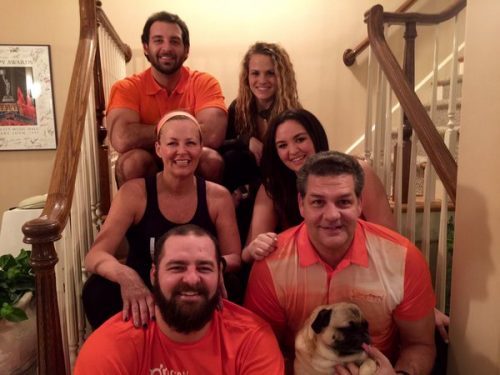 AE: What advice do you have for new dads out there?
MG: Oh my God enjoy it. It is one of those things when you give advice. People kind of listen to it, but they are not going to really get it until it happens to them. I had people tell me. My dad told me enjoy it because it goes quick. He was so right about that. It does go by. So enjoy the moments there. Cherish the moments.
I can already see why grandparents and I am not one yet, (Both laugh.) but I can see why they are more relaxed with the kids. When you are a parent and have your first kid and you are uptight on what they are doing in public. Are they making too much noise? At the end of the day when you look at it just let them enjoy life. Enjoy life with them. Usually they are not doing things that are too bad out there. So just enjoy the time. Don't take it for granted.
Before you know it they are born, they are walking and they are in school. Then they are in college. They are men and they are women. Then they are like oh my God. (Both laugh.) Where did that go? Time definitely flies. It has been fantastic with them. We are a very close family. We will be involved in their lives all the time. Probably more than they want us to be. (Both laugh.) They don't have a choice there. Now you get to the point where spouses will come into play and grandkids will come into play. It really just goes. So cherish those moments.
Life of Dad Quick Five
AE: What is your favorite family movie you guys like to watch together?
MG: Right now and I am not kidding you was that we loved Inside Out. They do such a good job of making it for the kids, but then there are two adults and a 25, 24, and a 20 year old going to a movie like that. (Both laugh.) They make it funny for adults as well. It was really, really impressive. I am a big movie guy. Mike, my son and my daughter, Sydney are too. Jake and my wife not so much. To find one that we all like and the short before it Lava was fantastic. So oddly enough an animated film was something where all five of us said it was a really cool movie.
AE: Do you guys have a song that you guys like to dance together as a family?
MG: The one thing that I am happy about is that my kids know the older songs because we play them a lot in the car. My go to karaoke song is Brandy. We are big Eagles fans. That is what I sang at Darius Rucker's concert. I sand Take It Easy, by The Eagles.
It is amazing the Glee when it was on the kids always sang in the first few seasons all old songs. Songs when I grew up. The kids of today thought Glee wrote those songs. It was great to tell them no they didn't. There were actually people in the 70's and 80's that wrote these songs. It made the 20 year olds of today actually go back and listen to the original people who wrote some of these songs. My kids are pretty well versed in 70's and 80's music. I am pretty happy about that.
AE: Describe the perfect family vacation.
MG: At the point we are now this may sound weird. The point where we are now with the kids being 25, 24, and 20 any time we can get a vacation and we are all there. Whether it is going to Costa Rica and hanging out or going to Aruba or just going to our place in Arizona. If it is just us going to our house in Arizona and we are all there.
That is the key at this point. That is something you try and do. It is harder to the older they get. When they are younger and they are living under their roof it is easy to say okay here we go and we all go for a vacation. When they are getting older and they have their own lives that makes it more difficult. To that end no doubt a nice sunny place with a beach and great weather is always a great stomping ground for us. I am at the point where if we can get all the kids with all of their schedules to say yeah I can make that we are happy.
AE: Which team did you love to hate during your playing days?
MG: I spent most of my career in Philadelphia. There was a lot of hate for the Dallas Cowboys. Buddy Ryan was my coach. Jimmy Johnson was the coach in Dallas. Those two didn't like each other. You take on the personality of your coach. Buddy Ryan was a tough guy. Jimmy Johnson was a tough guy. Those were probably the most fights we had was when we played the Cowboys. Cowboy week when we were going to play them was always a tougher, more hard hitting week than any other week I had. Without a doubt the most hated team when I played was the Dallas Cowboys.
AE: Name one thing that Mike Greenberg does to perfection that drive you nuts.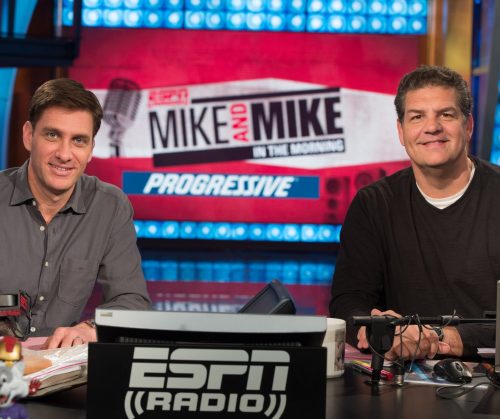 MG: The one thing that I see and it is amazing is that he is unflappable. I did games with Mike Tirico for college games. Now obviously with Greeny for a long time. Nothing throws them. You are talking college football. It is live TV. You are talking about our show. It is live radio and a TV show. You never know what can get thrown at you. You are talking four hours a day. We are in our sixteenth year of this. He doesn't get flustered on the air.
No matter what happens he is under control. For me I lose my train of thought. I will stop talking. I will start tripping over my words. He just keeps it flowing. That is an unbelievable trait in this business. He is very smart. We joke around. He certainly isn't athletic, but he is very smart. Nothing shakes him on air. When the light is on and we have to be performing he is on and nothing shakes him.
Follow Mike on Twitter at @espngolic.