We want our kids to be well rounded. It is great to see your child discover something and run with it. Whether it is playing sports or drawing or learning an instrument with the aid of sites such as Fiddlers Guide, we want to see our children try something new.
Recently on The Life of Dad Show podcast my co-host, Jon Finkel and I spoke with Sidd Khosla about getting your kids to try playing an instrument. Sidd is an award-winning film and television composer, and singer/songwriter/producer of the critically acclaimed band, Goldspot. He is known for the fantastic work he does on the NBC hit series, This Is Us.
Let Them Find Their Passion
During our interview with Sidd I started to realize that my kids would love to try out an instrument. In school my oldest learned how to play the recorder. I saw her dedication on playing new songs and reading sheet music. She really wanted to earn her different color stripes as she progressed in the lesson plan.
My daughters both like to sing and dance. Music is a big part in our family. We all enjoy a variety of different genres. We each bring our own music tastes and get to learn about different artists that we might not have heard before on our own.
Sidd told Jon and I that as kids get older they need to find ways to express themselves through music. I remember him telling me that my kids are the perfect age to learn the piano. He said that a keyboard is a great way to see if your children would want to play the piano. If your kids are into other instruments like the violin, I would recommend you to check out these violin for kids. Furthermore, you can enroll them to violin lessons to develop their musical talent. Read more here if you're interested in purchasing a violin.

Trying Something New
Sidd's words stuck with me. I was talking with my wife about having the girls try a keyboard. They can learn piano online. She liked that idea. She grew up in a house that had a piano. She and her sister learned to play the piano. My wife would love to pass on that tradition.
So I started to do some research on which keyboard would be great for my daughters to start playing. From what I read it looks like Casio was the best option for me. I got the Casio CT-X700.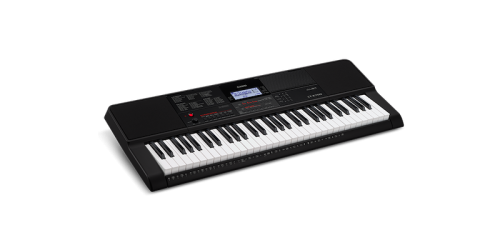 The CT-X700 features Casio's new AiX Sound Source which can reproduce a wide variety of instruments such as acoustic and electric pianos, guitars, drums, basses, brass, wind instruments, and string ensembles. It offers Casio's Step-Up Lesson system which helps users easily learn songs, with the display showing proper fingering and notation. This was a big deal as my daughters were learning how to play.
I find that if your child has some success while learning something new it will make them work even harder at the new thing that they are learning. It helps with building their confidence as they make their way through the process of starting to play an instrument.
The CT-X700 features a back-lit LCD display, 61 piano-type keys, six-track recorder, 100 built-in songs, 600 tones, and a class-compliant USB-MIDI port.
If you are looking to get your child into playing an instrument, take a look at this site where you can sign them up for private lessons. See what instrument they would want to try out and why. Having a discussion will spark up their interest and will help you see what instrument they would love to try out.
Please note: Casio sent me the keyboard, but my thoughts are my own.