Sure, it's after Father's Day, but we have more great dads to feature!  Up today it's Joel Gratcyk…here is his bio and interview in his own words…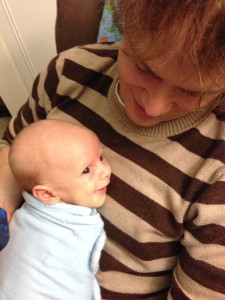 Joel is a new father still adjusting to the short nights and dirty diapers. He's been married to his wife, Abigail of SkyWaitress.com, for 7 years this past April. Daddy's Grounded was started as a way of remembering the experience of fatherhood in all its details, with photos, video and thought. Joel's an online community manager with broad travel experience, online fundraising success, and viral marketing skills. He helped bring the once defunct ska band FIve Iron Frenzy back to the music scene with the help of Kickstarter. The band's first album in 10 years is releasing this November. Joel's been to more than 25 countries on 6 of the 7 continents. Antarctica is still on the to visit list. Always learning is his life's motto. That directly leads to his favorite question: What's next?
The funniest thing my kids do is: Mr. Dude makes some hilarious faces: http://instagram.com/p/Z7AJMohTF_/
What¹s in your man cave? Man cave? I'd love one! We're in a one bedroom place right now, so that's not happening anytime soon. Moving into a two bedroom is on the to do list this summer.
My wife is my hero because: She sees something she wants and does what it takes to get it. I highly admire that drive and passion. She moved to the Netherlands for a couple years as an au pair  because she wanted to travel around Europe. She wanted to marry me (and I her) so she moved back to Chicago to be with me. She loves travel so she became a flight attendant and flew all over the world. She's an amazing mother, wife and friend. I could not have not have gotten a better women.
How many hours of sleep do you get each night? 3-7. Usually interrupted.
How many hours of sleep did you get before you became a father? 5-10. Seldom interrupted.
What¹s your favorite meal? One of my favorites is a burger & fries at Epic Burger. That place is seriously an amazing Chicago treasure.
How are you like your own dad? I like travel like my dad. I'm a good people person and creative like him. He creates with a brush and paint. I create with a keyboard and mouse. We both like to write and learn new things. I love my dad. I might be 31 now, but he's still my hero.
If fatherhood was a beer, which type of beer would it be and why? I'd say an imperial stout like the one I brewed to celebrate the birth of my son.  It's complex, enjoyable and takes a lot of work. The are bitter parts and sweet ones, but it all weaves together to create something great. I also wouldn't trade it for anything in the world.
Describe your perfect Father¹s Day: I think this 1st Father's Day will be exactly what I want. Breakfast with my son & wife along with dad & his partner at a local breakfast place. Following breakfast we'll be visiting my father-in-law and then watching some sci-fi movies. Rock!
Make sure you head over and check out Joel's blog, and follow him on Facebook and Twitter!