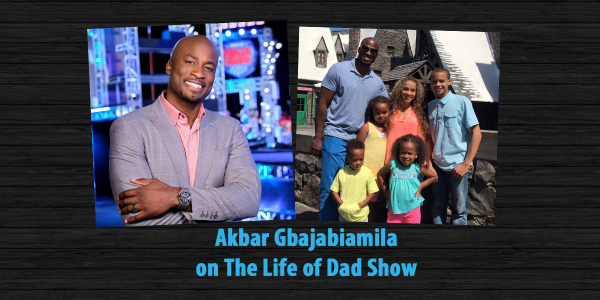 Akbar Gbajabiamila is this week's guest on The Life of Dad Show.
On The Show
Akbar Gbajabiamila talks with The Life of Dad Show host, Art Eddy about his new book, Everyone Can Be A Ninja, running the American Ninja course and how after a strong career in the NFL he took a bet on himself and won. Akbar then chats with Art about the joys of fatherhood and the values he looks to instill into his kids. Art and Akbar also talk about two passions that they share together, Star Wars and sneakers.
Akbar also answers the Life of Dad Quick Five.
About Akbar Gbajabiamila
Akbar is the host of NBC's three time Emmy nominated series American Ninja Warrior, Universal Kid's spin off show, American Ninja Warrior Jr as well as NFL Networks' highest rated show, NFL Fantasy Live.
The L.A. native grew up in the Crenshaw district with his mother, father, both who were born and raised in Nigeria, and his 6 siblings. His first name means "great" in Arabic and his last name means "big man come save me."
Akbar played football for San Diego State all 4 years while receiving his degree in communications & new media studies. He then played 5 years in the NFL as a linebacker & defensive end with the Oakland Raiders, San Diego Chargers, and Miami Dolphins before retiring in 2008.
Akbar is also the author of Everyone Can Be A Ninja, his first book that came out earlier this year. Gbajabiamila currently serves as a board member for the Asomugha Foundation, an organization aimed at creating better educational opportunities for impoverished communities. Akbar also serves on the Board of the Michael J. Fox Foundation, which raises millions of dollars for Parkinson's research. The cause is driven by the fact his own father was diagnosed with Parkinson's Disease in the late 1990's.
He and his wife, Chrystal Gbaja-Biamila are blessed with four children: two daughters and two sons.
Follow Akbar on Twitter at @Akbar_Gbaja and go to his website at iamakbar.com and pick up his book, Everyone Can Be A Ninja.
About The Life of Dad Show
The Life of Dad Show is the multimedia flagship property of the world's largest network for fathers. With 600,000 downloads of its popular podcast and 300,000+ viewers of the Facebook Live show since 2017, The Life of Dad Show has gathered advice, stories and strategies from an unparalleled list of household names, from Shaq to Jim Gaffigan, to Michael Strahan and Mark Hamill, each offering a glimpse into their personal life as a dad. The show airs Mondays and Wednesdays on Facebook Live, YouTube and Instagram TV. The podcast comes out weekly.
Subscribe to The Life of Dad Show on iTunes and leave a review and you could win a Life of Dad prize pack.