In 1962 Dick and Judy Hoyt welcomed their son Rick into the world. As a result of oxygen deprivation to Rick's brain at the time of his birth, Rick was diagnosed as a spastic quadriplegic with cerebral palsy. Dick and Judy were advised to institutionalize Rick because there was no chance of him recovering, and little hope for Rick to live a "normal" life. This was just the beginning of Dick and Judy's quest for Rick's inclusion in community, sports, education and one day, the workplace.
Dick and Judy soon realized that though Rick couldn't walk or speak; he was quite astute and his eyes would follow them around the room. They fought to integrate Rick into the public school system, pushing administrators to see beyond Rick's physical limitations. Dick and Judy would take Rick sledding and swimming, and even taught him the alphabet and basic words, like any other child. After providing concrete evidence of Rick's intellect and ability to learn like everyone else, Dick and Judy needed to find a way to help Rick communicate for himself.
With $5,000 in 1972 and a skilled group of engineers at Tufts University, an interactive computer was built for Rick. This computer consisted of a cursor being used to highlight every letter of the alphabet. Once the letter Rick wanted was highlighted, he was able to select it by just a simple tap with his head against a head piece attached to his wheelchair. When the computer was originally first brought home, Rick surprised everyone with his first words. Instead of saying, "Hi, Mom," or "Hi, Dad," Rick's first "spoken" words were: "Go, Bruins!" The Boston Bruins were in the Stanley Cup finals that season. It was clear from that moment on, that Rick loved sports and followed the game just like anyone else.
In the spring of 1977, Rick told his father that he wanted to participate in a 5-mile benefit run for a Lacrosse player who had been paralyzed in an accident. Far from being a long-distance runner, Dick agreed to push Rick in his wheelchair and they finished all 5 miles, coming in next to last. That night, Rick told his father, "Dad, when I'm running, it feels like I'm not handicapped."
This realization was just the beginning of what would become over 1,000 races completed, including marathons, duathlons and triathlons (6 of them being Ironman competitions). Also adding to their list of achievements, Dick and Rick biked and ran across the U.S. in 1992, completing a full 3,735 miles in 45 days. The 2009 Boston Marathon was officially Team Hoyt's 1000th race.
I had the extreme pleasure of chatting with Dick about running with his son, fatherhood, and the way the Hoyts look to take on any challenge in life.
Art Eddy: First off as a father myself I have to say that learning about you and your son's story is beyond heartwarming. For those who don't know your family's story tell the audience about it.
Dick Hoyt: I married my high school sweetheart and we had a baby. Things didn't turn out to well at all. When Rick was born he turned himself over. The umbilical cord got twisted around his neck. That caused a lack of oxygen to Rick's brain which caused brain damage which is cerebral palsy.
At the time we knew something was wrong with Rick, but we didn't know exactly what. So the doctor made an appointment with us to see a specialist when Rick was eight months old. We took Rick to the specialist and they did all kinds of tests. The test came back very negative. They said forget Rick. Put him away. Put him in an institution. He is going to be nothing but a vegetable for the rest of his life.
Today Rick is 54 years old. We still haven't figured out what vegetable he is. On our way home from that doctor's appointment my wife and I cried. We talked. We said no. We are not going to put Rick away. We are going to bring him home and raise him up like any other child. Rick has been mainstreamed and included all of his life.
He has graduated from public high school. He has graduated from Boston University. He lives all by himself in his own apartment. Rick and I have competed in over 1,200 athletic events in the past 22 years. The biggest thing that we wanted to do was get Rick an education. We wanted him to go to the regular schools with all the other children.
AE: As parents we try to do anything and everything we can for our children. On the toughest of days what got you through a difficult run or marathon?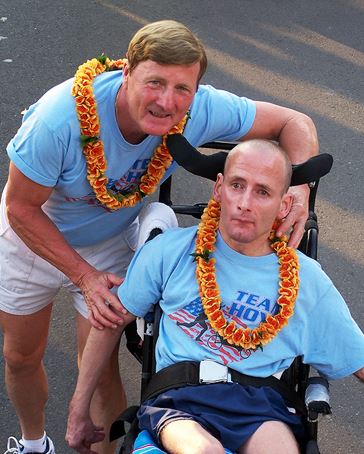 DH: My inspiration has been Rick. Rick is a fighter. He is not a quitter. He is never going to quit. His gym teacher got him involved in all of the gym activities. He was also the basketball coach at Westfield State College. He used to take Rick to the basketball games. At one of those basketball games an announcement was made that one of the lacrosse players was in an accident and was paralyzed from the waist down. They were going to have a road race for charity to raise some money so he could pay his medical bills.
When Rick came home from that game he told me all about it. He wanted to let that kid know that life goes on even though he is paralyzed. I want to run in that race. At that time I was 40 years old. I was not a runner. I might have run about two to three times a week a mile at a time to try and keep my weight down. All we had was a wheelchair that was made for Rick's body. We had a hard time pushing him in it never mind running in it. It was a five mile race. They gave Rick and I the number double zero.
The gun went off and Rick and I took off with all the other runners. Everyone thought that we would just run to the corner and turn around and come back. We didn't. We finished the whole five miles coming in next to last, but not last.
When we got home that night Rick wrote on his computer that when he was running it feels like his disability disappears, which was a very powerful message to me. Someone that is in a wheelchair that can't talk, and can't use their arms or legs and now they are out there running and their disability disappears. He called himself the free bird because he was able to be out there competing and run with everybody else.
AE: You and your son have been doing this for many years now. What has your son taught you about life while you two have been racing together?
DH: I learned that it was very difficult for us to be accepted when we first started competing in races. The biggest thing that helped me and helped Rick was that we finally got people to accept us. We are from Massachusetts. When you start running, what is your ultimate goal? It is the Boston Marathon. We applied to do the Boston Marathon and they turned us down.
They said that we had to qualify in Rick's age group. At that time he was in his twenties. That meant we had to run under two hours and fifty minutes. They thought that it was the way of getting rid of us. They said there is no way a 40 year old man could push his 20 year old son in a wheelchair and run under two hours and fifty minutes.
That fall we went down to Washington D.C. to the Marine Marathon, which is called the People's Marathon. Anybody can run in that marathon. They are now drawing over forty thousand runners. Rick and I ran that marathon in two hours and forty-five minutes and twenty-one seconds. That qualified both Rick and I for the Boston Marathon. We have been official entrants in the Boston Marathon ever since then.
In 1996 with the 100th running of the Boston Marathon Rick and I were honored as Centennial Heroes by the BAA and their sponsor, John Handcock. We have come a long way and have broken down barriers. When Rick was much younger he was involved in the Easter Seals program. He would go to their day camps and their swim camps and the overnight camps. In the summertime he would go away for two weeks at a time. It really helped him to mature. It was a lot easier for him to go into Boston to attend Boston University. We dedicated our 25th anniversary of running the Boston Marathon to the Easter Seals. We were able to raise over $360,000. Every penny went to Easter Seals. Since we have been running we have been able to raise over a million dollars that has gone to Easter Seals.
AE: For anyone who feels that they are not able to get out of a situation or feeling that they could never turn things around what would tell them? It seems like the word no is not in your vocabulary.
DH: Our message is yes you can. There isn't anything that you can't do as long as you make up your mind to do it.
AE: You are a father of three. What were some of the first few thoughts that popped into your mind when you found out that you were going to be a dad?
DH: It was awesome. I was captain of the football team and my wife was the head cheerleader. We were the class couple. Here we are getting married young. I was 20 and she was 19 years old. We were like wow we are going to have our first child. We were hoping it was going to be a boy. He is going to be big, tall, and handsome and be a great athlete. And guess what? He is.
AE: What are some of the core values you look to instill in your kids as they grow up?
DH: When I talk to my children I want them to be very positive. I want them to do what they really want to do, but do the best in everything that they do. Don't accept the word no in anything that they try to do. They will excel and they all have. I am very, very proud of them.
AE: What advice do you have for new dads?
DH: I would advise them to bring up their children. There are so many families that have children, but they are not paying attention to them. They are not playing with them. They are not doing things with them. This is the biggest mistake you can make. I have a lot of people that work for me that ran into problems because the mother and the father both work.
The kids come home from school and they are in their house all by themselves. They go out to a restaurant for dinner and feed the kids and are not spending time with them. Don't have children unless you really want children. Let them be part of your life because they are the best part of your life.
Life of Dad Quick Five
AE: What is your favorite family movie you guys like to watch together?
DH: We always like the Christmas movies during the Christmas season.
AE: Do you guys have a favorite song that you all like to sing and dance to as a family?
DH: No.
AE: Describe the perfect family vacation.
DH: The perfect family vacation is when everyone goes together. Our favorite vacation is in Hawaii. To Kona, Hawaii to compete and complete the Ironman triathlon.
AE: What is your favorite place to run with your son?
DH: My favorite place to just run would be the Boston Marathon. Rick says that if it comes down to one race a year he wants it to be the Boston Marathon.
AE: I am a sneakerhead so I have to ask, what is your sneaker of choice when you are running?
DH: We have been running in Saucony shoes. Saucony has been my favorite shoe to run in.
Go to teamhoyt.com to find out more information on the great work Dick, Rick and all those at the foundation do in their community.