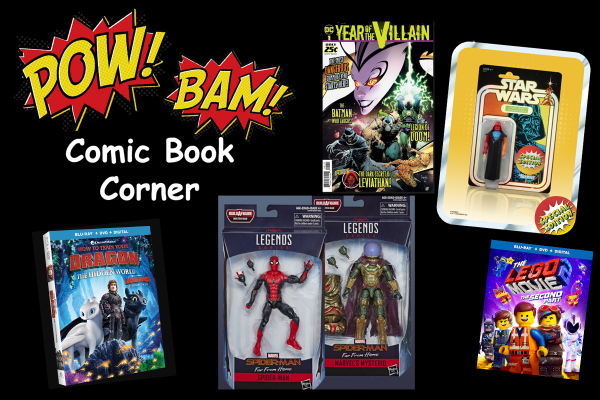 What up fellow geeks? Are you ready for this weekend? Avengers: Endgame is here and I can't wait to see the movie tonight. Even though this movie might close a big chapter in the Marvel Cinematic Universe don't fret since there are a lot of great things happening later this year. There is another Marvel movie, fantastic DC comic books for Free Comic Book Day and Star Wars: The Rise of Skywalker Episode IX is happening this week.
The Rise of Action Figures
With the recent Star Wars Celebration event in Chicago we saw a bunch of new action figures, helmets and toys that either were for Episode IX or vintage figures from past movies. There is a ton of great items that will fan the flames of your geekdom! Which ones are you most excited for? I am excited for the 3.75″ Special Edition Prototype Darth Vader figure that features multiple colored limbs and a The Black Series 6″ Boba Fett figure based on Kenner deco from 1979. Both of these figures were revealed during the Hasbro panel at Star Wars Celebration.
DC Comics Has You Covered
Comic book fans know that Summer can bring the occasional heat wave, but DC plans to keep it hot all Summer long and into the fall as more details are revealed about DC'S YEAR OF THE VILLAIN #1, the $0.25 one-shot that hits comic book shops May 1 and sets the stage for several major story arcs by some of DC's most celebrated writers and artists. Beginning with June's issue #25, Luthor's plans begin to crystalize in a "prelude" story co-written by Snyder and Tynion with art by Javi Fernandez. In July, he makes "The Offer" to some of the DC Universe's most noteworthy characters; he alone holds the key to them realizing their full potential. This kicks off an epic event taking over 2019, setting the stage for an all-out clash between the forces of Justice and Doom:
· July – Year of the Villain: The Offer
· August – Year of the Villain: Dark Gifts
· September – Year of the Villain: Evil Unleashed
· October – Year of the Villain: Doom Rising
Just ahead of Free Comic Book Day, one of the most beloved pop culture holidays of the year, I want to remind you about DC's plans for you to include in pieces you might be working on. To celebrate the annual national event, DC will provide free early looks from its young reader imprints on May 4, as well as an exclusive 25-cent original comic before FCBD, on May 1. Each special edition will be available nationwide at participating comic book stores.
A free chapter of UNDER THE MOON: A CATWOMAN TALE, from The New York Times bestselling author Lauren Myracle and artist Isaac Goodhart, will serve as DC's FCBD Gold comic book ahead of the original graphic novel's release on May 7. A sneak preview of DC Ink's TEEN TITANS: RAVEN graphic novel by Kami Garcia ("Beautiful Creatures") will also be included in this FCBD special edition.
Two exclusive free chapters of DEAR JUSTICE LEAGUE will be available as the FCBD Silver comic book to celebrate the holiday, highlighting fan-favorite characters Superman and Hawkgirl. Written by The New York Times bestselling author Michael Northrop with art by Gustavo Duarte, the full book will be available on August 6.
Plus, just ahead of FCBD, DC will release a special 25-cent original comic, YEAR OF THE VILLAIN, on Wednesday, May 1. Available to download on ReadDC.com and Comixology, or to purchase for 25 cents at participating comic book stores, this exclusive 32-page comic will spotlight several of DC's most infamous super-villains. Celebrated authors Brian Michael Bendis, Scott Snyder and James Tynion IV have penned these stories alongside Eisner Award-winning illustrators Alex Maleev, Jim Cheung and Francis Manapul.
Just in time for Father's Day, and for dads that are huge fans of the Caped Crusader, the milestone issue DETECTIVE COMICS #1000: THE DELUXE EDITION is a 168-page hardcover collectible celebrating the Dark Knight's 80th birthday. The issue features a collection of short stories from an all-star lineup of writers and artists, including Tom King, Tony S. Daniel & Joëlle Jones, Scott Snyder & Greg Capullo and Brian Michael Bendis & Alex Maleev.
For our heroic veteran dads and grandfathers, DC Vertigo's graphic novel SIX DAYS: THE INCREDIBLE STORY OF D-DAY'S LOST CHAPTER will make a great addition to his library. Written by New York Times bestsellers Rob Venditti and Kevin Maurer, with artwork by Italian comic book artist Andrea Mutti, the novel follows the true story of lost American soldiers and the French villagers of Graignes who worked together to alter the course of the D-Day campaign.
A Spider That Is Far From Home
Hasbro recently revealed the every popular Legends series for the new Marvel Spider-Man: Far From Home movie. You can now pre-order links each individual Marvel Legends figures plusher is a variety of product tied to the film is hitting shelves soon.
Everything Is Still Awesome
The much-anticipated sequel to the critically acclaimed, global box office phenomenon that started it all, The LEGO Movie 2: The Second Part, reunites the heroes of Bricksburg in an all new action-packed adventure to save their beloved city. It's been five years since everything was awesome and the citizens are facing a huge new threat: LEGO DUPLO invaders from outer space, wrecking everything faster than they can rebuild.
The battle to defeat the invaders and restore harmony to the LEGO universe will take Emmet, Lucy, Batman and their friends to faraway, unexplored worlds, including a strange galaxy where everything is a musical. It will test their courage, creativity and Master Building skills, and reveal just how special they really are. The film comes out Blu-ray on May 7th.

More Dragons To Train
Nearly ten years after the first movie wowed audiences around the world, Hiccup and Toothless return to captivate fans with an adventure of a lifetime in DreamWorks Animation's HOW TO TRAIN YOUR DRAGON: THE HIDDEN WORLD. The final quest from Dean DeBlois' (Lilo & Stich, How to Train Your Dragon trilogy) arrives on Digital and via the digital movie app MOVIES ANYWHERE on April 30, 2019 and on 4K Ultra HD, Blu-Ray™, DVD, and On Demand May 21, 2019 from Universal Pictures Home Entertainment. Hailed as "the perfect conclusion to one of the best animated trilogies of all time" (Scott Menzel, We Live Entertainment) and certified fresh on Rotten Tomatoes®, the film opened at #1 in over 40 markets. The 4K Ultra HD, Blu-ray™, DVD and Digital versions feature over an hour of exclusive behind-the-scenes bonus content including an alternate opening, two DreamWorks animated shorts, deleted scenes and more.
To mark the film's global 4K Ultra HD, Blu-rayTM and DVD release, Universal has partnered with Facebook and Messenger to debut two exclusive adorable Night Lights (baby dragons) to train and an awe-inspiring in-store Augmented Reality (AR) experience. In pack, fans can unlock an exclusive code that reveals your very own Night Light that you can hatch, train, and send on adventures within the popular Dragon Pets Instant Game available on Facebook and Messenger. Additionally, participating retailers around the world will unveil in-store displays that trigger a visually stunning AR adventure bringing Toothless and Light Fury to flight! Both the in-home and in-store experiences are compatible with iOS and Android devices, and users should download the latest version of the Facebook and Messenger apps.
What began as an unlikely friendship between an adolescent Viking and a fearsome Night Fury dragon has become an epic trilogy spanning their lives. In this next installment, the heroic pair finally fulfill their destinies; Hiccup (Jay Baruchel) as the village chief and ruler of Berk alongside Astrid (America Ferrera), and Toothless as the dragon leader of his own kind. As the Vikings and dragons of Berk face their darkest threat yet, the evil Grimmel (F. Murray Abraham), and Toothless discovers his soulmate, Light Fury – the bonds of Hiccup and Toothless' friendship are tested like never before.
The all-star voice cast behind all of the beloved characters from the previous films returns with Jay Baruchel (The Sorcerer's Apprentice, This Is the End), America Ferrera ("Superstore," The Sisterhood of the Travelling Pants), Cate Blanchett (The House with a Clock in Its Walls, Ocean's Eight), Gerard Butler (300, The Bounty Hunter), F. Murray Abraham (Isle of Dogs, The Grand Budapest Hotel), Kit Harington ("Game of Thrones"), Craig Ferguson (Brave), Kristen Wiig (Despicable Me 3, Ghostbusters), Jonah Hill (The Lego Movie franchise, 21 Jump Street) and Christopher Mintz-Plasse (Trolls, This is the End).