Another week, another geek feature. In this post we are putting the spotlight on Solo: A Star Wars Story, some very cool new collectibles from DC Comics and an old school series is back with a new twist in She-Ra Princess of Power.
Solo: A Star Wars Story
Your favorite smuggler, Han Solo is back. Disney and LucasFilm are putting the spotlight on Han Solo with his own movie. I have seen the film a few times and love it. There are a ton of cool Easter eggs in the movie that give a nod to other Star Wars films and films that Harrison Ford starred in.
To celebrate the movie's release on Blu-ray and DVD on September 25th we have a cool contest where you can win a ton of Star Wars gear! To win the following items all you have to do is leave a comment on iTunes or wherever you listen to The Life of Dad Show podcast. We will randomly select a winner. Good luck.
You can win this Solo Prize Pack that includes: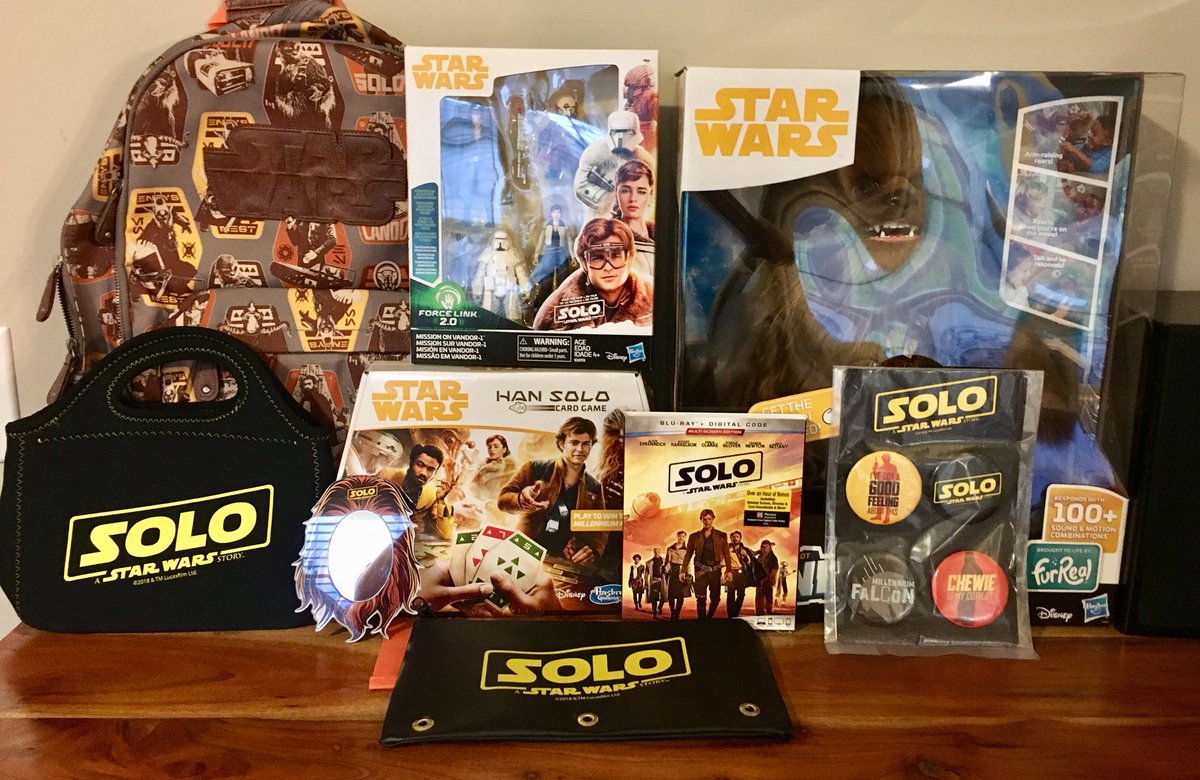 A Solo backpack, lunch bag, pencil pouch, a Chewie Mirror, Solo buttons, an Ultimate Co-Pilot Chewbacca, a Solo Home Entertainment Figure 4-Pack, a Han Solo Card Game and Solo: A Star Wars Story on Blu-ray.
Dark Nights Metal 
DC Collectibles just announced a new statue line featuring the Batmen of the acclaimed Dark Nights: Metal comics series.
Straight from the pages of the bestselling DARK NIGHTS: METAL comics series comes an all-new line of 7" statues from DC Collectibles. These awesomely dark Batman statues honor Greg Capullo's art from the comic book in stunning detail and are perfect additions to any Metal fan's collection.
Launching in May 2019, the line will recreate eight characters from the series in total, including the fearsome Batman Who Laughs as a deluxe statue. You can also look for a Batman with baby Darkseid statue, as well as the six other Dark Multiverse Batmen: The Red Death, The Drowned, The Dawnbreaker, The Murder Machine, The Merciless and The Devastator. 
DARK NIGHTS: METAL BATMAN: THE DAWNBREAKER will be the first statue out of the gate in May 2019 and will be available for purchase at an MSRP of $85.00 . Intricately sculpted by Adrienne Smith, The Dawnbreaker features an interchangeable hand, allowing you to switch between his normal appearance and one where he's forming a construct.
"We wanted to celebrate DC's successful run of the Metal series through this statue line," explained DC Collectibles' creative executive director, Jim Fletcher. "It's thrilling to see Capullo's Batmen designs to come to life in 3-D form and we think fans will really enjoy the intricate details and customizable accessories and bases. While not poseable, these statues are basically in scale with all our previous Capullo action figures, so they will be great companion pieces when they are all displayed together."
She-Ra Princess of Power
The savior of Etheria is here as DreamWorks She-Ra and The Princesses of Power brings to life a story of magic, friendship, loyalty, and an epic battle for peace. Inspired by the popular '80s series, DreamWorks She-Ra and the Princesses of Power tells the story of an orphan named Adora, who leaves behind her former life in the evil Horde when she discovers a magic sword that transforms her into the mythical warrior princess, She-Ra. Set in a world where women are unabashedly at the forefront, the series brings forth indomitable female characters each with their unique abilities and flaws to empower and entertain audiences everywhere. To celebrate the upcoming series, we have included both the new teaser trailer and press kit link below.
Eisner Award-winning author and executive producer Noelle Stevenson (Lumberjanes, Nimona) and executive producer Chuck Austen (Dawn of the Croods, Steven Universe) present a modern take on the '80s girl power icon by giving a generation of young fans a warrior princess that is tailor-made for today. The series will debut Friday, November, 16th on Netflix!
For more articles that fit your Geek style check out the latest Life of Dad Collector of the Week as on dad shows off his "Marvelous" collection.