Jabba's Sail Barge, Cap's Kicks & Harry Potter's Patronus
Lots of fun things happened to me for this week in the world of geek. I have some fantastic things I want to share with you that all my fellow geeks will appreciate.
If you watch the Geek Show that Patrick Quinn and I co-host on the Life of Dad Facebook page then you know I am collector of all things geek. So when HASLAB decided to create The Khetanna for their first project a lot of Star Wars fans were excited to see how this would turn out.
In the film "Star Wars: Episode VI Return of the Jedi", The Khetanna was a luxury, 30-meter sail barge owned by Jabba the Hutt that carried a massive transport of up to 500 passengers and 26 crew members. Complete with 3 decks, the Sail Barge was primarily used to transport passengers on extended trips across the dunes on the planet, Tatooine. Most notably, the Sail Barge was the site of Jabba's demise at the hands of Princess Leia Organa and her cohorts.
Now HASLAB is looking to make sure that they reach their of people to back their goal for 5,000 units by April 3rd. I got to take part in a round table with some of the HASLAB team members, Joe Ninivaggi, Steve Evans, and Mark Boudreaux.
In that discussion other writers and I asked Joe Ninivaggi, Steve Evans, and Mark Boudreaux a few questions about the creation of The Khetanna, the ups and downs of trying to reach their goal and other ships that they might look to create at HASLAB. A surprising answer to what other items they would create was none other than the Star Wars Rebel's ship The Ghost. Depending on how Jabba's Sail Barge does with meeting it's goal we could see a lot more fantastic items from HASLAB. Other projects could come from titles such as Transformers and other Hasbro properties.
The HASLAB team have put their blood, sweat, and tears into this project. If you are looking to help them out go to hasbrolab.com.
Speaking of Star Wars, The Last Jedi comes to Blu-ray next week!
Lucasfilm's Star Wars: The Last Jedi—the next action-packed chapter of the Star Wars saga— Earned critical acclaim and the No. 1 spot atop 2017's list of highest-grossing films. The visually stunning film welcomes the return of original characters, including Luke Skywalker, Princess Leia, Chewbacca, Yoda, R2-D2 and C-3PO and further explores the deepening journey of the saga's new members, Rey, Finn, Poe, and Kylo Ren. Now families can bring home the movie digitally in HD and 4K Ultra HD™ and via Movies Anywhere on March 13, two weeks before the 4K Ultra HD™ Blu-ray, and Blu-ray™ disc on March 27.  This release also marks Disney's first title available on 4K Ultra HD Blu-ray disc in both Dolby Vision™ HDR and Dolby Atmos® immersive audio, delivering consumers a transformative viewing experience.
Director Rian Johnson takes fans on an intimate journey into the creation of Star Wars: The Last Jediin a feature-length documentary, explaining his unique interpretation of the Force, detailing the painstaking process of creating Snoke, and deconstructing action-packed scenes from the film such as the epic space battle and the final confrontation. Johnson also reveals two exclusive scenes, featuring Andy Serkis as Snoke prior to his digital makeover, as well as 14 never-before-seen deleted scenes, in addition to his audio commentary.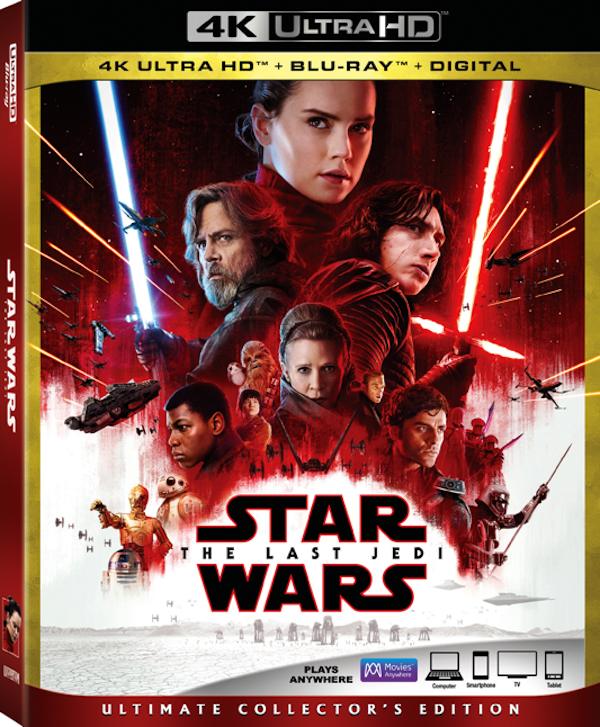 Bonus features include:
The Director and the Jedi – Go deep behind the scenes with writer-director Rian Johnson on an intimate and personal journey through the production of the movie—and experience what it's like to helm a global franchise and cultural phenomenon.
Balance of the Force – Explore the mythology of the Force and why Rian Johnson chose to interpret its role in such a unique way.
Lighting the Spark: Creating the Space Battle – Get a close-up look at the epic space battle, from the sounds that help propel the action, through the practical and visual effects, to the characters who bring it all to life.
Snoke and Mirrors – Motion capture and Star Wars collide as the filmmakers take us through the detailed process of creating the movie's malevolent master villain.
Showdown on Crait – Break down everything that went into creating the stunning world seen in the movie's final confrontation, including the interplay between real-word locations and visual effects, reimagining the walkers, designing the crystal foxes, and much more.
Andy Serkis Live! (One Night Only) – Writer-director Rian Johnson presents two exclusive sequences from the movie featuring Andy Serkis' riveting, raw on-set performance before his digital makeover into Snoke.
Deleted Scenes – With an introduction and optional commentary by writer-director Rian Johnson.
Audio Commentary – View the movie with in-depth feature audio commentary by writer-director Rian Johnson.
Next month we get to see the continuation of the Marvel Cinematic Universe when Avengers: Infinity War hits theaters. I can't wait to see this film. Thanks to places like ThinkGeek we are lucky enough to have a lot sick gear to wear when we see these films. I am bit scared for the fate of Captain America in Infinity War, but on the plus side I will be rocking some Captain America kicks to see the movie.
The Captain America High Top Sneaker is officially-licensed Captain America merchandise, which is a ThinkGeek exclusive. The high top sneakers featuring Captain America's shield on the side and has dark blue with red laces and white soles. The sneakers are available in U.S. men's whole sizes. If you ladies are looking to pick up a pair of these kicks add 2 sizes to get the corresponding US women's shoe size – a men's 8 will fit a women's size 10.
Harry Potter Snape's Patronus Lamp
If you are looking for a nightlight for your kids who love Harry Potter well you will need this for your kid's room. This will not only be a great nightlight, but will give your kids some courage during the night. The lamp might be able to keep away Dementors and anything else that goes bump in the night. The lamp comes with a timer switch so your child won't have to have the lamp on all night long.
The illumination creates the magical shadow, a design that only works because there is darkness mixed in with the light. It is an officially-licensed Warner Brothers' Harry Potter merchandise. It has an LED glowing light with timer function with 2 hour / 4 hour / 6 hour timer selection switch on base. Plus the timer remembers when you want it on and repeats duration every 24 hours. For example if you set it to illuminate for 4 hours, it'll turn off in 4 hours and turn back on 20 hours after that.
Star Wars 40th Anniversary Plush Sets – Exclusive
How cute are these Star Wars plushes? Each one is officially licensed by Lucasfilm. They are huggable and throwable and small enough to hide in a backpack or on your desk. Chewie even has a functional pouch on his bandolier! These Star Wars 40th Anniversary Plush Sets have some characters that are exclusive to ThinkGeek. There are two sets, the Darth Vader or Luke Skywalker set.  The Luke set has Luke, Leia, C-3PO, R2-D2, and a ThinkGeek-exclusive Jawa. The  Darth Vader set has Vader, Han, Chewie, a Stormtrooper, and a ThinkGeek-exclusive Tusken Raider.
Darth Vader and his loyal Stormtroopers carry the weight of the Galactic Empire, doing the Emperor's bidding. Walking the corridors of the Death Star, the quartet come together for a moment evocative of the Beatles' iconic Abbey Road album cover of September 1969. The Death Star Road Tee features Darth Vader and three Stormtroopers in the classic Abbey Road "zebra crossing" pose on a heather grey 50% cotton, 50% polyester t-shirt.
(Please note: I am working with ThinkGeek and so I am disclosing that I've included certain products and links to those products on this site that I will earn an affiliate commission for any purchases you make.)