There has been a few good movie trailers that were released this week. Disney released their trailer for the live action adaptation of Dumbo which is has made people cry and smile at the same time. You will see what I mean in the trailer below. Also Dog Days directed by Ken Marino and starring Nina Dobrev, Vanessa Hudgens, Adam Pally, Eva Longoria, and Finn Wolfhard released their trailer too.
To my fellow Loot Crate geeks out there have you checked out the Marvel Loot Crate Gear and Goods? This month's crate has a bunch of Avenger goodness. You will see what was in this month's box below. (Spoiler alert!) Finally for all you Monopoly fans out there you will be happy to hear about the Cheaters edition that is now available.
Dumbo:
From Disney and visionary director Tim Burton, the all-new grand live-action adventure Dumbo expands on the beloved classic story where differences are celebrated, family is cherished and dreams take flight. Circus owner Max Medici (Danny DeVito) enlists former star Holt Farrier (Colin Farrell) and his children Milly (Nico Parker) and Joe (Finley Hobbins) to care for a newborn elephant whose oversized ears make him a laughingstock in an already struggling circus. But when they discover that Dumbo can fly, the circus makes an incredible comeback, attracting persuasive entrepreneur V.A. Vandevere (Michael Keaton), who recruits the peculiar pachyderm for his newest, larger-than-life entertainment venture, Dreamland. Dumbo soars to new heights alongside a charming and spectacular aerial artist, Colette Marchant (Eva Green), until Holt learns that beneath its shiny veneer, Dreamland is full of dark secrets.
Dog Days:
From acclaimed production company LD Entertainment (The Zookeeper's Wife, Jackie, and Megan Leavey) and Director Ken Marino comes Dog Days. Dog Days is a hilarious and heartfelt ensemble comedy that follows the lives of multiple dog owners and their beloved fluffy pals around sunny Los Angeles. When these human and canine's paths start to intertwine, their lives begin changing in ways they never expected.
Marvel Gear And Goods: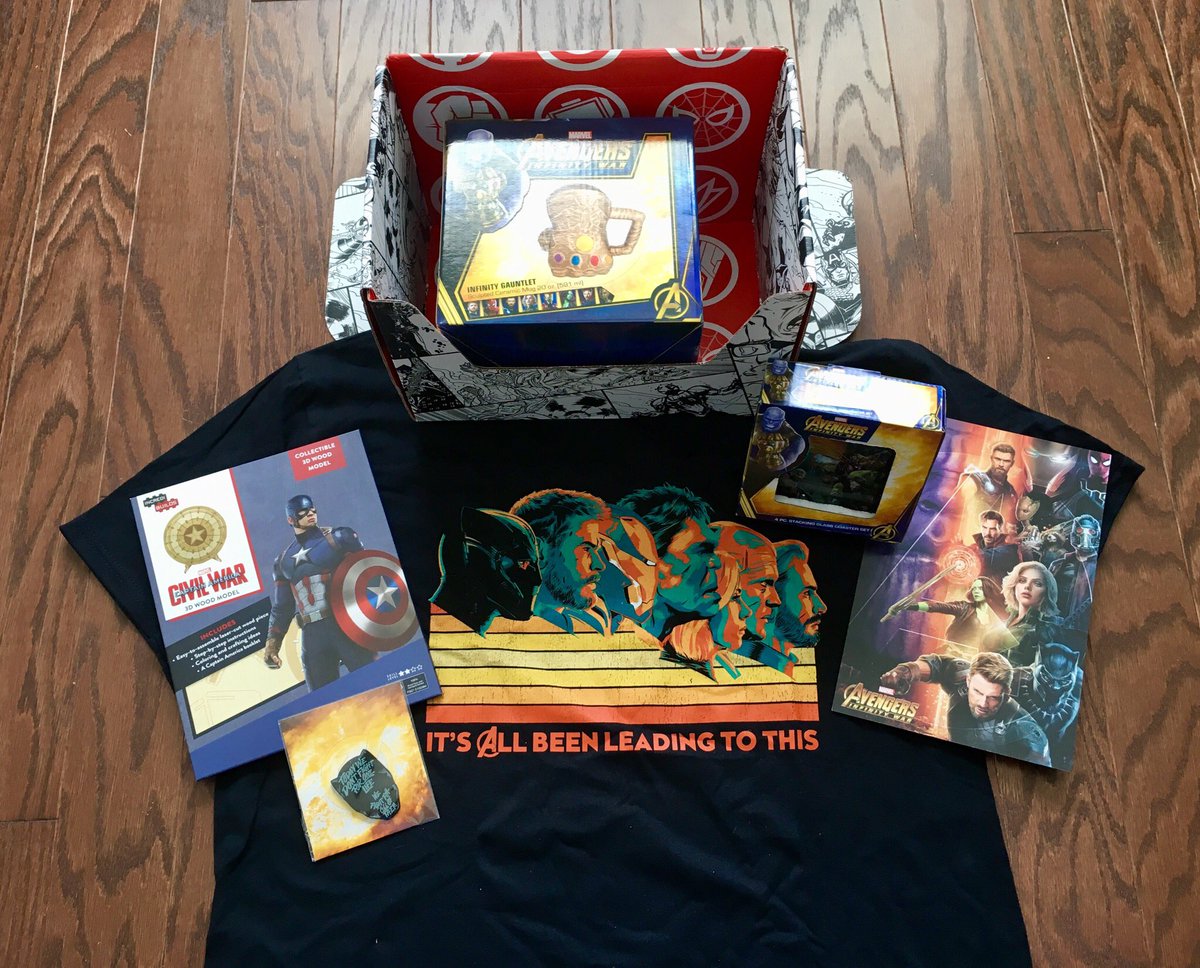 I always love when I get a Loot Crate box! This month's Marvel Goods and Gear has a bunch of Avengers: Infinity War items! You get a Marvel Infinity War Gauntlet 20 Oz Sculpted Ceramic Mug, a Infinity War T-Shirt Marvel, an Infinity War 4 Pc. Stacking Glass Coasters, an Incredibuilds: Marvel's Captain America: Civil War 3D Wood Model and a Black Panther Battle Cry Pin. Marvel Gear + Goods is delivered every other month. Next crate's theme is Take The Lead. They will be celebrating heroes who TAKE THE LEAD with a collection of Marvel gear featuring She-Hulk, Captain Marvel, Squirrel Girl and more!
MONOPOLY: CHEATERS Edition Game:
What can you get away with? In this updated version of the classic MONOPOLY game, players are permitted to bend the rules and "cheat to win" as they travel across the gameboard in an effort to own it all! For the first time, "borrowing" money from the bank, skipping spaces, and avoiding rent are welcomed in this hilarious version of the iconic MONOPOLY game. Complete the "cheats" as assigned by the game and get a reward, but get caught and you'll pay the consequences! Pretend handcuffs will leave offenders "chained" to the board until they are released. Includes one gameboard, plastic handcuff, 6 tokens, 15 Cheat Cards, 16 title deed cards, 16 Chance Cards, 16 Community Chest Cards, 16 hotels, 2 dice, money pack, bank tray and game guide.
For more articles like this check out another Geek Corner article.