MORTAL KOMBAT!!! Are you ready to chat with Johnny Cage?
On The Show:
Master Daniel Pesina talks with the Geek Show hosts, Art Eddy and Patrick Quinn about all things Mortal Kombat, martial arts and much more. Have a question for Master Pesina? FINISH HIM!
Here are some of our viewers thoughts on today's show: 
Shawn Kingbird
Sup dudes!!! This is rad!  Stopping in showing some love. I love Mortal Kombat. Who came up with the fighters sound effects? Raiden is popular amongst todays grown men.
Christine E Cummings
How many injuries did you get on a scene? 
I was obsessed with Mortal Kombat in the Arcade!! Johnny cage was my fave character. 2nd fave was scorpion
James Folk
How long did it take to make the game ? From concept approval to first release?
Chris Seastrand
My nephew Tyler was kicking the neighborhood boys butts when He was three years old in Mortal Kombat. That's right I let him play Mortal Kombat at three years old.
Jon M Ellison
That's hardcore whoa well much props to your hard work. Appreciate you and keep em coming 

😉
Richard Magei
Watching from Papua New Guinea. Massive, massive fan since MK1.
Steve Devens
Finish him !!
Drummond Sanchez
Daniel Pesina is a great guy. He's been my brother Alfredo's shifu for years! The real deal!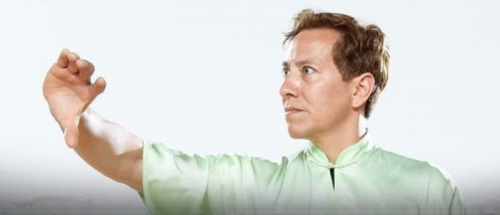 About Master Pesina:
Master Pesina has been studying martial arts continuously since 1970, when he was introduced to Judo by his two older brothers.
He has trained under many masters including Guo Jian Hua (In door student of Wen Jingming and Lui Yuhua), Zhu Baozhen (Luo Chengli, He Zhong Xiang, He Zhong Qi), Hu Jianqiang (Shaolin Temple movie fame), Wai Lun Choi (Lui He Ba Fa grandmaster), and Lin Jian Hua (head judge for international Wushu federation), to name a few.
Master Pesina is perhaps most famous for his work as Johnny Cage and the ninjas in the first two Mortal Kombat games. He has also worked on films such as Teenage Mutant Ninja Turtles II: Secret of the Ooze, Book of Swords, Press Start, and Mortal Kombat Fates Beginning, winner of the 2015 Urban Action Showcase Best MK Film award.In addition to continuing his personal practice, he teaches weekly classes in Chicago, IL and travels throughout North and South America to teach seminars on martial arts and choreography.
Follow him on Twitter at @masterpesina  and go to his website at www.masterpesina.com
About The Geek Show Hosts:
Art Eddy 
Art Eddy is one of the co-founders here at Life of Dad. He hosts and produces all of the Life of Dad podcast as well as hosting a few Facebook Live Shows on the Life of Dad Facebook page. He is one of the main writers on the site. Art loves Star Wars, football (49ers fan), baseball (Red Sox fan), Air Jordans and all things Geek.
Patrick Quinn
Patrick Quinn is one of the co-founders here at Life of Dad. He is one of the funniest writers here at Life of Dad. He has a weekly article called Playlist Elevated where he introduces you to bands that you might not know, but totally should.
For more on The Geek Show click here.