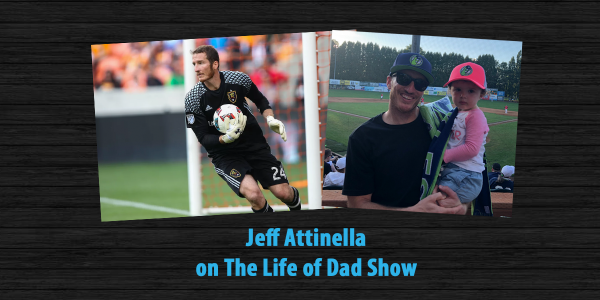 Jeff Attinella is this week's guest on The Life of Dad Show.
On The Show
Jeff Attinella returns to The Life of Dad Show to talk with Art Eddy about fatherhood, his podcast and much more. Jeff is great father and shares more about his journey as a dad. He also talks with Art about the state of soccer here in the United States. Jeff answers the Life of Dad Quick Five to close out the interview.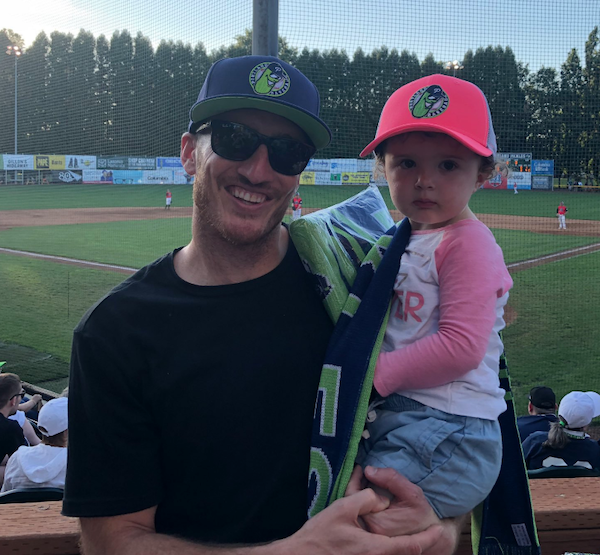 About Jeff Attinella
Growing up, Jeff was all about sports– football, soccer, baseball, you name it. If it wasn't sports related, he wasn't interested. His love for sports is a passion that has shaped his entire life. He is fortunate to play soccer for a living, but it's bigger than that. His most cherished childhood memories are centered around watching a big game; his relationship with his wife sparked by a mutual love for Penn State football, and his passion for Tampa Bay sports keeps him close to home, even though he has moved all over the country.
He owes so much of his life to sports. The idea to tell these stories came about after the birth of his daughter, Remy. Jeff wanted to create a vehicle where he could share his love of sports with her, in a way that would hopefully build a bond they would share forever. Reading together provides a way for parents and their children to share in special moments, but he wants these stories to do even more. He wants to reach the kids like himself, the ones more likely to grab a ball than a book. It is so important for a growing mind to fall in love with reading and he hopes these stories can bridge a love for sports with a newfound passion for reading.
Follow Jeff on Twitter at @Jeff_Attinella1 and go to ithadtobetold.com to check out his book series.
This week's Life of Dad Show is being brought to you by Dream Catcher.

Nearly 10,000 children a year, under the age of 2 are treated in emergency departments for crib related injuries. With the most common cause of injury caused by falling from the crib, parents are looking for a solution they can turn to. Dream Catcher is an inflatable bumper that surrounds your baby's crib and provides a safe way to reduce the likelihood of serious injury without restricting your child. With eight inflatable sections that surround the crib, it can be configured to any nursery layout. To learn more please visit www.safell.org
About The Life of Dad Show
The Life of Dad Show is the multimedia flagship property of the world's largest network for fathers. With 600,000 downloads of its popular podcast and 300,000+ viewers of the Facebook Live show since 2017, The Life of Dad Show has gathered advice, stories and strategies from an unparalleled list of household names, from Shaq to Jim Gaffigan, to Michael Strahan and Mark Hamill, each offering a glimpse into their personal life as a dad. The show airs Mondays and Wednesdays on Facebook Live, YouTube and Instagram TV. The podcast comes out weekly.
Subscribe to The Life of Dad Show on iTunes and leave a review and you could win a Life of Dad prize pack.