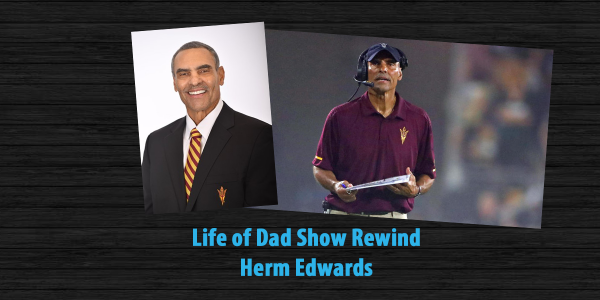 Herm Edwards is this week's guest on The Life of Dad Show – Rewind Edition
On The Show
The Life of Dad Show, host Art Eddy shares an interview he did a few years back with Herm Edwards. Fans of the NFL or ESPN know who Herman Edwards is. The former NFL player that made a name for himself with the Philadelphia Eagles also was a head coach for the New York Jets and Kansas City Chiefs. Edwards was the player who recovered a fumble by Giants quarterback Joe Pisarcik on a play that has been nicknamed "The Miracle at the Meadowlands."
I had the great pleasure of talking with Herm about his time in the NFL as a player and as a head coach. Edwards also was kind enough to chat with me about fatherhood. He spoke about what he had learned from his father and how he uses what he learned to inspire his children to live a good life.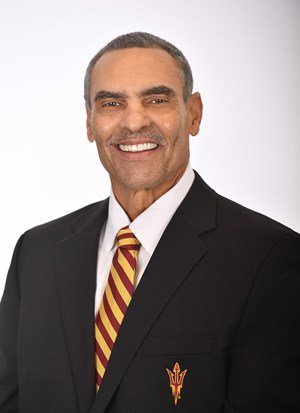 About Herm Edwards
Herm Edwards head coach of Sun Devil Football program at Arizona State University. Edwards co-authored the book You Play to Win the Game – Leadership Lessons for Success On and Off the Field with ESPN's Shelley Smith, and he was involved in longtime NFL referee Jim Tunney's book, It's the Will, Not the Skill – Principles and Philosophies of Success as Seen Through the Eyes, Mind and Heart of Herm Edwards.
Edwards played cornerback for the University of California in 1972 and 1974 before he ended his collegiate career at San Diego State in 1975. An undrafted free agent who went on to have a 10-year NFL career, he never missed a game in his nine seasons with the Philadelphia Eagles from 1977 to 1985 and started all 16 games in seven of his nine seasons with the team. Over the course of his nine years in Philadelphia, Edwards totaled 38 interceptions — with seven during his sophomore NFL season – which is just one short of the franchise record. He earned second-team All-NFC honors in 1980 to help lead the Eagles to Super Bowl XV.
Edwards was the head coach for the New York Jets and the Kansas City Chiefs. Edwards joined ESPN in March 2009 as an NFL studio analyst. He appeared primarily on NFL Live and SportsCenter, while also contributing to ESPN Radio and the company's annual Super Bowl coverage. He also worked local broadcasts of Eagles preseason games in 2009.
Edwards and his wife Lia are the proud parents of three children: Marcus, Gabrielle and Vivian.
About The Life of Dad Show
The Life of Dad Show is the multimedia flagship property of the world's largest network for fathers. With 600,000 downloads of its popular podcast and 300,000+ viewers of the Facebook Live show since 2017, The Life of Dad Show has gathered advice, stories and strategies from an unparalleled list of household names, from Shaq to Jim Gaffigan, to Michael Strahan and Mark Hamill, each offering a glimpse into their personal life as a dad. The show airs Mondays and Wednesdays on Facebook Live, YouTube and Instagram TV. The podcast comes out weekly.
Subscribe to The Life of Dad Show on iTunes and leave a review and you could win a Life of Dad prize pack.