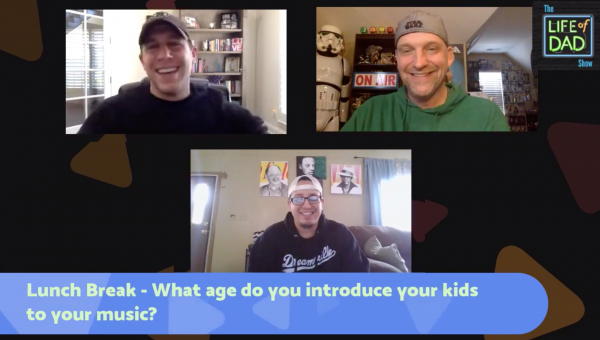 Lunch Break – What age can your kids listen to your music?
On The Show:
At what age do you let your kids listen to the music you listen to? It could be Rap music to Grunge music. What bands or groups do you introduce them to? The Lunch Break hosts, Art Eddy and Jon Finkel bring on Lunch Break loyal viewer, Shawn Kingbird on to talk about this topic.
Check out what some of our viewers said.
Mark Seyfried · Music doesn't get weird until your kids start singing the lyrics back to you. Then ur like "um…maybe that's not appropriate." 😂
Matt Joyce · In the womb. As long as the lyric content is ok but 9/10 the radio is kid friendly.
Frank Hunden · Since birth; the oldies, funk, queen, reggae, country ect… I just started to play my 80s/90s rap music and she is turning 12.
Savannah Lynn · TwentyOne Pilots are awesome! My girls (8&2) love them also. I don't have to worry about the lyrics too much.
Patrick Tellez · Depends on what artist and songs.. Certain 2pac, Bone thugs and DMX I prob won't ever play with my boys but others like Joyner Lucas, Queen or Red hot chili peppers I play with them
About The Lunch Break Hosts:
Art Eddy is one of the co-founders of Life of Dad. He hosts and produces all of the Life of Dad podcasts as well as several Facebook Live Shows. He has been responsible for securing nearly two hundred guests for a variety of Life of Dad platforms, including dozens of A-List fathers throughout the pop culture, sports and business landscape. He is also an editor and featured blogger on Life of Dad and has grown with the brand since its inception. His background is in Radio and Journalism. Art has worked in radio in New York City, New Jersey and New Hampshire.
Jon Finkel's books have been endorsed by everyone from Tony Dungy and Spike Lee, to Jerry Jones and Jeff Van Gundy. He is the author of The Athlete: Greatness, Grace and the Unprecedented Life of Charlie Ward. He also wrote "Mean" Joe Greene: Built By Football with 4x Super Bowl Champion Joe Greene, Heart Over Height with 3x NBA Dunk Champion Nate Robinson and Forces of Character with 3x Super Bowl Champion and Fighter Pilot Chad Hennings. He also wrote the popular fatherhood fitness book, The Dadvantage. As a feature writer, he has written for Men's Health, Men's Fitness, The New York Times, GQ, Details, Yahoo! Sports and many more. He is an avid speaker, writer and creative strategist for some of the biggest brands in sports and health. Visit: www.jonfinkel.com
Follow Art on Twitter at @ArtEddy3 and Jon on Twitter @Jon_Finkel