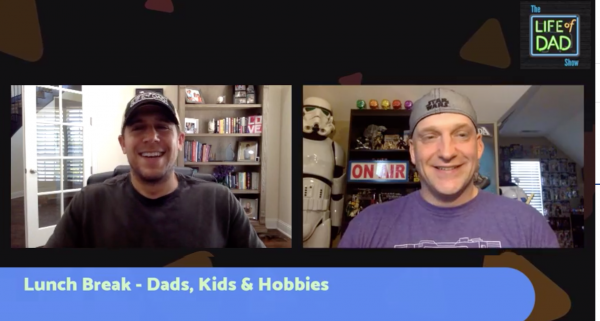 What hobbies have you passed down to your kids?
On The Show:
What is something that you like to do that they took in interest in? On the flip side is there something that they have a passion for that you started up as well?

Check out what our viewers said:
Kelly Clark · I'm a huge cowboys fan…and I've gotten my kids somewhat into football….and also a love of trash talking. My youngest started to cheer for the eagles of all teams just to talk smack.
Victoria Garza · My daughter loves swimming! She's always wanting to be in the pool or in the bath and play mermaid.😂
Froggie Hall · A love of bicycles, motorsports, and I plan to start competitive scouting in a couple years right now we just use Nerf guns.
Steven Whiteside
Motorcycles started my son into it from day one, he got his first mini Moto at 6 months and loves them.
Scotty Szanto
My son made a mix-cd for his 5th birthday and gave them to people who came to his party instead of gift bags.
Peter Reid Parker
Basketball/Videogames N 80's early 90's action movies

🤘🏼
About the Lunch Break Hosts:
Art Eddy is one of the co-founders of Life of Dad. He hosts and produces all of the Life of Dad podcasts as well as several Facebook Live Shows. He has been responsible for securing nearly two hundred guests for a variety of Life of Dad platforms, including dozens of A-List fathers throughout the pop culture, sports and business landscape. He is also an editor and featured blogger on Life of Dad and has grown with the brand since its inception. His background is in Radio and Journalism. Art has worked in radio in New York City, New Jersey and New Hampshire.
Jon Finkel's books have been endorsed by everyone from Tony Dungy and Spike Lee, to Jerry Jones and Jeff Van Gundy. He is the author of The Athlete: Greatness, Grace and the Unprecedented Life of Charlie Ward. He also wrote "Mean" Joe Greene: Built By Football with 4x Super Bowl Champion Joe Greene, Heart Over Height with 3x NBA Dunk Champion Nate Robinson and Forces of Character with 3x Super Bowl Champion and Fighter Pilot Chad Hennings. He also wrote the popular fatherhood fitness book, The Dadvantage. As a feature writer, he has written for Men's Health, Men's Fitness, The New York Times, GQ, Details, Yahoo! Sports and many more. He is an avid speaker, writer and creative strategist for some of the biggest brands in sports and health. Visit: www.jonfinkel.com
Follow Art on Twitter at @ArtEddy3 and Jon on Twitter @Jon_Finkel