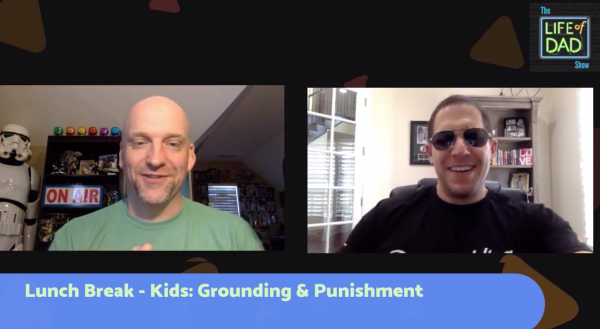 Do you ground your kids?
On The Show:
What type of parental discipline do you adhere to? Do you ground your kids? If so what are the punishments? How are they different from when you were a kid? Our Lunch Break hosts, Art Eddy and Jon Finkel discuss this topic and share their opinion on the subject.
Here is what some of our viewers said:
Jenn Townes · My dad used to cut the plug off our TV and take controller away for the console, my mum took my books away too🤦‍♀️.
Jay Danceman · My son wasn't listening to his mother while I was at work, next morning I woke up and took his Xbox with me. He didn't see it till 9 o'clock pm that day. Told him him next time it's a week.
Alexander Supertramp
14 years in law enforcement and what I hear from every criminal during an interrogation is that they wished there parents would have set guidelines and held them accountable.
Chris Root
My mom tried to unhook my cable from the basement but I figure out take a cable cord and run it to the vcr and to the tv and you got your self some cable lost the whole tv after.
Jay Watson
No technology. Lose all privilege. And get them to help with washing up or other household chores
About The Lunch Break Hosts:
Art Eddy is one of the co-founders of Life of Dad. He hosts and produces all of the Life of Dad podcasts as well as several Facebook Live Shows. He has been responsible for securing nearly two hundred guests for a variety of Life of Dad platforms, including dozens of A-List fathers throughout the pop culture, sports and business landscape. He is also an editor and featured blogger on Life of Dad and has grown with the brand since its inception. His background is in Radio and Journalism. Art has worked in radio in New York City, New Jersey and New Hampshire.
Jon Finkel's books have been endorsed by everyone from Tony Dungy and Spike Lee, to Jerry Jones and Jeff Van Gundy. He is the author of The Athlete: Greatness, Grace and the Unprecedented Life of Charlie Ward. He also wrote "Mean" Joe Greene: Built By Football with 4x Super Bowl Champion Joe Greene, Heart Over Height with 3x NBA Dunk Champion Nate Robinson and Forces of Character with 3x Super Bowl Champion and Fighter Pilot Chad Hennings. He also wrote the popular fatherhood fitness book, The Dadvantage. As a feature writer, he has written for Men's Health, Men's Fitness, The New York Times, GQ, Details, Yahoo! Sports and many more. He is an avid speaker, writer and creative strategist for some of the biggest brands in sports and health. Visit: www.jonfinkel.com
Follow Art on Twitter at @ArtEddy3 and Jon on Twitter @Jon_Finkel