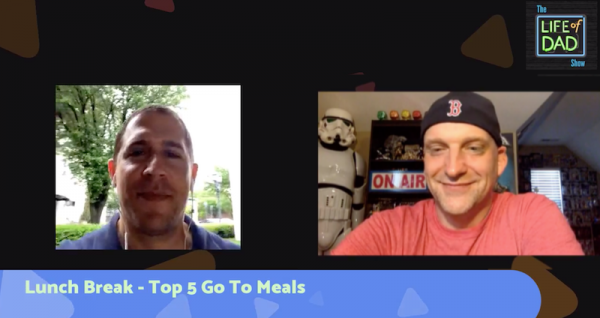 What are your Top 5 Go To Meals that you cook for your kids?
On The Show:
The Lunch Break hosts, Art Eddy and Jon Finkel share their favorite meals that they prepare for their families as their viewers share their Top 5 and shares some cool recipes.

What some viewers said:
John Brady · Hotdogs, cereal, pancakes, cereal, grilled cheese, cereal.
Jenn Townes · Spaghetti bolognese Sausage and mashed potatoes with gravy
Roast chicken dinner DIY chicken wraps Lamb meatball subs.
Jennifer Minster · Wait….how do I get my hubby to cook?!? If it's not the grill, it's up to me. 😂
Bill Williams · Once a week I do a "BAR FOOD" night with chicken strips, mozzarella sticks, BBQ wings, carrot sticks, celery, and of course ranch dip.
Dave Evans Sr. · Chicken cutlets all week
1 potato\gravy= country
2 Sauce\pasta=italian
3 Ranch\honey must+ fries=finger fast
4 lettuce bacon wraps= on the go
About The Lunch Break Hosts:
Art Eddy is one of the co-founders of Life of Dad. He hosts and produces all of the Life of Dad podcasts as well as several Facebook Live Shows. He has been responsible for securing nearly two hundred guests for a variety of Life of Dad platforms, including dozens of A-List fathers throughout the pop culture, sports and business landscape. He is also an editor and featured blogger on Life of Dad and has grown with the brand since its inception. His background is in Radio and Journalism. Art has worked in radio in New York City, New Jersey and New Hampshire.
Jon Finkel's books have been endorsed by everyone from Tony Dungy and Spike Lee, to Jerry Jones and Jeff Van Gundy. He is the author of The Athlete: Greatness, Grace and the Unprecedented Life of Charlie Ward. He also wrote "Mean" Joe Greene: Built By Football with 4x Super Bowl Champion Joe Greene, Heart Over Height with 3x NBA Dunk Champion Nate Robinson and Forces of Character with 3x Super Bowl Champion and Fighter Pilot Chad Hennings. He also wrote the popular fatherhood fitness book, The Dadvantage. As a feature writer, he has written for Men's Health, Men's Fitness, The New York Times, GQ, Details, Yahoo! Sports and many more. He is an avid speaker, writer and creative strategist for some of the biggest brands in sports and health. Visit: www.jonfinkel.com
Follow Art on Twitter at @ArtEddy3 and Jon on Twitter @Jon_Finkel