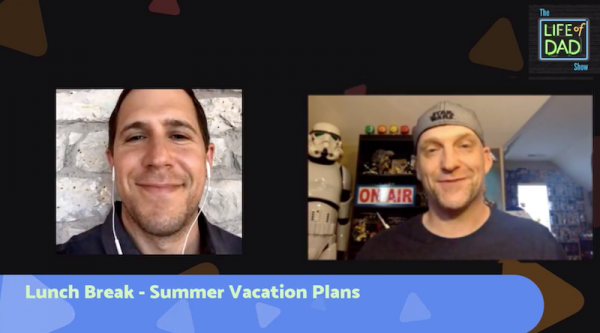 What are some ways you keep your kids busy in the summer?
On The Show:
Do they go to camps or visit family? How do you balance work and family when the kids are off from school? The Lunch Break hosts, Art Eddy and Jon Finkel share what they do during summer vacation.
What some of our viewers said:
Dale Leach · First of all you have to wake them, then get then off the couch, if you have work to be done around the house, have them help you do it, cement work, clean up, "weeds", moving things around, be creative, get a Clue! It will make them a better person and they will thank you for it in the years to come. It will help when they get their first job!
Jesus Urb-Puga · I usually like to put a swimming pool for the summer and camping ⛺️ it's awesome for kids and of course welcome kids from down the block set up basketball back board. Not to many parents have money for traveling so just make it exciting even yard camping.
Debbie Forte · I think it depends on the child camp might really be good but if your child is not outgoing it's not a good place. family is good because they can do things with them give them the love the attention they may need so it really is up to the individual child.
Dad or Alive
We would play wiffle ball for hours and raid my buddy Luke's pantry for pretzels and soda!
Kayla Lynn Marges
My son does 8 weeks of swimming lessons in the mornings and then outside activities for the rest of the day and Baseball every tuesday night. My hubby coaches his team.
About The Lunch Break Hosts:
Art Eddy is one of the co-founders of Life of Dad. He hosts and produces all of the Life of Dad podcasts as well as several Facebook Live Shows. He has been responsible for securing nearly two hundred guests for a variety of Life of Dad platforms, including dozens of A-List fathers throughout the pop culture, sports and business landscape. He is also an editor and featured blogger on Life of Dad and has grown with the brand since its inception. His background is in Radio and Journalism. Art has worked in radio in New York City, New Jersey and New Hampshire.
Jon Finkel's books have been endorsed by everyone from Tony Dungy and Spike Lee, to Jerry Jones and Jeff Van Gundy. He is the author of The Athlete: Greatness, Grace and the Unprecedented Life of Charlie Ward. He also wrote "Mean" Joe Greene: Built By Football with 4x Super Bowl Champion Joe Greene, Heart Over Height with 3x NBA Dunk Champion Nate Robinson and Forces of Character with 3x Super Bowl Champion and Fighter Pilot Chad Hennings. He also wrote the popular fatherhood fitness book, The Dadvantage. As a feature writer, he has written for Men's Health, Men's Fitness, The New York Times, GQ, Details, Yahoo! Sports and many more. He is an avid speaker, writer and creative strategist for some of the biggest brands in sports and health. Visit: www.jonfinkel.com
Follow Art on Twitter at @ArtEddy3 and Jon on Twitter @Jon_Finkel