Nephew Tommy Miles is this week's guest on The Life of Dad Show.
On The Show
Tommy Miles talks with Art Eddy about hosting the show, Ready for Love and what he hopes people will take away from that series. Tommy talks about how he prepares his material for his stand-up comedy and why he started up the Miles of Giving Foundation.
Miles then opens up about being a dad, who inspired him to become a great dad and the values he looks to instill into his kids.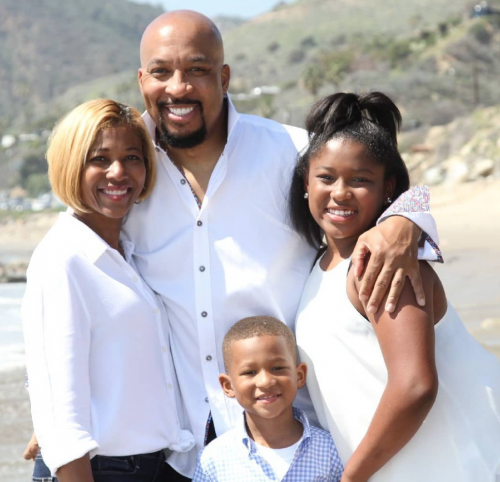 About Tommy Miles
Thomas "Nephew Tommy" Miles has built a career that encompasses radio, television, film and more. Thomas' role as co-host of the nationally syndicated Steve Harvey Morning Show puts him in front of a live radio audience of more than 8 million listeners daily. Nephew Tommy provides a key role in the morning show, lighting it up with his own cast of colorful characters and zany humor.
He's a talented thespian, studied theatre at Texas A&M University, who's worked in over a dozen stage plays and studied with the Royal Shakespeare Company of London. In 2018 Thomas serves as the host for Ready to Love produced by Will Packer Media and Lighthearted Entertainment.
In 2011 and 2013 Thomas traveled to over a dozen military bases in the Middle East with the Chairman of the Joint Chief of Staff USO Holiday Tour, where he shared his humor, insight and wisdom to thousands of military men and women. This interaction with soldiers, both stateside and around the world, inspired Thomas to establish Miles of Giving a non-profit foundation created for the purpose of assisting wounded veterans.
Whether on the stage, big screen, television or radio, Thomas "Nephew Tommy" Miles continues to demonstrate his remarkable talent to the delight of audiences worldwide.
Follow Tommy on Twitter at @nephewtommy and go to his website at thomasmiles.com
About The Life of Dad Show
The Life of Dad Show is the multimedia flagship property of the world's largest network for fathers. With 600,000 downloads of its popular podcast and 300,000+ viewers of the Facebook Live show since 2017, The Life of Dad Show has gathered advice, stories and strategies from an unparalleled list of household names, from Shaq to Jim Gaffigan, to Michael Strahan and Mark Hamill, each offering a glimpse into their personal life as a dad. The show airs Mondays and Wednesdays on Facebook Live, YouTube and Instagram TV. The podcast comes out weekly.
Subscribe to The Life of Dad Show on iTunes and leave a review and you could win a Life of Dad prize pack.