Veteran stage and screen actor Sterling K. Brown most recently starred as prosecutor Christopher Darden in FXs highly-rated television event series The People V. O.J. Simpson: American Crime Story for which he won an Emmy Award. His performance was praised as riveting by Deadline.com and excellent by The Hollywood Reporter. Earlier this year, Brown co-starred alongside Tiny Fey in the feature film Whiskey Tango Foxtrot. He recently wrapped production on Open Road's drama Marshall.
Now he stars in NBCs new dramedy series This Is Us with Mandy Moore and Milo Ventimiglia. A lover of theater, Brown has performed in a variety of staged shows, including the off-Broadway Father Comes Home From the Wars, for which he reprised his role at the Mark Taper Forum in Los Angeles this spring.
He currently resides in Los Angeles with his wife and two children.
Art Eddy: Congratulations on winning the Emmy Award for Outstanding Supporting Actor in a Limited Series or a Movie. I loved your speech. I love your work and I could tell you really appreciated that moment. What was going through your mind when you heard your name called as the winner in that category?
Sterling Brown: I think my spirit immediately left my body. I started floating above the whole auditorium watching the whole thing happen. I realized in just a second or two I told myself, 'Brown you only get 45 seconds or a minute from when they call your name.' So I took a deep breath and walked up on stage and thanked the people who I wanted to thank. I had to consciously talk myself through the whole thing. It was so surreal. It was absolutely surreal.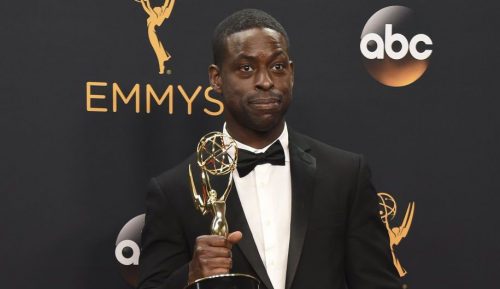 AE: I saw the pilot of NBC's This Is Us. It was moving, powerful, and shows life in a real way. Your character, Randall is adopted and he is looking for his biological father. I read in a past interview you did that this character appealed to you. You said that, 'I've been without my father for 30 years. He passed away when I was a young man. So the idea of trying to reconnect with a father figure is something that resonates with me.' I see that in your performance. Was it tough filming some of those scenes?
SB: No, no it was kind of cathartic to be able to film those scenes. There is a wealth of emotion that I have inside of me in regards to my dad, his presence and lack of presence in my life. One of the things that I always tell people is that even though I only had him for about ten years I had some of the best ten years of love that I could have ever experienced. It was unfiltered. It was pure. It was unconditional.
I had the chance to carry that around with me for the rest of my life. So having this character looking to connect with his biological father and what that means for him comes with a lot. I just bring a lot to the whole dynamic of fathers and sons. As an actor we have these releases. We have these outlets to work things out and to work through things that a lot of people don't have access to. So it is therapy more than anything else. It feels really, really good.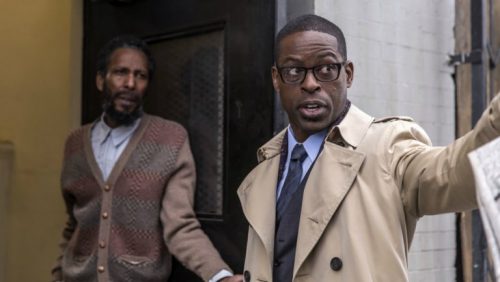 AE: I really hope your show This Is Us stays around for a while. As a father I can relate to many themes in that show. You are a father too. What life experiences as a father did you bring into your role?
SB: It is so interesting because I have been playing someone in their mid-30s/40s for the past ten years of my career and now finally having the life experience to match up with the characters I have been playing on screen. There is a sort of joy that I have. I take my son to soccer practice all the time. I try to bite the urge to be too vocal. (Both laugh.)
I remember watching that HBO documentary about the sports dads and everything. I was like, 'God, Brown please don't become that guy. Do not become that guy.' So I take a gauge of the crowd. Are other dads speaking? Or is it just dads speaking? Are moms speaking up too? I just try to fit in with what the natural flow is of everything. Also not to be dampening for my son. Make sure everything that I am saying is encouraging, supportive, and fun for him. If it is ever not fun for him that means you are saying too much and you need to take a step away. I can definitely relate to being a soccer dad and remembering what it was like when I was a kid and having my mom and dad at soccer games. So I go back and forth between being the son and the dad.
AE: You also completed a few films that look great. One of them is called Marshall. Can you talk about your role in that film?
SB: In Marshall, which is about Thurgood Marshall before he becomes a Supreme Court Justice, he is a lawyer for the NAACP. He goes around the country to defend African Americans who he feels is falsely accused of whatever crime they are accused of. I play the defendant. My name is Joseph Spell. It is 1941 in Greenwich, Connecticut. I am accused of attempted homicide and the rape of a white socialite named Eleanor Strubing played by Kate Hudson.
It is really a fantastic story and fascinating because Marshall comes to defend the man. The judge doesn't allow him to try the case, but allows him to be present in the courtroom. There is a Jewish lawyer by the name of Sam Friedman played by Josh Gad, who tries the case for him. He acts as Thurgood Marshall's mouthpiece. What is most fascinating is that it is presented in front of an all-white jury. The two of them are able to successfully have this man acquitted.  It is a story that I knew very little about, but found absolutely intriguing. I think a lot people when they get a chance to check it out will love it. It will either come out later this year or next year. They are not quite sure when it will come out yet.
AE: Switching to fatherhood now, what were some of the first few thoughts that popped into
your mind when you found out that you were going to be a dad?
SB: I wanted to be a dad since I was about 18 or 19 years old. I knew I wasn't ready to be a dad, but I wanted it very much. Sometimes I would tell my friends while I was getting my undergrad at Stanford University that I would get graduate student housing and carry my kid with me to all my classes. I would find a way to make it work. My friends would say, 'Why don't you try getting a dog first?' (Both laugh.) Let's see how that works and see if you can extrapolate from there.
It was something that always felt right for me. For me to fully realize myself as a person meant becoming a father. It just felt like the natural evolution of things. When my wife became pregnant with Andrew, my first son I just started crying. I can remember seeing the first ultrasound. I was thinking that the miracle is happening.
Even more exceptional than that was when Andrew was born. My wife had a very fast labor. She had her first contraction at 11 pm and Andrew was born at 2:23 in the morning the next day. So it was less than three and a half hours. It happened at night. We were having a natural child birth. We planned on going to a birthing center. Everything happened so fast and you are told that labor can take a while. You can relax, have a bath, and have a glass of wine. Nobody thought we were serious. We delivered our child ourselves. We had a midwife on the phone who finally coached us through it. When Andrew came into the world it was just the three of us in our bedroom on the floor experiencing the miracle of life. It was absolutely extraordinary from beginning to end.
AE: What are some of the core values you look to instill in your kids as they grow up?
SB: That is a good one. Kindness. I feel like if you have the opportunity to be truthful or to be kind truthfulness should take a backseat to kindness. Kids have this bold way of saying the whole truth. (Both laugh.)
You are like I appreciate what you are saying and you may be right about that, but was it a nice thing to say? I constantly try to let that filter, a good filter and not something that will prohibit them from speaking their mind, but give them the wisdom to ask will this hurt someone's feelings? Could it hurt someone's feelings? Let me see if I can say it in a way that is not hurtful. That is one of the ones that we are working with the five year old right now.
Try to be gentle. Gentility in a young boy is something that doesn't come that naturally all the time. He loves his little brother so much. He plays with him and adores him. Sometimes he can be a little rough. We tell him to remember that he is five and his brother is one.
Another thing is that it is really interesting is having two black sons in the climate of today with all the ocular of black men losing their lives at the hands of law enforcement. I was doing a play about slavery. It was by Suzan-Lori Parks.  It was called Father Comes Home From the Wars. My son was too young to watch the play, but he would sometimes come to rehearsals. We would do fight call before I would begin the play.
In the fight call there is a scene where a slave master hits my character, his slave with a riding crop. My son was asking me, 'Why did that man hit you? Did you do something wrong?' So explaining the history of slavery and trying to speak as frankly as I could. He took in everything that I was saying about the Middle Passage and how black people were brought into this country. He said to me after I was speaking, 'You have friends who are white.' I said that I do and he asked me why. I told him that daddy's friends didn't do this and this took place a long time ago. It is a constant sort of negotiation of treating people as individuals, their merit and what they bring to your life. It is also recognizing the social context of things.  It is really interesting to have those conversations with a five year old. How much to share? How much to wait for it to share? It is something that my wife and I are sort of feeling out and learning on the fly.
AE: What advice do you have for new dads?
SB: The advice that I would give is the advice that I always get from my mom. It is enjoy every minute. Especially as a new dad. Try to be as present as possible because day to day they become brand new. They discover something new. Their first laugh is such a priceless moment. Just hearing what makes your kid giggle will give you so much joy. Enjoy all of it.
Also knowing that being a dad for the second time around, those times that are difficult you won't have a lot of sleep in the beginning. You will be exhausted, but remember this too shall pass. While it may seem like an eternity in that moment it is not. Maintain your cool. Take a deep breath and love your child through whatever they are going through.
Life of Dad Quick Five
AE: What is your favorite family movie you guys like to watch together?
SB: I went to the movies with Andrew and we saw Pete's Dragon. My son and I looked at each other at the end of the movie. He asked me if I was crying. I said yeah. He said he was crying too. It was the first one where we both got on that one. I remember when I went with him to see Inside Out. He was too young, but I was a hot mess. He asked me if I was okay. I told him yes. For the first time it got us both. Pete's Dragon was really, really wonderful.
AE: Do you guys have a favorite song that you all like to sing and dance to as a family?
SB: Andrew will rock out to few things. Uptown Funk gets a lot of play. Of course the Whip/Nae Nae is huge with every kid. My favorite was when he was a little boy and it was the Mahna Mahna song. We could play it 97 times in a row and each time he felt like it was the best thing in the world.
AE: Describe the perfect family vacation.
SB: My wife and I before Andrew was born, who is the oldest, went to Kauai. It is one of the more peaceful places I have experienced on this planet. It would be really cool to take both boys back and just see how that sort of calm affects them.
AE: Who were some of the actors you looked up to when you wanted to pursue a career in acting? 
SB: There are a few people. I share a birthday with Spencer Tracy. Spencer is the first back to back Academy Award winner for best lead actor. I have always enjoyed his work. I have always loved Gene Hackman. I think Daniel Day Lewis can do no wrong. Meryl Streep is in that category. Cate Blanchett. Denzel Washington, I adore. Then on a personal level just recently working with Courtney B Vance on this show. Him being a black man, who went on a similar route that I did. He started in theater. He went to grad school for acting. Moving from that platform and having two children as well.
It was really wonderful to count him now as a friend, a mentor, and talk about life. Trying to balance celebrity with family. Trying to balance work and being present for your children. Really trying to figure out how all of those pieces fit together in a way that yield you the best possible life. Not always the best possible career, but the best possible life has been invaluable. So Courtney is my hero and I am so grateful that I have got the chance to know him.
AE: I am guessing that there would be a lot of actors in your answer, but who would you love to work with in your next role and is there a role you would love to play?
SB: That is a great question. I remember several years ago when I was working on Army Wives in Charleston, South Carolina. I was telling a cast mate of mine that I was reading this comic book about the Black Panther. It just has been sort of updated by Reginald Hudlin, who I just worked on the film Marshall.
I said how cool would it be if they made an actual movie out of this. My friend was saying, this was about ten years ago, you should get the rights to it. I said to him, 'They are never going to make a black super-hero movie. What are you talking about?' So to see everything transpiring with the Black Panther is beyond cool. I could not be happier for Chadwick (Boseman), who I got to work with on Marshall as well.
If I could inhabit that Marvel Universe that would be pretty darn cool. That would be fantastic. I don't know if that will happen or not. I am blessed to be working on This Is Us. I don't know how long the season will be or if it would conflict with it. If there is a way I could make my way into that or into Luke Cage or anything else on Netflix side of Marvel Entertainment thing that would be pretty cool.
Follow Sterling on Twitter @sterlingkb1 and watch him on NBC's This Is Us every Tuesday night at 10/9c.