Ron Rapoport is this week's guest on The Art Of Conversation Podcast.
On The Show
Ron Rapoport talks with The Art Of Conversation Podcast host, Art Eddy about his new book, Let's Play Two: The Legend of Mr. Cub, the Life of Ernie Banks, how this book went from being an autobiography to a biography and what he new stories he learned about Ernie while writing this book.
Ron then talks to Art about the joys of fatherhood and what values he and his wife looked to instill into their kids as they were growing up and how much fun it is to be a grandfather. Ron then answers the Life of Dad Quick Five.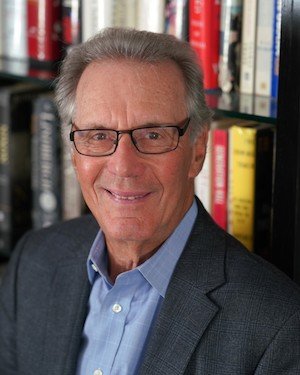 About Ron Rapoport
Ron Rapoport was a sports columnist for the Chicago Sun-Times for more than twenty years and also wrote for the Los Angeles Times, Los Angeles Daily News, and the Associated Press. He served as the sports commentator for NPR's Weekend Edition for two decades and has written a number of books about sports and entertainment. He lives in Santa Monica, CA.
For more on Ron follow him on Twitter at @rjrapoport and go to his website at rapoports.net/ron and pick up Let's Play Two: The Legend of Mr. Cub, the Life of Ernie Banks. The book is out on now.
About Let's Play Two: The Legend of Mr. Cub, the Life of Ernie Banks
Let's Play Two is based on numerous conversations with Banks and on interviews with more than a hundred of his family members, teammates, friends, and associates as well as oral histories, court records, and thousands of other documents and sources. Together, they explain how Banks was so different from the caricature he created for the public. The book tells of Banks's early life in segregated Dallas, his years in the Negro Leagues, and his difficult life after retirement; and features compelling portraits of Buck O'Neil, Philip K. Wrigley, the Bleacher Bums, the doomed pennant race of 1969, and much more from a long-lost baseball era.
About The Art Of Conversation Podcast
If you are looking for more of these types of podcasts check out the rest of the The Art Of Conversation Podcast
We are pleased to have another podcast here at Life of Dad, and we focus the show on dad writers. Each week, host Art Eddy showcases a father in the dad community. The topics range from sports to movies to comics to video games to technology to parenthood to anything that comes up, really. Absolutely nothing is off-limits on The Art Of Conversation Podcast. Enjoy! Find us on iTunes, Google Play, Stitcher Radio and iHeartRadio.