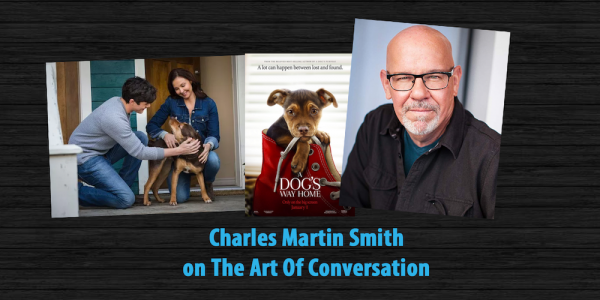 Charles Martin Smith is this week's guest on The Art Of Conversation Podcast.
On The Show
Charles Martin Smith talks with The Art Of Conversation Podcast host, Art Eddy about his movie, A Dog's Way Home, casting of the movie, working with animals in film and the challenges of using CGI in movies. Charles also talks with Art about fatherhood and how he really enjoys making movies that are perfect for families. He then answers the Life of Dad Quick Five.

About Charles Martin Smith
Charles is a veteran filmmaker and actor with a broad range of credits on both sides of the camera. He first came to prominence as one of the young stars of George Lucas' American Graffiti. He has starred in many other films including Sam Peckinpah's Pat Garrett and Billy the Kid, The Buddy Holly Story, Starman, and Brian DePalma's The Untouchables, as well as many other films, television films and mini-series. Smith earned tremendous praise for his portrayal of the late Farley Mowat, the real-life researcher who braved Canada's frozen tundra to study wolves, in Carroll Ballard's 1983 dramatic adventure Never Cry Wolf.
As a director, he previously directed the 2011 Warner Brothers #1 box office hit Dolphin Tale, starring Harry Connick, Jr., Ashley Judd and Morgan Freeman. He returned to write and direct the sequel Dolphin Tale 2 in 2014. Both films were based on the true story of Winter, a rescued dolphin whose life was saved by the use of a prosthetic tale. The films have gone on to gross $150 million around the world. Dolphin Tale earned a Genesis Award nomination from the Humane Society of the United States.
He earlier directed and wrote the historical drama Stone of Destiny, for which he won the Best Director Award at the 2009 Palm Beach International Film Festival. The film was chosen to be the Closing Night Gala at the 2008 Toronto Film Festival, and went on to earn BAFTA Scotland Award nominations for Best Picture, Best Director and Best Screenplay.
A Dog's Way Home chronicles the heartwarming adventure of Bella, a dog who embarks on an epic 400-mile journey home after she is separated from her beloved human.
Follow Charles on Twitter at @CharlesM_Smith and pick up A Dog's Way Home on Blu-ray and Digital.
About The Art Of Conversation Podcast
If you are looking for more of these types of podcasts check out the rest of the The Art Of Conversation Podcast
We are pleased to have another podcast here at Life of Dad, and we focus the show on dad writers. Each week, host Art Eddy showcases a father in the dad community. The topics range from sports to movies to comics to video games to technology to parenthood to anything that comes up, really. Absolutely nothing is off-limits on The Art Of Conversation Podcast. Enjoy! Find us on iTunes, Google Play, Stitcher Radio and iHeartRadio.