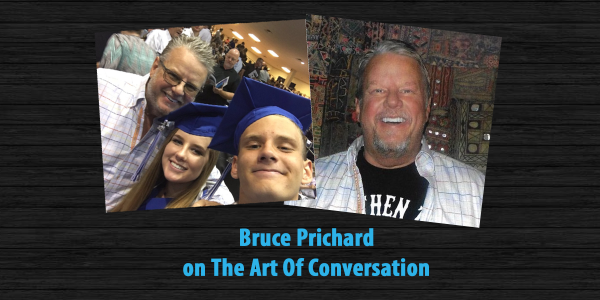 Bruce Prichard is this week's guest on The Art Of Conversation Podcast.
On The Show
Bruce Prichard talks with The Art Of Conversation Podcast host, Art Eddy about working at the WWE, introducing the world to The Undertaker and how he convinced Vince McMahon to become a persona in the ring. Then the guys talk about fatherhood, what his kids think of his work in the WWE and the values he looks to instill into his kids.
He also answers the Life of Dad Quick Five.

About Bruce Prichard
Bruce Prichard has been in professional wrestling behind the scenes for 40+ years. Behind the scenes he was responsible for some of the biggest events and creating some of the greatest stars in the history of the sport. In front of the camera he has been an expert, himself and his most famous on air role, the controversial Brother Love.

Bruce was the right hand man of Vince McMahon as he built his empire over the past thirty years. He is also the man who introduced the world to the Undertaker. He's served as a member of the WWE creative team as well as a producer, director and senior executive. He's been at the top executive levels for TNA and WWE and now you finally have access to him.

If you've always wanted to know what the real story was behind some of wrestling's biggest moments, Something to Wrestle with Bruce Prichard will finally give you the real answer. A terrific storyteller, Bruce has done and seen it all and now he's going to share it all with you so sit back and be ready for a wild ride!
Follow Bruce on Twitter at @BrucePrichard and go to his website at bruceprichard.com.
About The Art Of Conversation Podcast
If you are looking for more of these types of podcasts check out the rest of the The Art Of Conversation Podcast
We are pleased to have another podcast here at Life of Dad, and we focus the show on dad writers. Each week, host Art Eddy showcases a father in the dad community. The topics range from sports to movies to comics to video games to technology to parenthood to anything that comes up, really. Absolutely nothing is off-limits on The Art Of Conversation Podcast. Enjoy! Find us on iTunes, Google Play, Stitcher Radio and iHeartRadio.