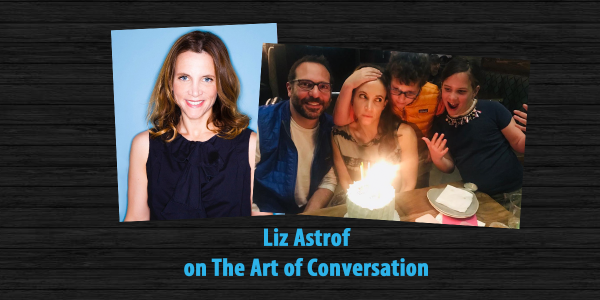 Liz Astrof is this week's guest on The Art Of Conversation Podcast.
On The Show
Liz Astrof talks with The Art Of Conversation Podcast host, Art Eddy about her new book, Don't Wait Up – Confessions of a Stay-At-Work Mom, what inspired her to write this book, balancing life and work and the craziness of motherhood. Liz also chats with Art about why our kids don't experience summer and life they we did from back in the day. Liz also answers the Life of Dad Quick Five.

About Liz Astrof
Liz Astrof is an award-winning executive producer and one of the most successful sitcom writers in television today. Liz has written for The Conners, The King of Queens, Kath & Kim, 2 Broke Girls, Jesse, Welcome To New York, Whitney, Becker, Last Man Standing, Trial and Error, among others. Liz has worked as a producer on The Conners, Trial & Error, 2 Broke Girls, Whitney, Last Man Standing, Raising Hope, 100 Questions, Kath & Kim, Welcome To The Captain, The King Of Queens, and Coupling, among others.
While she can rarely be seen at her kids' school, Liz is often seen driving by. She lives in California with her family, two dogs, a gecko and at least three turtles.
Follow her on Twitter at @lizastrof and go to her website lizastrof.com to purchase her book.
About Don't Wait Up – Confessions of a Stay-At-Work Mom
In this blunt and side-splittingly funny book of essays, Liz Astrof embraces the realities of motherhood (and womanhood) that no one ever talks about: like needing to hide from your kids in your closet, your car, or a yoga class on the other side of town, letting them eat candy for dinner because you just can't deal, to the sheer terror of failing them or at the very least losing them in a mall. And sometimes, many times, wondering if the whole parenting thing wasn't for you.
In vivid and relatable prose, she discusses her love for her career, how she's managed to overcome some of her own dysfunctional childhood, and the ups and downs of raising the little demons she calls her own…from the office.
Soul-baring, entertaining, and insightful, Don't Wait Up is an abashedly honest look at parenting and relationships for moms who realize that motherhood doesn't have to be your entire life—just an amazing part of it—that you would definitely most likely do all over again.
About The Art Of Conversation Podcast
If you are looking for more of these types of podcasts check out the rest of the The Art Of Conversation Podcast
We are pleased to have another podcast here at Life of Dad, and we focus the show on dad writers. Each week, host Art Eddy showcases a father in the dad community. The topics range from sports to movies to comics to video games to technology to parenthood to anything that comes up, really. Absolutely nothing is off-limits on The Art Of Conversation Podcast. Enjoy! Find us on iTunes, Google Play, Stitcher Radio and iHeartRadio.