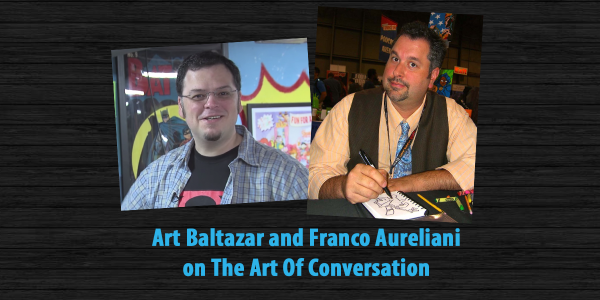 Art Baltazar and Franco are this week's guests on The Art Of Conversation Podcast.
On The Show
Art Baltazar and Franco talk with The Art Of Conversation Podcast host, Art Eddy about their new book, Superman of Smallville and how they approached creating a story about a middle school aged Clark Kent. They talk about the joys of fatherhood and how being a dad has influenced their work! The guys also answer the Life of Dad Quick Five.
About Art Baltazar and Franco Aureliani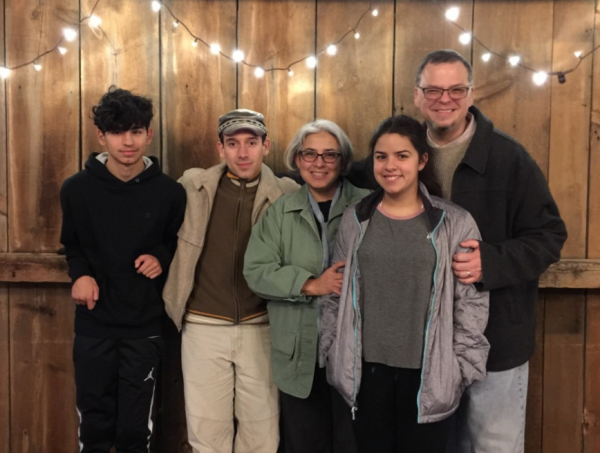 Art Baltazar is one of the creative forces behind the New York Times bestselling, Eisner Award-winning Tiny Titans. He is also the co-writer for Billy Batson and the Magic of Shazam, Young Justice, Green Lantern Animated (comic), and artist/co-writer for the awesome Tiny Titans/Little Archie crossover, Superman Family Adventures, Super Powers, and Itty Bitty Hellboy! Art is one of the founders of AW YEAH COMICS comics shop along with the ongoing comic series. He stays home and draws comics and never has to leave the house where he lives with his lovely wife, Rose, sons Sonny and Gordon, and daughter Audrey! AW YEAH Living the dream!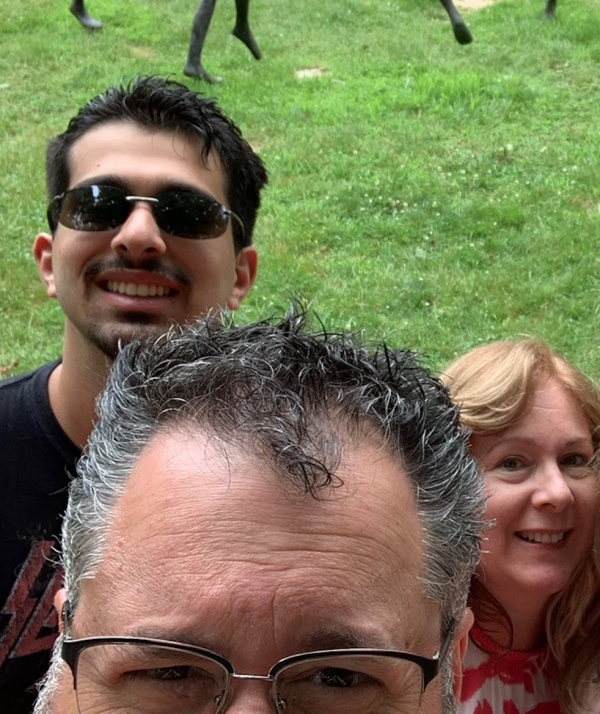 Franco Aureliani is an Eisner award-winning writer and artist and co-creator of Patrick the Wolf Boy and AW YEAH COMICS! Franco has worked on the Dino-Mike book series, and critically acclaimed comics like Superman Family Adventures, Young Justice, Billy Batson and The Magic of Shazam, and the New York Times bestseller, multi-Eisner award winning series Tiny Titans and Superpowers for DC Comics! He has also worked on Grimiss Island and itty bitty Hellboy with Dark Horse Comics. Franco is also one of the principle owners of AW YEAH COMICS retail stores. When he is not working on comics, Franco can be found shaping young minds as a high school teacher.
Follow Art and Franco on Twitter at @artbaltazar and @awyeahfranco and pick up Superman of Smallville where books are sold.
About Superman of Smallville
Can Superman keep Smallville from going to the dogs?
Acts of awesomeness are happening around town. People are being rescued, runaway tractors stopped, and fires extinguished. This is all in a day's work for the hero known only as "Superman." But who is he, really?
Thirteen-year-old Clark Kent knows. He has a super-secret—one his parents are constantly worried will get out. Clark promises to be extra careful, but when random objects begin to take flight and disappear, his parents threaten to ground him. Except he's innocent! If Superman isn't responsible…who is? Join Clark in this hilarious adventure as he sniffs out the real culprit.
From New York Times-bestselling and Eisner Award-winning creators Art Baltazar and Franco, comes a fun, whimsical story featuring young Lana Lang, Lex Luthor, and of course Clark Kent.
About The Art Of Conversation Podcast
If you are looking for more of these types of podcasts check out the rest of the The Art Of Conversation Podcast
We are pleased to have another podcast here at Life of Dad, and we focus the show on dad writers. Each week, host Art Eddy showcases a father in the dad community. The topics range from sports to movies to comics to video games to technology to parenthood to anything that comes up, really. Absolutely nothing is off-limits on The Art Of Conversation Podcast. Enjoy! Find us on iTunes, Google Play, Stitcher Radio and iHeartRadio.