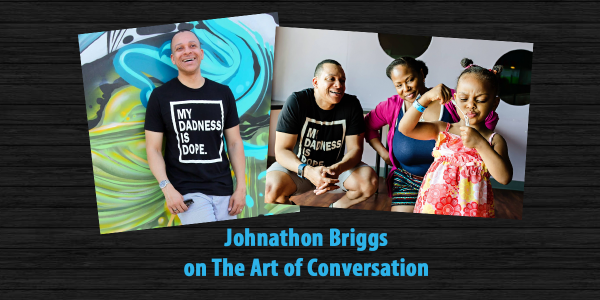 Johnathon Briggs is this week's guest on The Art Of Conversation Podcast.
On The Show
Johnathon Briggs talks with The Art Of Conversation Podcast host, Art Eddy about starting up his page, Fatherhood at Forty, becoming a dad at 40 years old and the expectations he had for himself as a father. The guys also geek out on fashion, pop culture, music and comic books. Johnathon also answers the Life of Dad Quick Five.
About Johnathon Briggs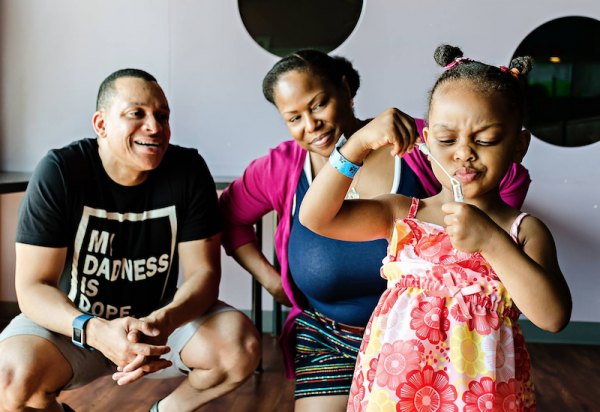 Six weeks before his 40th birthday, Johnathon Briggs became a first-time father. This life-changing moment made him think about his own dad, who became a father at 44. As his parenthood journey unfolded, he noticed that most of his friends had become parents earlier in life yet, here he was, changing diapers and battling sleep deprivation at (nearly) 40. He old his wife, "Parenting is definitely a young man's game." But is it really?
Where most of his friends were preparing for their children's middle and high school graduations, he was mastering the art of the swaddle, perfecting the one-hand baby wipe, and learning to decipher his daughter's gurgles and whimpers. It occurred to him that he had so much more to offer his daughter at the sure-footed age of 40 than he did at, say, 28, when he was still coming into his own.
In this awareness, he gained an appreciation for where he was in life and the idea for Fatherhood at Forty was born. Fatherhood at Forty is a creative outlet to blog about his experiences and to inspire other (relatively) late-in-life dads. It's been said that each child is their own assignment and he believes each parent's journey is its own destination.
Follow Johnathon on Twitter at @fatherhoodforty and go to his website at fatherhoodatforty.net.
This week's Art of Conversation is brought to you True Growths True Tot Tower.
Encourage creativity and imagination with True Growths True Tot Tower- a learning platform and step stool. The True Tot Tower fuels your child's desire to be independent and learn, allowing your child to safely interact in counter height activities such as, baking or washing dishes. True Tot Tower's adjustable base and closed sides make it a safer option for your child to stand at optimal counter height, helping them learn, explore and grow in child and brain development. For more information please visit www.true-growth.com.
About The Art Of Conversation Podcast
If you are looking for more of these types of podcasts check out the rest of the The Art Of Conversation Podcast
We are pleased to have another podcast here at Life of Dad, and we focus the show on dad writers. Each week, host Art Eddy showcases a father in the dad community. The topics range from sports to movies to comics to video games to technology to parenthood to anything that comes up, really. Absolutely nothing is off-limits on The Art Of Conversation Podcast. Enjoy! Find us on iTunes, Google Play, Stitcher Radio and iHeartRadio.