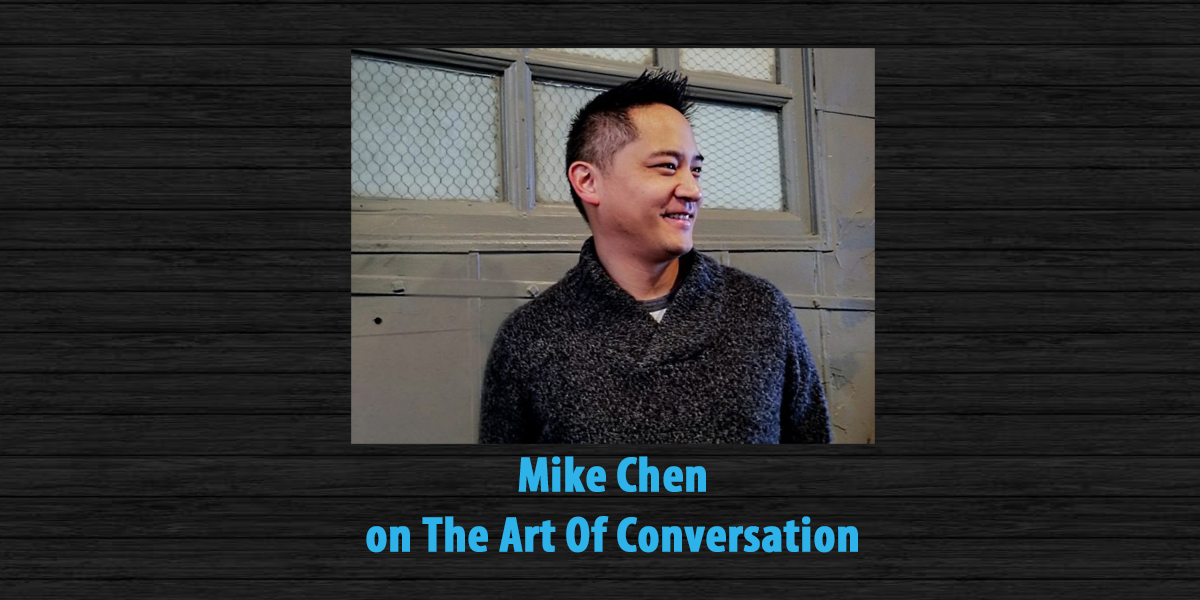 Mike Chen is this week's guest on The Art Of Conversation Podcast.
On The Show
Mike Chen talks with The Art Of Conversation Podcast host, Art Eddy about his new book, A Beginning At The End and the fatherhood themes in that book. Mike also talks with Art about fatherhood, the values he looks to instill in his daughter and answers the Life of Dad Quick Five.

About Mike Chen
Mike Chen is a lifelong writer, from crafting fan fiction as a child to somehow getting paid for words as an adult. He has contributed to major geek websites (The Mary Sue, The Portalist, Tor) and covered the NHL for mainstream media outlets. A member of SFWA and Codex Writers, Mike lives in the Bay Area, where he can be found playing video games and watching Doctor Who with his wife, daughter, and rescue animals.
Follow Mike on Twitter at @mikechenwriter and check out his book A Beginning At The End.

About A Beginning At The End
Six years after a global pandemic that put the world on pause, 2 billion unsure survivors come out of quarantine and split between self-governing big cities, hippie communes, and wasteland gangs. When the father of a presumed-dead pop star announces a global search for his daughter, four lives collide: Krista, a cynical event planner; Moira, the ex-pop star in hiding; Rob, a widowed single father; and Sunny, his seven-year-old daughter. As their lives begin to intertwine, reports of a new outbreak send the fragile society into a panic. And when the government enacts new rules in response to the threat, long-buried secrets surface, causing Sunny to run away seeking the truth behind her mother's death. Now, Krista, Rob, and Moira must finally confront the demons of their past in order reunite with Sunny— before a coastal lockdown puts the world on pause again.
This week's podcast is being brought to you by The Rocket.
Say hello to The Rocket and say goodbye to ED without invasive surgery or pills that merely mask symptoms without a cure. The Rocket is a revolutionary device from Launch Medical that uses sound wave therapy to permanently reverse symptoms of ED. It utilizes the same technology employed by ED clinics worldwide but has made the enhancement of sexual performance far more affordable, with a retail price of $749—while eliminating the stress, embarrassment and anxiety of conventional medical office visits. For more info go to getmyrocket.com.
About The Art Of Conversation Podcast
If you are looking for more of these types of podcasts check out the rest of theThe Art Of Conversation Podcast
We are pleased to have another podcast here at Life of Dad, and we focus the show on dad bloggers. Each week, host Art Eddy showcases a father in the dad blogging community. The topics range from sports to movies to comics to video games to technology to parenthood to anything that comes up, really. Absolutely nothing is off-limits on The Art Of Conversation Podcast. Enjoy! Find us on iTunes, Google Play, Stitcher Radio and iHeartRadio.
[/fusion_text][/fusion_builder_column][/fusion_builder_row][/fusion_builder_container]