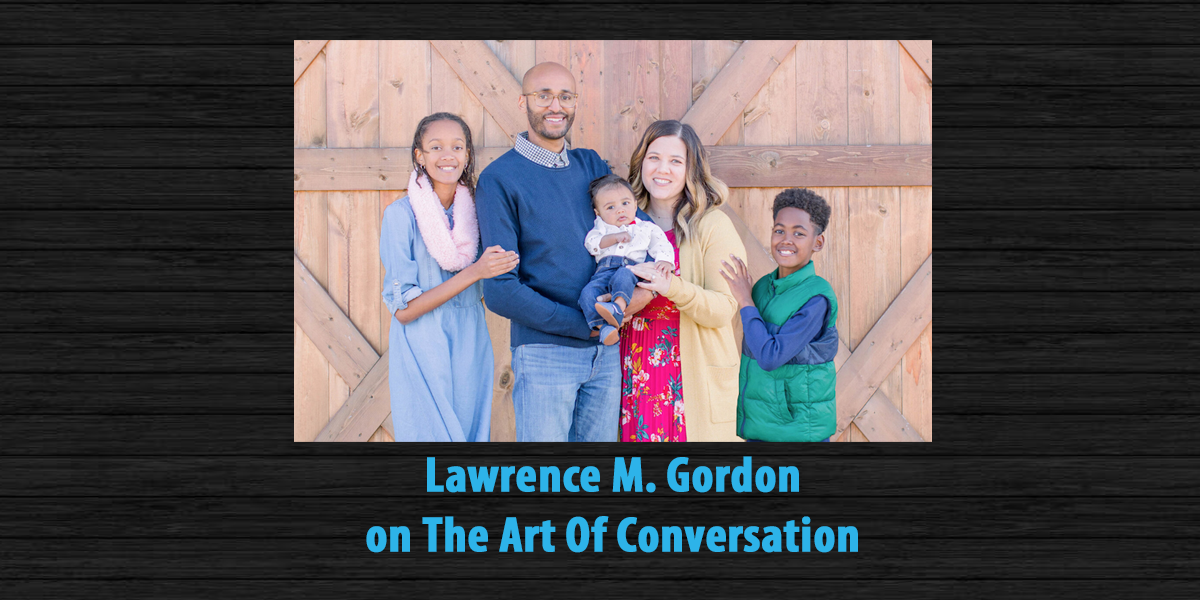 Lawrence M. Gordon is this week's guest on The Art Of Conversation Podcast.
On The Show
Lawrence M. Gordon talks with The Art Of Conversation Podcast host, Art Eddy about his book, Unicorn Dreams and how is website, BooksByLG is looking to help dads connect with their kids. Lawrence also talks with Art about fatherhood, the values he looks to instill in his children and answers the Life of Dad Quick Five.

About Lawrence M. Gordon
Lawrence M. Gordon II was born on March 17th in Columbia, SC, and grew up in Maple Heights in Cleveland, OH and spent his senior year in Newport News, VA graduating high school at Denbigh.
His late mom, Dacia, was a high school teacher and his late father, Morris Sr, served in the army where he retired. His older sibling Keione help him navigate through humble beginnings
Lawrence's passion for sharing stories with his children, family members, and the community is something he knows will help create an impact. Lawrence knows the role of the male in children's lives is necessary and wants to encourage men everywhere to read more to the children in their home, and communities.
Lawrence Gordon is married to Sarah Gordon. They live in South Carolina with Lauren, Landen and Henry who help inspire the content of his books.
Follow Lawrence on Instagram at @booksbylg and check out his website at booksbylg.com.

About Unicorn Dreams
Unicorn Dreams is about a little girl who looks forward to her father reading to her nightly. She muses about what her father might read to her next. As she is tucked into her bed with her favorite stuffed animal, her father opens a book and reads about a unicorn who, with the help of her lion friend, is granted a special wish. The unicorn drinks from a magic fountain and gains the ability to soar to the heavens. The little girl later dreams that she can soar into the heavens like the unicorn.
This week's podcast is being brought to you by The Rocket.
Say hello to The Rocket and say goodbye to ED without invasive surgery or pills that merely mask symptoms without a cure. The Rocket is a revolutionary device from Launch Medical that uses sound wave therapy to permanently reverse symptoms of ED. It utilizes the same technology employed by ED clinics worldwide but has made the enhancement of sexual performance far more affordable, with a retail price of $749—while eliminating the stress, embarrassment and anxiety of conventional medical office visits. For more info go to getmyrocket.com.
About The Art Of Conversation Podcast
If you are looking for more of these types of podcasts check out the rest of theThe Art Of Conversation Podcast
We are pleased to have another podcast here at Life of Dad, and we focus the show on dad bloggers. Each week, host Art Eddy showcases a father in the dad blogging community. The topics range from sports to movies to comics to video games to technology to parenthood to anything that comes up, really. Absolutely nothing is off-limits on The Art Of Conversation Podcast. Enjoy! Find us on iTunes, Google Play, Stitcher Radio and iHeartRadio.