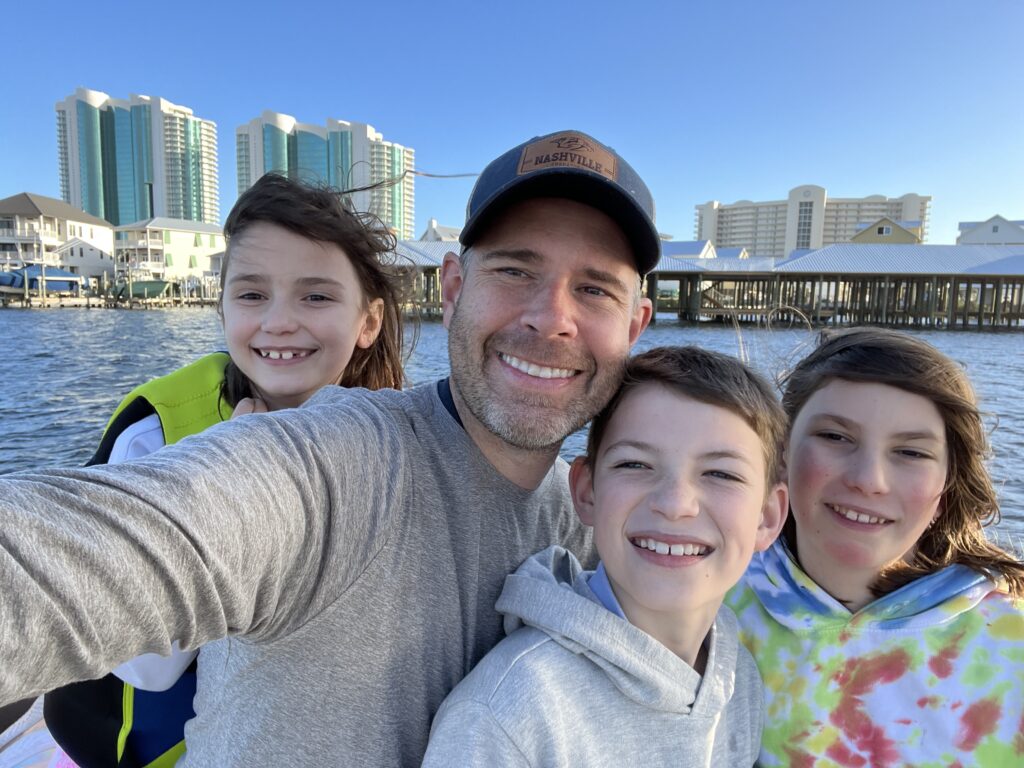 For many parents, the holiday season is alot. Stressful shopping, kids off of school for a long two weeks, traveling to see family, and more.
I mean, we all love the holidays, but we all really need to relax once it's all done.
Add in the fact that it was zero degrees warm in much of the United States this Christmas, it was just alot.
Thanks to the amazing team at Gulf Shores and Orange Beach Tourism (in Alabama), my family had the most wonderful and relaxing vacation after quite possibly our most stressful holiday yet.
Some of you reading this might be thinking, wait, does Alabama have beaches? I can answer that with a yes, and let you know that not only does Alabama have beaches, but they may be the nicest I've ever seen.
Ok, so here we go, the top EIGHT reasons why you need to visit the beaches of Alabama as soon as possible…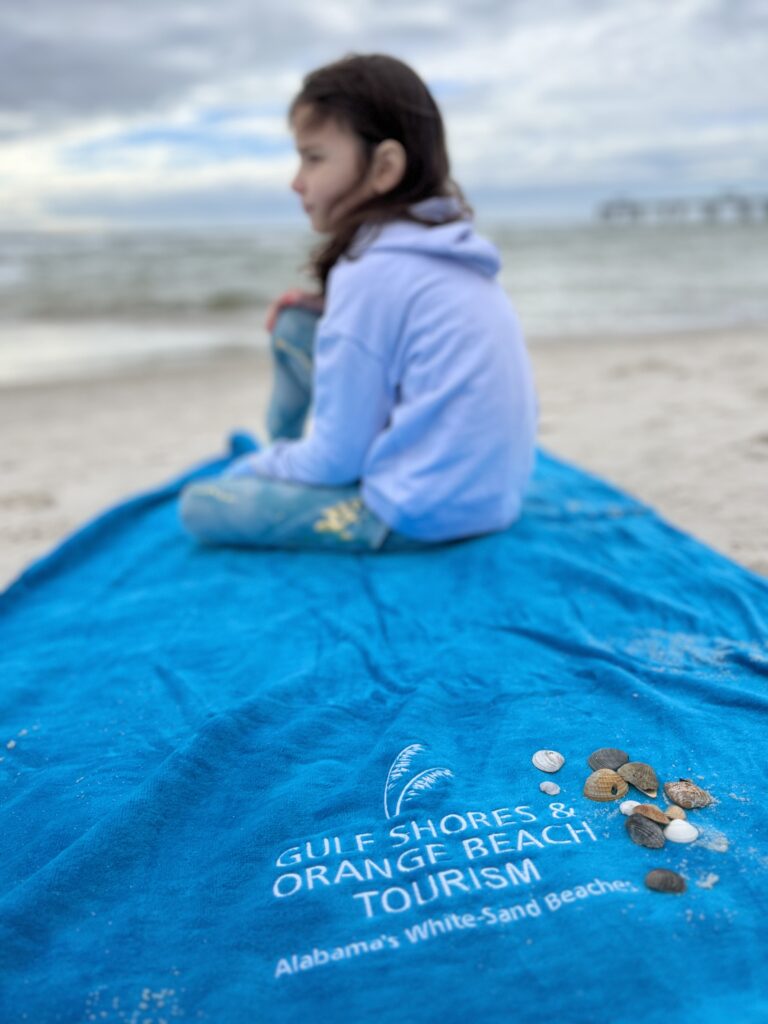 THE SAND, MAN!
I don't like sand… I was born on the East Coast, spent the last 20 years of my life on the West Coast, and have always looked at sand as if it was dirt. I didn't want it on my feet. But this sand? It's softer and finer than you see on most other beaches around the world. From what I've been told, that's the result of pure, white quartz crystal that washed down from the Appalachian Mountains and deposited in the Gulf of Mexico. You gotta feel it to believe it. So go get your feet in that sand.
THE MOST EPIC LODGING I'VE EVER HAD
We stayed at Spectrum Resorts' Turquoise Place. I knew it was going to be in a cool condo on the beach, but when I walked in, I was in shock. It was the most beautiful room and view I had ever seen. My family and I were about to have the most incredible vacation with attractions and restaurants, but part of me never wanted to leave our condo.
It had three bedrooms and four bathrooms, a balcony overlooking the Gulf Coast with a full outdoor BBQ setup, a high end kitchen, and a stunningly spacious living room…this place could easily sleep up to 1o people!
My wife and I usually use an ocean waves sound app to sleep while at home. Well this week, we just opened our balcony door.
When you head out to the beaches in Alabama, YOU MUST stay at Turquoise Resort. It will be truly unforgettable for you and your family.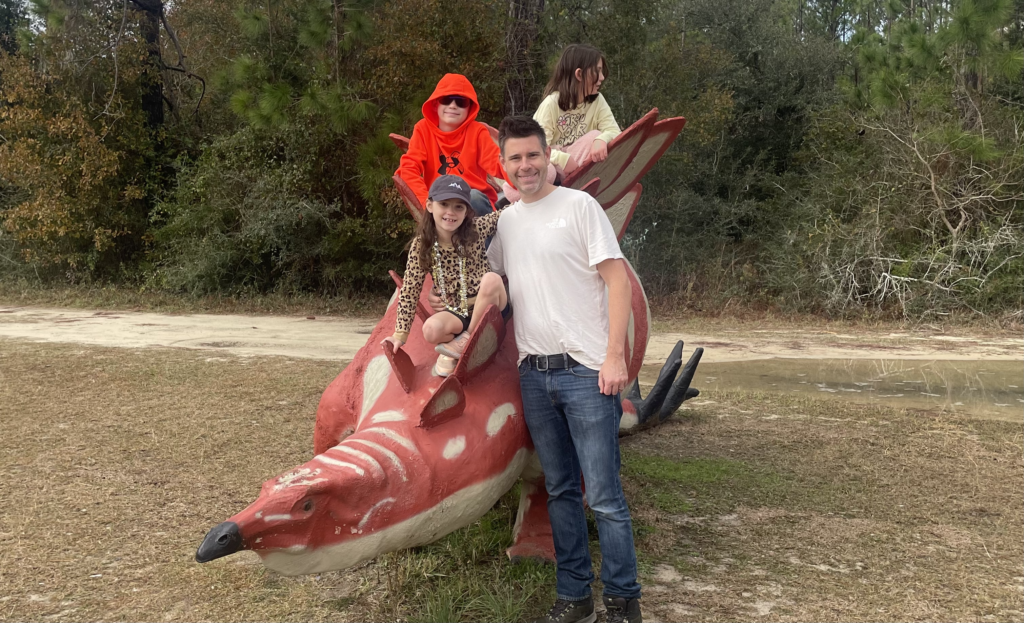 DINOSAURS IN THE FOREST DURING SCENIC DRIVES
Imagine this…there you are taking a beautiful drive through the woods, and your kids yell out, "Daddy, a dinosaur!" Well that's about what happened, and it turns out there are a bunch of dinosaurs in the woods near Barber Marina in Alabama. My kids took pictures with T-Rex, climbed on top of Stegosaurus, and we even played Hide-and-Seek in a full-scale fiberglass replica of England's Stonehenge!
Talk about weird and wacky roadside finds…my youngest daughter called this the highlight of her trip!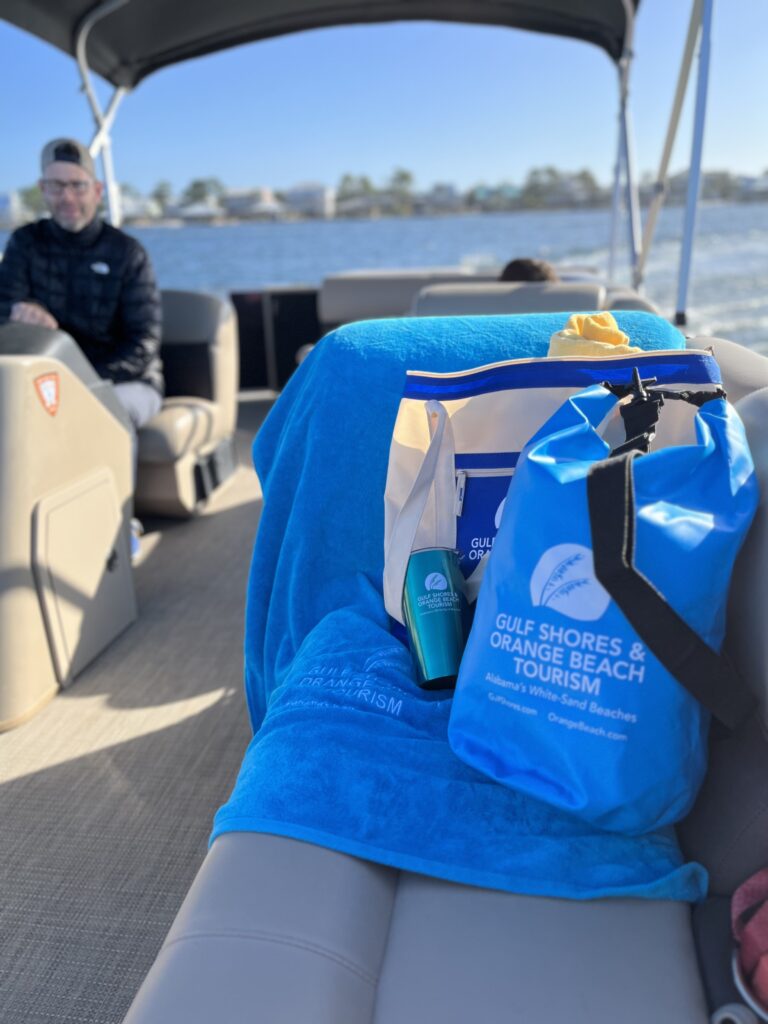 BOAT LIFE
One of my wife's favorite country songs is Buy Me a Boat. Now, I don't have the means or desire to make that happen at the moment, but I will take her on a pontoon ride any time she wants. And that's what we did thanks to FloraBama Marina & Watersports.
The friendly staff taught us how to operate the pontoon, and we were on our way. We were out on the water for about three hours enjoying the sun, laughs, and a beer or two. We have three kids, and funny thing is that all three of them took a nap on the boat. Something super relaxing about chilling on a pontoon. I want to do it more, but I still don't want to buy one. But I know where I'll be going to rent one anytime I'm down in the Gulf!
MOST FAMILY FRIENDLY RESTAURANTS, AND POSSIBLY MY FAVORITE JOINT OF ALL TIME
The Gulf Shores and Orange Beach Tourism team hooked us up with some extraordinary meals at some wonderful restaurants. All of the meals were great, but I'd be doing a disservice to all of you if I didn't mention a couple of them.
At GT's on the Bay, I ordered their Tournedos — these are twin 4oz tenderloin medallions pan seared, and served over Parmesan Grits. Well, I was too busy enjoying the tenderloins when I realized my wife had stolen most of my grits– they were phenomenal. All is good with me and Life of Mom, though, even after her grits theft. We shared a Alabama specialty cocktail, a Bushwacker, and this rum-filled milkshake-like drink helped us make up just fine.
The other place I need to mention is the FloraBama Yacht Club. After finishing our amazing boating experience, we were hungry. As soon as we walked in, we knew this place was for us. The style, the music, the cool staff, it was perfect. We felt like we were on an island somewhere, but it turns out we were right on the border of Florida and Alabama, hence, FloraBama. I wore my trucker hat merch from the yacht club for the rest of the week. I just loved it, and can't wait to go back.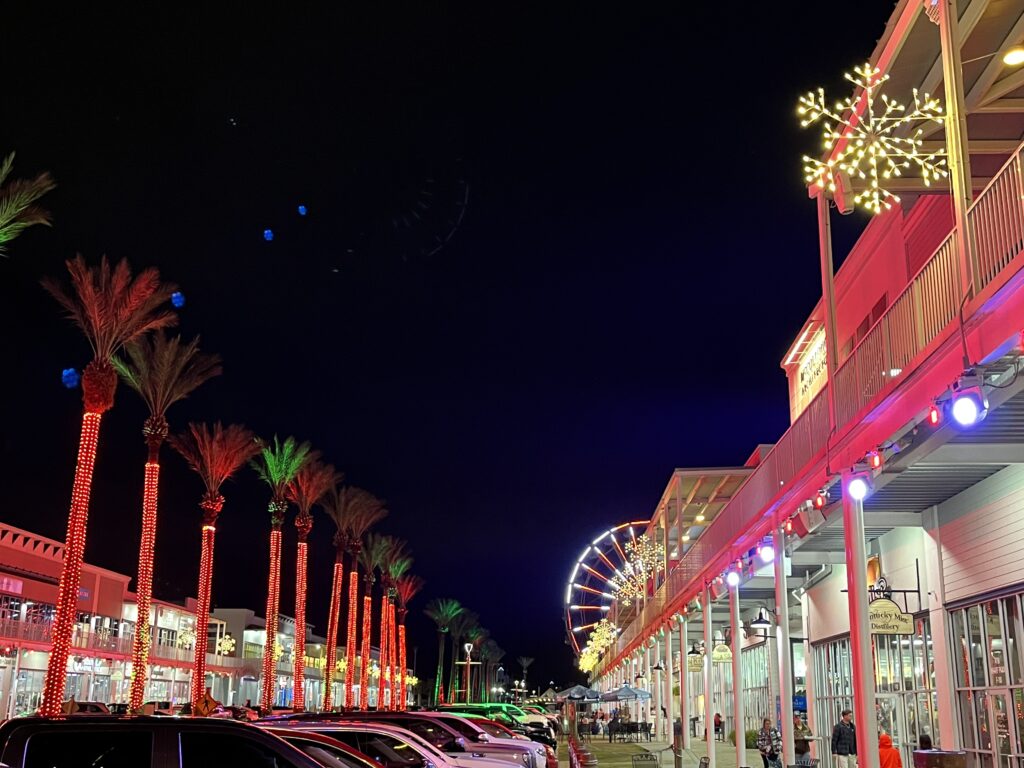 THE ULTIMATE NEW YEARS CELEBRATION FOR KIDS
New Years is an interesting holiday for parents. Do we really want our kids to stay up until midnight to celebrate. Even 9PM seems like a bit much. Well, The Wharf in Orange Beach has this all figured out. Not only is the Wharf a place with amazing restaurants, a hotel, docks, and an amphitheater where they host the biggest names in music… but they are also trendsetters in New Years celebrations for kids.
They had a confetti drop at noon with a DJ, which my kids loved. They had camel rides, they had ice skating, they have a Ferris Wheel, and we had an amazing lunch and dessert there. Best part, we were back to our condo by 5:30PM so we could enjoy a relaxing New Years Eve evening from home, and my kids felt like they had done it all! Thank you Wharf!
THE MOST CHILL, BUT AWESOME ZOO EVER
We lived in Los Angeles for a long time, and I remember the zoo being chaotic. Big crowds, rushing to get to see animals, it was too much. Because of this, going to a zoo is never on the top of my list.
But…once I told my kids we would have a chance to have an animal encounter with a sloth, they were ALL IN. So we were heading to the zoo. And man, am I glad that we did.
The Alabama Gulf Coast Zoo was just like the rest of our trip. Relaxing and fun!
It's a spacious, yet simple zoo where you can feed the giraffes, take a zipline, ride a train, and yes, meet a sloth. All of it is done at a leisurely pace, and you can tell the animals were really happy just being there. It just felt different than most zoos.
We'll have to head back at some point to say hello to our buddy, the sloth.
THE VIEW, MAN
I could keep going on about Gulf Shores forever, but let me close out this post by once more talking about how extraordinary the view of the Gulf Coast was from our room at Turquoise Place.
We were able to see the sun rise from our balcony…and we were also able to see the sun set. It brought calm to our lives, after a busy holiday season, and this trip reminded us about what was most important. Family, fun, and a spectacular view of the Gulf Coast.
*Thank you so much to Gulf Shores and Orange Beach Tourism and Spectrum Resorts for gifting this trip to us. We had the time of our lives.