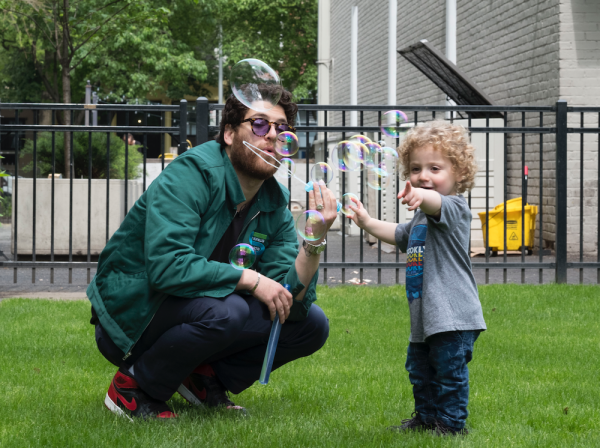 Actor, producer and comedian, Adam Pally is a dad with some fashion sense. You might know Adam from The Mindy Project or Happy Endings, but you might not know that he is a sneakerhead. When Grailed approached me about doing an interview with Adam to talk about his closet sale that goes live on June 14th, I jumped at the chance to chat with him. For me it was a no-brainer. A dad that wants to talk about sneakers. Count me in.
For those who might not know what Grailed is that's okay. I got you. Grailed is a community driven, peer-to-peer global marketplace for men's fashion and streetwear, making great clothing affordable and available to everyone. Their marketplaces are built for enthusiasts by enthusiasts, and their mission is to foster a community-centered platform where people can discover their personal style through education, conversation, and access to unique and coveted items. Founded in 2013 by Arun Gupta and has the largest catalogue of men's luxury designer, streetwear, and archival fashion on the internet that welcomes over 3.7 monthly active users.
So I spoke with Adam about fatherhood, dad style, his collaboration with Grailed and what is in his closet sale. The Grailed x Adam Pally's closet sale will go live on Friday, June 14th (tomorrow) exclusively via Grailed.com and the Grailed app. When I was speaking with Adam and what is in his closet sale you are definitely going to want to check it out.

On what constitutes dad style and has dad fashioned changed over the years, Adam told me, "It is different, but dad style is still going to be dad style. Now all dads want to be cool, but we are dorks. If you see a guy in a henley he is a dad. I have a little more leeway in my profession. One of my style icons is Robin Williams. Showing up on The Tonight Show wearing BAPE when your 55, that is my sweetspot."
On what his ideal Father's Day looks like Adam said, "My family is not big on that. We are traveling so much. I can't remember the last time where on Father's Day that wasn't over iChat. It is pseudo depressing, but that is the nature of the business. I think for me a good Father's Day is just me and wife and kids. No place to go. Just to be in our apartment. We order a pizza. I eat the whole thing myself."
I think we can all relate to Adam's thoughts on dad fashion and Father's Day goals. You are going to want to check out my entire interview with Adam coming soon here at Life of Dad. For more interviews check out The Life of Dad Show.