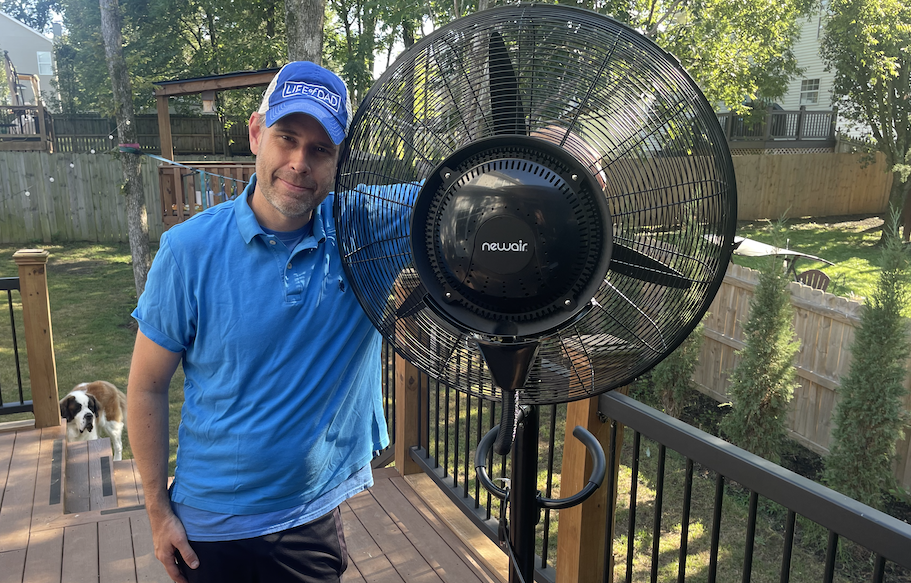 *This blog post is in partnership with NewAir who gave us some incredible cooling products.
When summer break started, we had quite the itinerary for our family. In June, we were going to hang with friends and family at home. In July, we were going to visit 8 national parks, all across the United States.
It was the perfect plan. What could go wrong? Well, we witnessed first hand that June and July were the hottest summer months on record.
So let me tell you about a couple amazing items that saved our summer and kept it COOL.
When we were at home, hanging on our back porch, we were lucky enough to use NewAir's 26" Pedestal Misting Fan. (Model #: NMF8K7BK00) This dream fan has 8700 CFM of Power, Adjustable Mist Settings, a Water Tank, and 3 Fan speeds which means it's PERFECT for our patio.
Basically, when it's 95% and humid in Nashville, if we have the fan on, it feels like it's 70 degrees and comfortable.
The fan has easy-roll wheels which makes it simple to place this beautiful device wherever I want. The water tank is HUGE, so I only have to refill it with my hose every couple of days.
Every family member that has visited this month has been obsessed with this misting fan, and I think we're all getting along better because we are cool and comfortable rather than hot and sweaty!
My favorite use is pointing it to me when I'm grilling. No bugs are getting near my food!
NewAir's 26" Pedestal Misting Fan will change your entire outlook on the summer season, so I can't suggest it enough!
Okay, so NewAir helped us stay cool at home, but what about on the road? And what about mosquitos and bugs on our long road trip?
Well, lucky for us, we brought along a NewAir 20' Outdoor Rated 2-in-1 High Velocity Floor Fan. (Model #NIF20CBK00) With 3 Fan Speeds and an Adjustable Tilt Head, this fan kept us cool and protected us.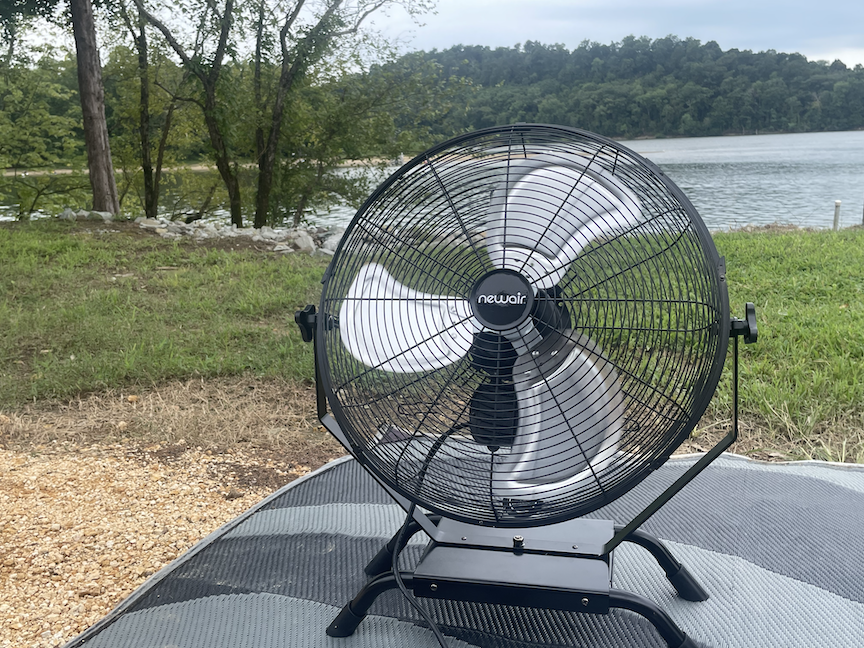 We often had it pointed at the door to our camper, that way any mosquitos and bugs that wanted to come in were shooed away.
Then, whenever we were hanging outside, we'd just move the fan towards us which helped cool it down, but also sent any bugs on their way – it must have saved us from hundreds of bug bites.
In summary, if you are looking to avoid humidity, heat, or bugs the rest of this summer, I can't recommend these incredible cooling products enough, but if you want to avoid the heat in its entirety then you should focus on getting an ac repair. You'll get a 10% discount at checkout if you use the code: LIFEOFDAD