Brian Urlacher not only played for the Chicago Bears, but he carried on the tradition of the great linebackers before him. He won the NFL Rookie of the Year Award in 2000, elected to eight Pro Bowls, and won the NFL Defensive Player of the Year award in 2005. Since his time in the NFL, Brian has kept himself busy and fueled his spirit of competition with the game of golf.
When he is not hanging out with his family, Brian can be found on the golf course. Now he is on the Golf Channel's new show called Driver Vs. Driver. Driver vs. Driver will follow the trials and tribulations of aspiring golf equipment designers as they compete for the chance to win $500,000 and the opportunity to have their driver concept brought to life and sold under the Wilson Staff name. Each design team will work with Wilson Labs engineers to evaluate, critique, refine and test their ideas and concepts, all while trying to stave off elimination by the panel of golf expert judges.
I was able to speak with Brian about his new show, football, and fatherhood.
Art Eddy: You got a new show on the Golf Channel called Driver Vs Driver on the Golf Channel. I was reading up on the show and it is a new type of competition show. Tell me a bit about the show and your role as a judge on the show.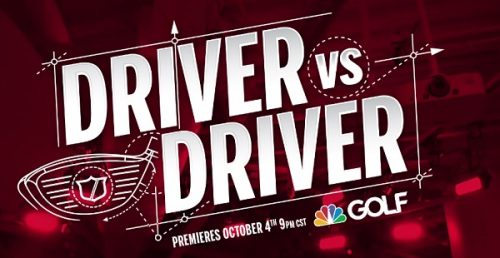 Brian Urlacher: It is pretty cool. What we did was that Wilson took submissions from people who design drivers. Wilson will pick the best one and market it. They got thousands of submissions and narrowed it down to eleven. Every week on the show someone leaves the competition. At the end there are three and then they pick the best driver. It is a great show. The products that they come up with are phenomenal. I was very surprised to see how good their designs were.
AE: This show looks to focus on technology and innovation as designers look to make the latest and greatest clubs for golf. What you look for when you are getting new clubs?
BU: I like a heavy driver. If it is heavy I like it right away. If it goes straight and far that is a good combination as well. I really don't get too much into the design part of it. That was mostly Frank and Tim who look at the design for that part of the show. I was more of the fan and the guy trying to make his golf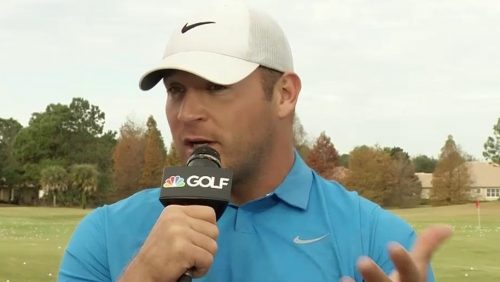 game better.
AE: People know you for your outstanding performance on the football field with the Chicago Bears, but you have a passion for golf too! What got you into golf?
BU: Just competition. I tried to play a little bit in college, but it was so damn expensive. I couldn't afford the clubs. Once I got into the NFL I bought some nice clubs. I didn't play a ton during my time in the NFL. I played when I could. Once I retired I now play a ton. That is pretty much what I do now besides chase my kids around. I play golf.
AE: Which is more mentally grueling football or golf?
BU: Oh golf. Not even close. (Both laugh.) Football is easy. Well, not easy, but I knew what I was doing on the football field. I knew certain plays where I needed to go. If the running back did this then I did that. If the lineman did this then I did that.
Golf you just don't know what is going to happen. My swing is different every time I swing it. It is frustrating, but that is why we love it so much. It is such a hard game. You are never going to master it. No matter how good you think you are you are never going to be as good as you want to be.
AE: You said you got into golf because of competition. So who of your former NFL teammates would you love to go play against on the golf course?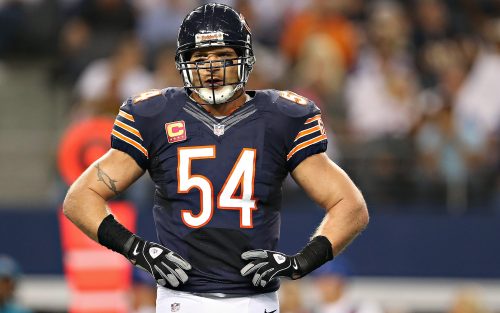 BU: I play with Robbie Gould a little bit. Robbie is a pretty good golfer. Patrick Mannelly, our long snapper is a really good golfer. When I played football I really didn't play that much with them. They could play a lot of golf because they were always healthy. Kickers and long snappers don't get hurt. A linebacker tends to get a bit sorer. I didn't play a lot during the season. Now that I am able to get better and hang with them I can compete with them a little bit better.
AE:  When you look back at your time with the Bears what stands out the most to you from your time in the league?
BU: Just the relationships with my teammates. It is such a fun game. Just think about going to work with 45 of your best friends and spending ten hours a day with them. It gets old sometimes. (Both laugh.) It is so fun. I used to enjoy going to work out. I hated meetings, but they are actually fun when you are hanging out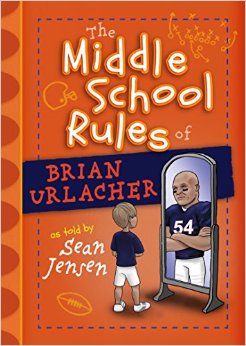 with your buddies. Just hanging out with your buddies all day and get to play football for a living.
AE: Switching to fatherhood now, what were some of the first few thoughts that popped into your mind when you found out that you were going to be a dad?
BU: I was excited. I think everyone will get a little bit nervous because you are a first time father and all the responsibilities that come with it. It is also exciting. Everyone talks about how great fatherhood is. You don't really know that until you experience it yourself.
AE: You and Sean Jensen wrote Middle School Rules. Tell me how that book came to be?
BU: It is cool. Sean had brought the idea up to me. I said sure. He said he had a hard time finding books for his kids to read. I feel like there is a lot of stuff out there that they shouldn't be reading. Why not read something that will benefit them a little bit. Sean brought it up to me and I jumped on the opportunity. We wrote a pretty good book I think.
AE: What are some of the core values you look to instill in your kids as they grow up?
BU: It is so hard these days with social media with all the crap that is out there. I tell them that they know the difference between wrong and right. Do what is right. That is the number one thing. They understand that. They understand the difference between wrong and right like most people do. So if there is a question do what you think is right. That is the number one thing. I try to keep them out of trouble.
AE: What advice do you have for new dads?
BU: Have fun with your kids. The older they get there is so much more you can do with them. You can golf with them. You can play basketball. You can play football. You can go fishing. There are so many things that you can do with your kids. I am basically an Uber driver for my kids. (Both laugh.) It is just so much fun. Spend as much time as you can with them. It is such a fun situation to be in.
Life of Dad Quick Five
AE: What is your favorite family movie you guys like to watch together?
BU: Step Brothers.
AE: Do you guys have a favorite song that you all like to sing and dance to as a family?
BU: Oh my gosh, we are huge music buffs. Pretty much any song we will sing to on the radio. Dancing I am not much in that conversation. The kids are. They love Country. They love everything. Anything on the radio is good.
AE: Describe the perfect family vacation.
BU: We always have a good time when we go to the Bahamas. There is Atlantis down there with the beach and waterpark. Hawaii, we have always had a good time there. We also just like being at home honestly. We have a good time doing nothing at home.
AE: Describe Soldier Field in one word.
BU: Unbelievable.
AE: Do you have a favorite course to play on or is there a course you can't wait to play?
BU: I have never played Pebble (Beach). I have heard great things about it. I have had a couple invites. I just never had the chance to go out there and play.
Follow Brian on Twitter at @BUrlacher54 and go to GolfChannel.com for more on the show Driver Vs Driver.