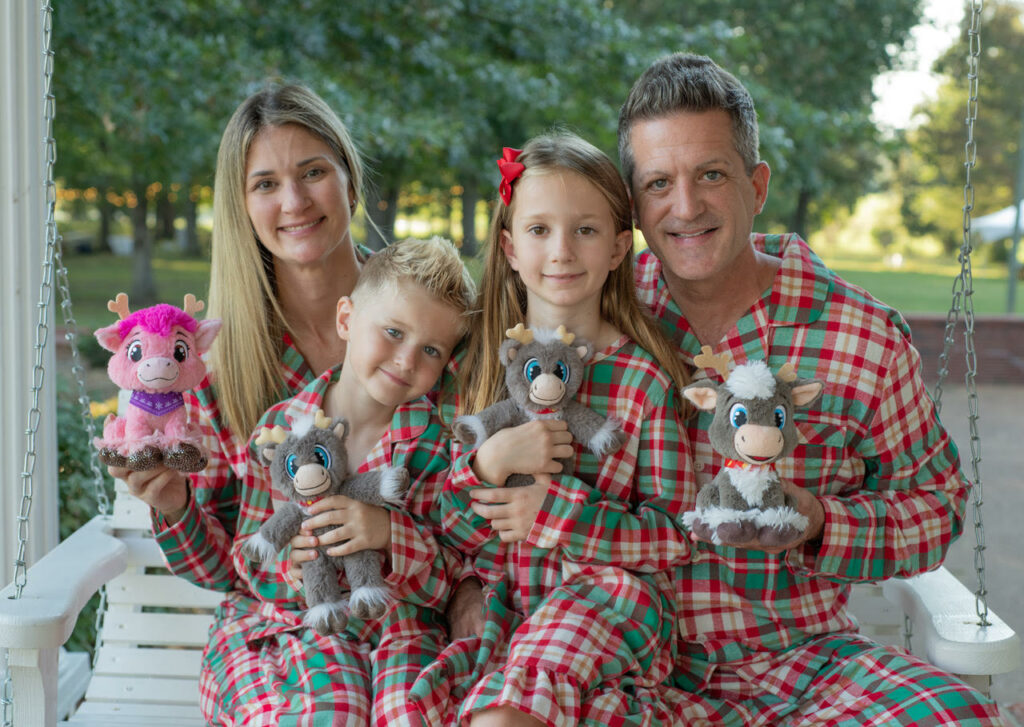 Back in 2015 a new dad, Adam Reed, was looking for a holiday tradition he could enjoy with his daughter.
He was turned off by the stress that a certain elf would bring to the Christmas season, so he decided to write his own children's book which involved a plush toy…
Adam and his wife poured their life savings into the concept of REINDEER IN HERE…
In the book, the Reindeer's backstory starts with Santa rying to solve a big problem: How can he get to know every child in the world better? That's when the 'Reindeer In Here' chimes in with his idea: "You have a lot of reindeer," he tells Santa. "Why don't you send us early in December and let us live with the children?" The thought is by spending time with the kids ⏤ doing activities, seeing their homes, meeting their family and friends, and snuggling with them in bed at night ⏤ the reindeer could get messages back to the big man about the millions of kids waiting for him to slip down their chimney on Christmas day. So, yes, technically still reporting back, but in a clearly less creepy/more subtle way. "That's amazing," replies Santa. "Why didn't I think of that?"
The book sold out on Amazon instantly, which was both good and bad.
This meant Adam and his wife Jennifer had to ship more toys, get more books printed, and invest more money…
Fast forward five years, and the book and toy set are now published by Simon & Schuster and on Tuesday, 11/29, an animated version of REINDEER IN HERE will air on CBS following RUDOLPH – THE RED NOSED REINDEER.
The cast in the movie includes Adam Devine, Henry Winkler, Melissa Villasenor, Candace Cameron-Bure, Jo Koy, and Jim Gaffigan as Santa…
REINDEER IN HERE Author and Creator Adam Reed joined Henry Winkler for this exclusive interview with Life of Dad:
LOD: Tell us about the journey from your idea for the book to where we are now.
Adam Reed: There was a real opening in the market for a holiday tradition for both parents and children who wanted a story and tradition that was more inviting and less stressful all around. However, I think the book really took off because the deeper message which is "that being different is normal" because every child at some point in their life has felt different, and that's what this story is all about.
Our main character is a reindeer who has one antler which is smaller than the other. I think people's differences should bring us together, and hopefully that's what this movie will do.
A couple years ago, we were lucky to have CBS reach out, and they said, "We air RUDOLPH every year, and we think REINDEER IN HERE could be the next holiday classic. What do you think of turning this into an animated Christmas special?"
The rest is history. And God Bless Henry Winkler, because he is the first person we cast, and him coming on board changed the entire trajectory of this movie. Once the other cast members found out that Henry was on board, we got our first choice actors for each role in the film.
LOD: Henry, what made you decide to join the cast of this movie?
Henry Winkler: It seemed like the right thing to do, the story is great, I am different, because I am dyslexic. My antler is shorter than everybody else's ability in math and spelling.
I loved being a part of the movie, and I had the most wonderful time.
LOD: Henry, what did you love most about playing a 500 year old elf?
Henry: He is not your typical elf. He has a point of view, and he has a plan, that is not necessarily the nicest plan, even though he thinks it may be. He was a really fun character to play.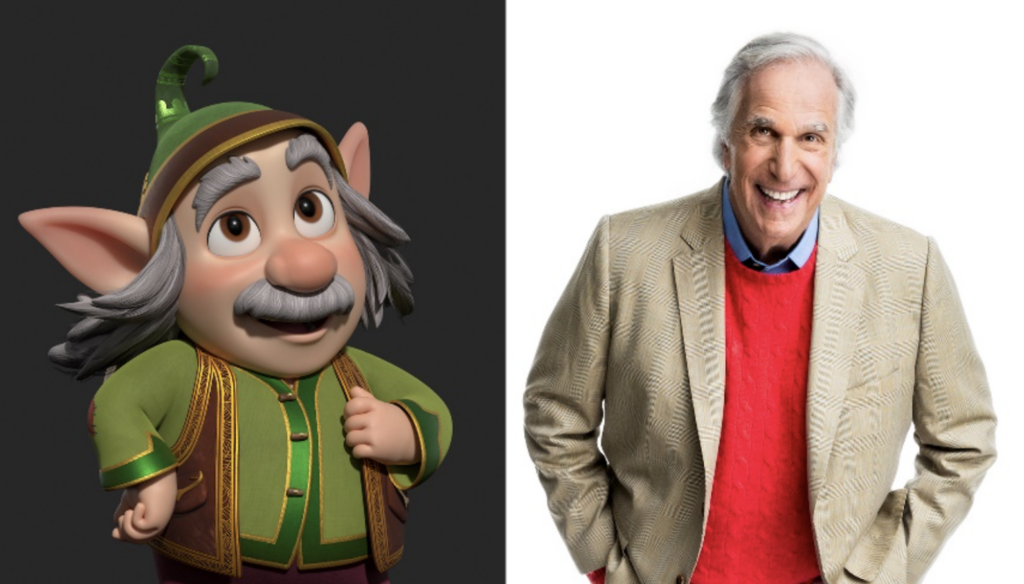 LOD: Adam, you wrote the children's book and created the plush set. How involved were you in the creative process for the movie?
Adam: We were lucky to get Academy Award Nominated writers involved who came in and took the basis of my book, and created these brilliant characters. Not only is Henry's character named Smiley Gumdrops, but he happens to be the "H.O.H.O", which is the "Head of Holiday Operations", and I remember reading that in the first draft of the script, and just thinking, "that is genius."
It was really incredible to see them take my base story, and elevate it to a level that I could have never expected.
Henry: I'm sorry to interrupt, but Adam, but you were very instrumental in directing the trajectory of the characters too. You knew them very well in your heart. You were right there with the creation of each character.
Adam: Thank you Henry! You and I had a conversation ahead of time about the characters, and your character in particular is so multi-dimensional.
I believe story and character trump all.
Henry: That's not just animation.
Adam: Right, so starting from the very beginning of REINDEER IN HERE, I was very focused on story and character, so I'm proud of where we are now.
Henry: How long did it take you, from the moment CBS said, "Hey let's make this" until the premiere tomorrow night?
Adam: Just over a year, and candidly, it should have taken two years. This animation stands up, in my humble opinion, next to the Pixar films that are out there. It has a contemporary yet classic feel and I give all the credit for that to our extremely talented Director Lino DiSalvo and our incredible animation team at JamFilled Studios – they pulled off the near impossible.
LOD: Why should the audience watch REINDEER IN HERE?
Adam: It is a story about hope, persistence, wishes, and belief. It doesn't matter who you are, how different you are, how unique you are…your Christmas wish, and your wishes in general can come true.
There are many funny and lighthearted moments in this movie. My kids, who are seven and five are running around quoting lines from the movie. It's so surreal, because I think it does have those moments where families will come back to watch year after year.
Henry: It's a pretty good barometer if your kids are watching it and coming back and quoting it. At five and seven years old, your kids aren't saying it because "(sarcastically) we better say that because this is our dad's movie." They're saying it because it went in their brain and it made sense.
It's such a great movie because my life is based on the idea of tenacity, and belief, even if I didn't have belief in real life, I had belief in myself as an actor. And the tenacity and belief can literally make the world turn.
Adam: Getting this book and movie made was a story of tenacity. There were plenty of ups and downs, and lefts and rights, it was challenging. But I couldn't stop. In my heart I knew this story had to be told.
Henry: That's called life.
Adam: Yep. We put our life savings into this little reindeer thinking, "Hey I believe there is something here," and it's that belief and tenacity that got us here.
Henry: You were kind enough to send me the box with the book and plush, and when I got it, I was like, "Wow, even the box feels substantial." This box felt indestructible.
Adam: Thank you Henry, we're proud to be partnering with Simon & Schuster for the book/plush box set.
LOD: Adam, what did it feel like when you were able to do a premiere screening for your family and friends in a local movie theater?
Adam: When we were leaving the premiere, I looked at my wife, and I told her I felt like I had just given birth. I don't know what's going to happen to our baby, but our baby is now out in the world.
The most magical part of that screening for me was later that night at home, my seven year old looked at me dead in the eye, and said, "Daddy, I just want you to know you did a great job tonight, I'm so proud of you." She's never said that to me about anything, and I think in that moment, she realized what Daddy's been working on, and her saying that made all of it worth it to me.
Henry: That's what you live for, your child sees you not just as Daddy, but as a human being in the world.
_________
Everybody, make sure you check out the world premiere of REINDEER IN HERE on CBS at 9PM ET/ 8 CT on Tuesday, Nov 29th.
And, you can purchase all of the Reindeer In Here products including the keepsake deluxe box set, pajamas, blankets, and Blizzard and Pinky plush reindeer at Target & Target.com HERE
The standalone 2022 edition of the keepsake book & plush set is available at Amazon HERE or wherever books are sold.