Finesse Mitchell is this week's guest on The Life of Dad Show.
On The Show
Finesse Mitchell stops by the Life of Dad studio to talk with Art Eddy about his new comedy special, The Spirit Told Me To Tell You, his new talk show and a new sitcom. Mitchell's wife recently had their second child and Finesse talks with Art about balancing work and family and how his kids are his good luck charm. Finesse also shares a few stories about playing football at the University of Miami and his favorite moments working on Saturday Night Live.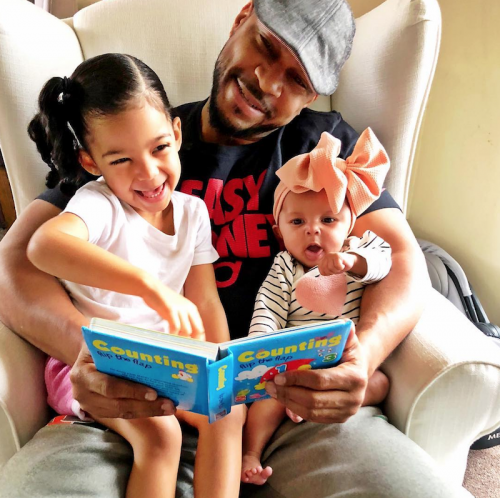 About Finesse Mitchell
Finesse Mitchell is a multi-faceted actor, comedian and author. He has recently appeared in the movie Mad Families with Charlie Sheen, Tiffany Haddish and Media and Showtime's Roadies directed by Cameron Crowe and produced by J.J. Abrams. Mitchell is best known for his three-year run on Saturday Night Live, creating hilarious characters like "Starrkeisha" and impersonating actor Morgan Freeman and rapper 50 Cent. He has also appeared on The Tonight Show with Jay Leno, Late Night with host Jimmy Fallon and Seth Meyers, and starred in the hit urban movie, Who's Your Caddy. Mitchell can also be seen on the Disney Channel's hit show A.N.T. Farm.
Finesse Mitchell performs stand-up comedy to sold out shows across the country. Known for his witty take on timely subjects, relationship humor, and politics, he appeals to all demographics. Finesse just taped his one-hour comedy special, The Spirit Told Me To Tell You in Los Angeles, Ca at the Alex Theater set to be released on October 19th.
Mitchell graduated from the University of Miami and is a distinguished member of Kappa Alpha Psi Fraternity. He is also a former student athlete who was a walk-on for the National Champion Hurricanes football team where he played with Super Bowl champion Warren Sapp and Dwayne "The Rock" Johnson to name a few.
Follow Finesse on Twitter at @finessemitchell and go to finessemitchell.tv to learn more about him.
About The Life of Dad Show
The very best of Life of Dad…PODCASTED! Featuring your favorite hosts, Art Eddy and Jon Finkel. Life of Dad is the first ever and fastest growing social network for dads. Featuring thousands of blogs, videos, podcasts and more, Life of Dad is the one-stop entertainment destination for fathers. Sit back, crack open a brew, and connect with dads from all around the world who are sharing their funny, entertaining, and heartwarming stories on Life of Dad.
Subscribe to The Life of Dad Show on iTunes and leave a review and you could win a Life of Dad prize pack.