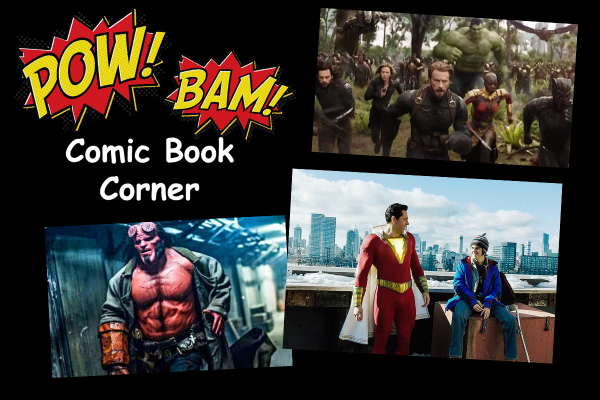 What up fellow geeks? This month has three superhero films that a lot of people can't wait to check out. From Shazam! to Hellboy to Endgame you will have you going to your local theater a lot this month. Let's take a look these three films. Which one are you most excited about?
SHAZAM!
We all have a superhero inside us, it just takes a bit of magic to bring it out. In Billy Batson's case, by shouting out one word—SHAZAM!—this streetwise 14-year-old foster kid can turn into the adult Super Hero Shazam, courtesy of an ancient wizard. Still a kid at heart—inside a ripped, godlike body—Shazam revels in this adult version of himself by doing what any teen would do with superpowers: have fun with them! Can he fly? Does he have X-ray vision? Can he shoot lightning out of his hands? Can he skip his social studies test? Shazam sets out to test the limits of his abilities with the joyful recklessness of a child. But he'll need to master these powers quickly in order to fight the deadly forces of evil controlled by Dr. Thaddeus Sivana.
"Shazam!" also stars Jack Dylan Grazer as Billy's best friend and ultimate superhero enthusiast, Freddy, part of the foster family that includes Mary, played by Grace Fulton; Darla, played by Faithe Herman; Eugene, played by Ian Chen; and Pedro, played by Jovan Armand. Cooper Andrews and Marta Milans play foster parents Victor and Rosa Vasquez, with Oscar nominee Djimon Hounsou as the Wizard. Firmly set in the DC universe but with his own distinctly fun, family-centric tone, the screenplay is by Henry Gayden, story by Gayden and Darren Lemke. Shazam was created by Bill Parker and C.C. Beck. The movie comes out next month.
From my fellow geeks that have seen the movie already I have heard that there is action and humor. Plus the theme of family is key to the film. We here at Life of Dad like the sounds of that. Levi does such a great job playing Shazam that your kids will want all the figures and playsets from the movie. There are action figures in the 6 inch and 12 inch variety as well as some dress up items like Shazam's signature lighting bolt chest set. All of these items can be found at Entertainment Earth! They have a great selection of toys, collectibles and all things geek that you can imagine.
Hellboy
Hellboy is back, and he's on fire. From the pages of Mike Mignola's seminal work, this action packed story sees the legendary half-demon superhero (David Harbour, "Stranger Things") called to the English countryside to battle a trio of rampaging giants. There he discovers The Blood Queen, Nimue (Milla Jovovich, Resident Evil series), a resurrected ancient sorceress thirsting to avenge a past betrayal. Suddenly caught in a clash between the supernatural and the human, Hellboy is now hell-bent on stopping Nimue without triggering the end of the world.
Avengers: Endgame
HERE. WE. GO. I think for geeks and non-geeks this movie is the one people will be talking about over and over as well seeing it in the theater over and over. This movie is 10 years in the making. I know I can hardly wait to see what happens to Cap, Iron Man, Hulk, Thor and all of the other Marvel characters as they try to avenge their fallen heroes. Many people have their own theories, but on April 25th during the early screening day fanboys and fangirls will get to see this chapter in the MCU.
The grave course of events set in motion by Thanos that wiped out half the universe and fractured the Avengers ranks compels the remaining Avengers to take one final stand in Marvel Studios' grand conclusion to twenty-two films, "Avengers: Endgame." Kevin Feige produces "Avengers: Endgame," and Anthony and Joe Russo are the directors. Louis D'Esposito, Victoria Alonso, Michael Grillo, Trinh Tran, Jon Favreau and Stan Lee are the executive producers, and Christopher Markus & Stephen McFeely wrote the screenplay.