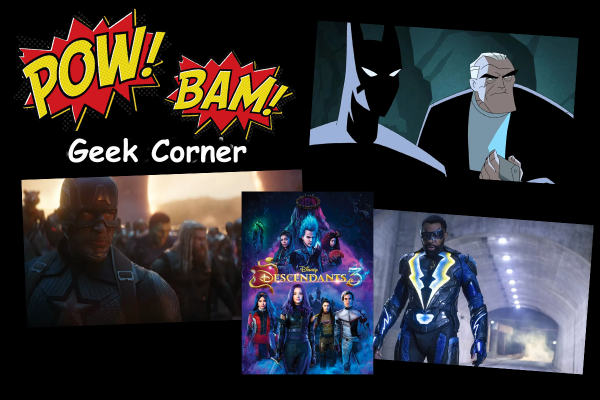 Oh man! What a great week for all things GEEK! Avengers: Endgame is out on digital and comes to Blu-ray on August 13th. Descendants 3 comes out tomorrow on DVD after premiering last Friday on The Disney Channel. And last, but not least a lot of fantastic news in the CW's DC Comics shows.
Getting The Band Back Together
One of the best movies of all-time in my opinion is Avengers: Endgame. Marvel Studios produced a movie that was 22 films in the making. I have invested 11 years in the Marvel Cinematic Universe and Endgame made it worth it. Even if you are a causal MCU fan you would enjoy the film, but for you fellow geeks I know that you enjoyed it as much as I did.
The grave course of events set in motion by Thanos that wiped out half the universe and fractured the Avengers ranks compels the remaining Avengers to take one final stand in Marvel Studios' grand conclusion to twenty-two films, Avengers: Endgame. You can purchase Avengers: Endgame here.
Chillin Like A Villain
Mal, Evie, Carlos, and Jay return to the Isle of the Lost, to recruit a new batch of villainous offspring to join them at Auradon Prep. When a barrier breach jeopardizes the safety of Auradon during their departure off the Isle, Mal resolves to permanently close the barrier, fearing that nemeses Uma and Hades will wreak vengeance on the kingdom. Despite her decision, an unfathomable dark force threatens the people of Auradon, and it's up to Mal and the VKs to save everyone in their most epic battle yet.
My kids and I watched it last week and we really enjoyed. The story was great and the introduction of new characters matched the ones who were in the first two movies. Lot of great songs out of this too! This is a must see for all families. You can get the DVD here!
I AM THE KNIGHT!
if you are like me and enjoy the DC Comics shows on the WB, well check out the latest and greatest news. Bruce Wayne and Black Lightning will be in the crossover Arrowverse event this year.
Kevin Conroy, who has voiced Batman in many animated series and videos will play old Bruce Wayne in the Arrowverse. It was announced during a panel at the Television Critic Association's summer event, that Kevin Conroy will appear on the Crisis on Infinite Earths.
Plus to add some excitement Cress Williams who plays, Black Lightning will be inthe Crisis on Infinite Earths too. Cress on his Instagram account wrote, "You asked for it…you got it!!! #blacklightning#crisisoninfiniteearths #getlit" I interviewed Cress at the start of season one of Black Lightning that you can listen to here.
There were sites saying that Cress would be appearing during Crisis on Infinite Earths, the upcoming big Arrowverse crossover event that will feature, among other characters, Brandon Routh playing Superman. Routh played the role of Superman in Superman Returns, but also plays The Atom on Legends of Tomorrow, which is part of the CW DC Comics shows. This will be very interesting to see how this all plays out.