This week for the Geek Corner we are putting the spotlight on The Dark Knight. He is turning 80 next year and looks pretty darn good for 80. DC Comics will be honoring Batman with two milestone books. Plus DC doesn't stop there. They also released some news on what fans and collectors can prepare for next year!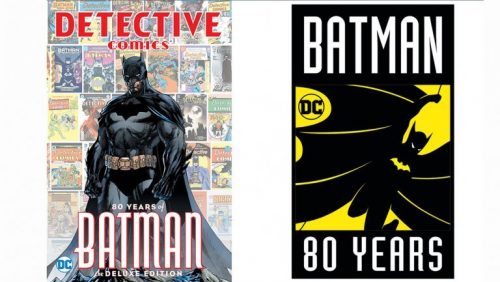 Looking Great For 80 Years Old
Leading into Batman's big 80th celebration next year, DC announced today the World's Greatest Detective will be honored with two milestone book releases in March 2019. DETECTIVE COMICS: 80 YEARS OF BATMAN THE DELUXE EDITION will be a spectacular oversize hardcover book, and DETECTIVE COMICS #1000 will be a collector's edition of the 1,000th issue of the periodical comic that launched the high-flying adventures of the world's most popular Super Hero. Retail orders for these books will be available soon.
Since his debut in DETECTIVE COMICS #27 in March 1939, Batman has been the most popular DC Super Hero in the world, resulting in repeated waves of pop culture "Bat-mania" for many generations. Whether known as the Dark Knight, the Caped Crusader or simply Batman, his appeal is global, and he has headlined comic books consistently since 1940, representing thousands of comics titles that have regularly been industry best-sellers no matter the comic book era.
"The enduring popularity of Batman over the past 80 years speaks to the character's multi-generational appeal," said DC Publishers Jim Lee and Dan DiDio. "We're proud to celebrate Batman's cultural impact with these special releases and look forward to a year of commemorating this milestone anniversary with fans across the globe."
 Marking eight decades of crime-fighting, the oversize 1,000th issue of DETECTIVE COMICS will reveal a never-before-seen iteration of the Arkham Knight, as well as original stories by some of the biggest names in comics. To further celebrate the cultural legacy of the iconic Super Hero, DC will present a special hardcover release, DETECTIVE COMICS: 80 YEARS OF BATMAN THE DELUXE EDITION, including new artwork, all-star contributors and thrilling untold stories.
These two special publishing exclusives, available in March 2019, are certain to become collector's items as part of DC's yearlong plans to honor 80 years of Batman storytelling. More details on the cross-company festivities and global celebration will be released in the coming months. Visit www.dccomics.com or the DC YouTube channel for the latest news and updates.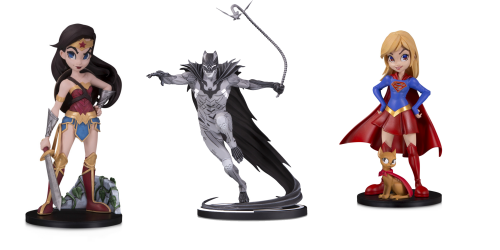 What Is In Store For DC Comics
Lot of cool collectibles coming from the world of DC Comics. Some of them include Dark Nights: Metal Batman and Darkseid Baby statue, Batman Black & White Batman statue by Kenneth Rocafort, Batman Black & White Mini PVC Figure, DC Designer Series: Wonder Woman statue by Jenny Frison, Batman Family: Robin Multi-Part statue, Deluxe Action Figure Base Two-Pack, DC Gallery: Batman: Arkham Asylum Batman Cowl, DC Artists Alley Wonder Woman, Hawkgirl, Supergirl and Batgirl by Chrissie Zullo.
For more information on all the DC Collectibles go to dccomics.com/collectibles.