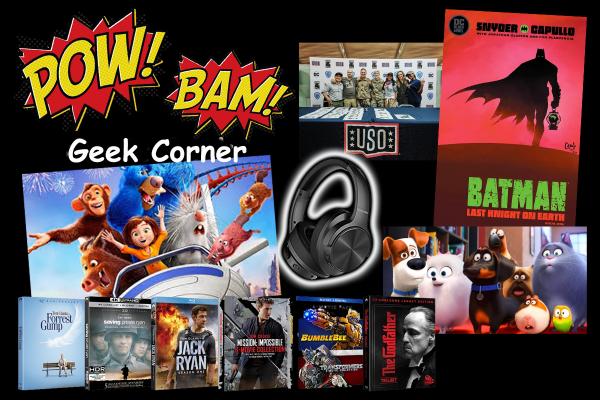 Father's Day Special
What up fellow geeks! How is your week going? This month we are going to be celebrating dads everywhere on Father's Day. What is your favorite thing to do with the family on that day? Well since this is Geek Corner we are going to hook you guys up with some cool prizes that you and your family will enjoy! From movies to theater passes to comic books we got you covered. We will giving out prizes here on this post or on the Geek Show or Lunch Break Show on our Facebook page!
The Wonder Of It All
Thanks to Paramount Pictures we have a Wonder Park prize pack that you can win. All you have to do is tweet at me at @ArtEddy3 what your favorite Wonder Park character is and you will win a copy of the movie and toys from the film! Buckle up for an epic adventure where anything is possible! A young girl named June with a big imagination makes an incredible discovery – the amusement park of her dreams has come to life. Filled with the world's wildest rides operated by fun-loving animals, the excitement never ends. But when trouble hits, June and her misfit team of furry friends begin an unforgettable journey to save the park. Action-packed and brimming with laughs, Wonder Park is a ride the whole family will love.
Check out this exclusive video from Wonder Park.
Batman Supporting The Troops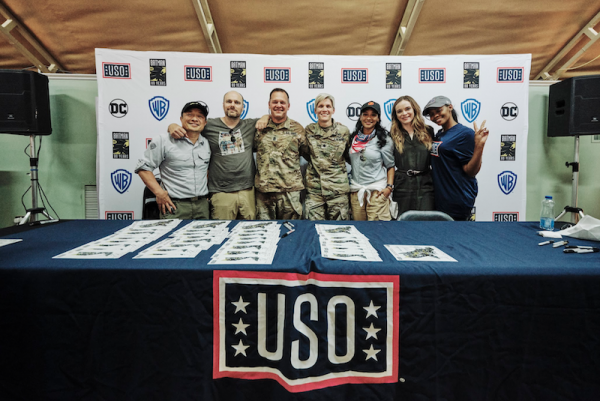 In honor of Batman's 80th anniversary celebration, DC has just completed a USO tour that reached nearly 12,000 U.S. military members stations in Kuwait.
In true superhero style, DC and the USO orchestrated exclusive screenings, cosplay contests, and special group panels where acclaimed DC writer Tom King shared his experience as a former CIA counterterrorism operations officer and his transition into comic books and writing Batman. Artist Jim Lee also taught an art masterclass for service members interested in illustration, while actresses Candice Patton (Iris West Allen), Danielle Panabaker (Caitlin Snow/Killer Frost) and Nafessa Williams (Anissa Pierce/Thunder) met with fans, signed autographs, participated in panel discussions and made special unit visits to service members on the job. In addition, DC brought the famed 'Tumbler' Batmobile – bringing an immersive Batman experience to active-duty service members currently stationed abroad.
That was great to see DC Comics showing some love to our men and women in our military. Nice job DC! We are giving away a Batman comics collector set. You can win Batman; The Last Knight on Earth and a ten Batman graphic novel set that was done by Scott Synder and Greg Capullo. In Batman; The Last Knight on Earth it is a 3-part saga will take the Dark Knight on a quest across the devastated landscape featuring a massive cast of familiar faces from the DC universe. As he tries to piece together the mystery of his past, he must unravel the cause of this terrible future and track down the unspeakable force that destroyed the world. "Bruce Wayne wakes up in Arkham Asylum. Young. Sane. And…he was never Batman. So begins this sprawling tale of the Dark Knight as he embarks on a quest through a devastated DC landscape featuring a massive cast of familiar fates from the DC Universe. As he tries to piece together the mystery of his past, he must unravel the cause of this terrible future and track down the unspeakable force that destroyed the world as he knew it."
The first three volumes of the #1 New York Times best-selling creative team's juggernaut run on the Dark Knight is now available in the Batman by Scott Snyder and Greg Capullo. Their first three critically acclaimed, award-winning graphic novels–BATMAN VOL. 1: THE COURT OF OWLS, BATMAN VOL. 2: CITY OF OWLS and BATMAN VOL. 3: DEATH OF THE FAMILY–are featured here in a slipcase edition box set. This new collection is the perfect addition for any hardcore fan, as well as a great jumping-on point to one of the greatest comic book runs of all time.
Set two spans from the Zero Year to the future of BATMAN: ETERNAL, Batman grieves for a son, infiltrates Arkham Asylum and tracks a serial killer. Joining Snyder and Capullo is an all-star lineup of special guests, including Andy Kubert, Alex Maleev, Andy Clarke, Dustin Nguyen, Wes Craig, Matteo Scalera, James Tynion IV and Marguerite Bennett! This volume collects BATMAN #0, BATMAN #18-20, 28, 34 and BATMAN ANNUAL #2.
Set three has Snyder Capullo share shattering stories that bring Batman and The Joker together for their final, catastrophic showdown, followed by a shocking aftermath in which Gotham City and its heroes may never be the same! This collector's box set includes: Batman Vol. 7: Endgame, Batman Vol. 8: Superheavy, Batman Vol. 9: Bloom and Batman Vol. 10: Epilogue.
You will be able to win this set on the Geek Show on our Facebook page that Patrick Quinn and I host every Wednesday at 9 pm EST. We hope to see you there.
Jim Lee X HEX Creates Backpack Line For Artists And Collectors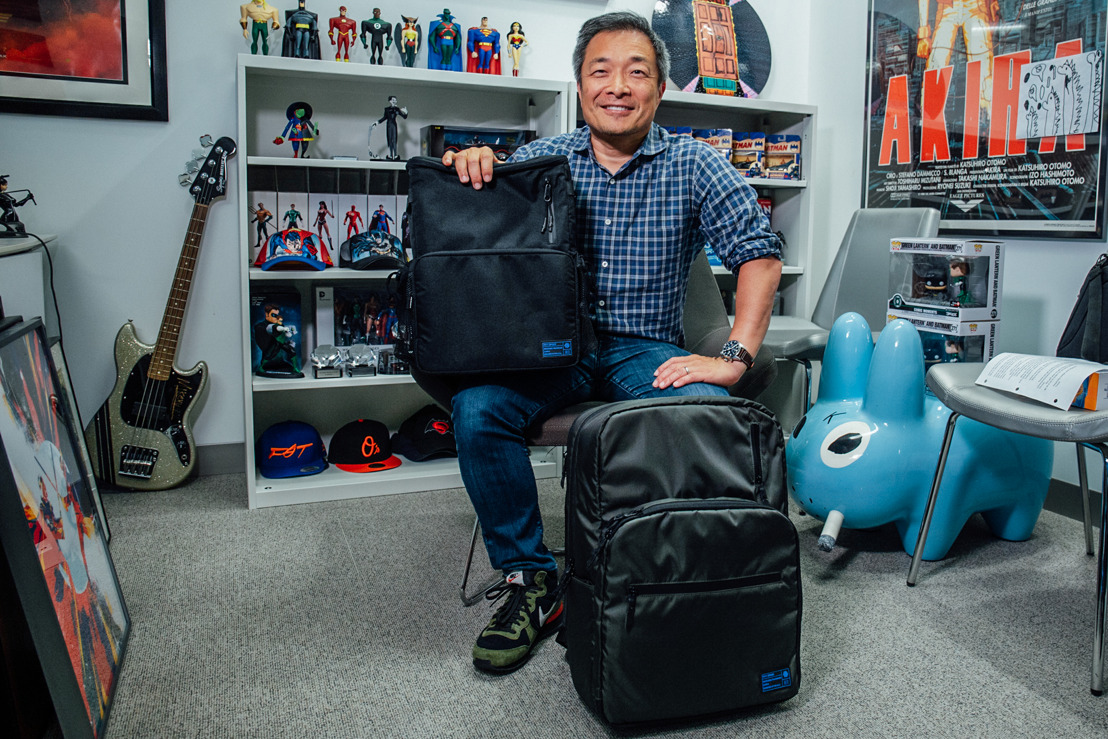 The HEX x Jim Lee Artist Backpack was created to allow artists like Jim to carry both art supplies and an art portfolio around safely. The HEX x Jim Lee Comic Collector Backpack was designed specifically for comic convention goers to safely store new and rare comics while traveling.
The Artist Backpack features a removable 11" x 17" portfolio, an art supply organizer including a waterproof section to hold ink and paint, a fleece lined laptop pocket and a padded tablet pocket. The outside of the backpack features a phone and passport pocket and a versatile a mesh side pocket.
While this backpack is focused on functionality, it also carries the unmistakable design signature of Jim Lee. There is a Jim Lee luggage tag and the lining features a subtle nod to Jim Lee's Batman with an electric blue original Batman sketch.
Jim Lee explained that, "the aim was to provide a subtle call out to the origins of the bag without it becoming a Batman bag."
The HEX x Jim Lee Collectors Backpack has been created for comic book collectors as a way to safely transport comics. Comic convention goers routinely carry hundreds if not thousands of dollars of comics around in flimsy bags. This backpack provides secure and safe storage for comic book enthusiasts.
Inside the top of the backpack is a file folder with individual sleeves so that multiple bagged and boarded or slab comics can be held securely. Additionally, there's a fleece lined laptop section. It's even possible to lock the top of the files for extra security. There is an easy access pocket that is the exact size of the Overstreet Price Guide. Plus, there's an expandable mesh pocket on each side to carry poster tubes.
The Collectors Backpack features the same custom Batman lining as the Artists Backpack. There is also a Special Edition version of the Collectors Backpack that extends the Batman artwork to the external pocket. Other unique features include "Batarang" zipper tags.
What Pets Do When We Are Away
Have you noticed that Fandango has been offering exclusive advance screenings for certain movies this year? It is a really cool thing. I have been checking out some of movie early screening which is great for me and my family because we love movies. The Secret Life of Pets 2 is one of the most highly anticipated family films of the summer and opening wider on June 7. If you were on the Fandango movie list you would have gotten an email to gain early access. So make sure you follow them for all movie announcements. Thanks to Fandango I am giving away a few $25 gift cards. To enter to win a $25 gift card tweet at me at @ArtEddy3 the answer to this question: which Star Wars actor is in The Secret Life of Pets 2?
Movies For All Dads

Paramount Pictures is hooking us up with some of the most memorable movies of all time which are perfect movies for Father's Day. Make sure you watch the Lunch Break Show tonight at 9 pm EST as Jon Finkel and I are having a special Lunch Break show on our Facebook page. We are celebrating all things about fatherhood. Join us tonight and you will have a chance to win the following movies.
The Godfather Trilogy: Corleone Legacy
Forrest Gump 25th Anniversary
Jack Ryan Season
Mission: Impossible 6-Movie Collection
Bumblebee + Transformer Collection
Saving Private Ryan
13 Hours
Get Your Head(phones) Right
The perfect gift for Father's Day is the Mixcder E9 Active Noise Canceling Bluetooth over the ear Hi-Fi stereo headphones with deep bass and built-in microphone are available for review. The Mixcder E9 delivers premium noise canceling headphones at an affordable price – at only $69.99. The headphones use Active Noise Canceling (ANC) Technology that continuously detects outside noises, analyzing sound waves and blocking out ambient sound for a totally immersive experience with beautiful music and sound for dads or grads to study at a coffee shop, work in an open-space office, listen to music at the gym, or block out people talking, and engine noise on a plane or train. The Mixcder E9 is essential noise cancelling headphones, a daily escape from the noisy world to a quiet personal space — perfect for fathers and grads to enjoy.
I have been enjoying the Mixcder E9 at the gym. It is cordless and forms to my head that I don't feel like these headphones will fall off. I have been looking for a good pair of headphones that I can take to the gym as well as use when I am recording my podcasts. The Mixcder is priced right and delivers in sound, quality and fit!
Please note I was giving these items for giveaways, but my thoughts are my own.