Hello fellow geek dads! What are you guys into right now? For me 2018 has been one heck of a year in the world of geek. From what I am seeing 2019 will be following right where this year left off. In today's geek corner I am taking a look at a movie that my daughter and I loved seeing in the theater and a few Marvel characters that are getting their time to shine on the big screen.

What Is That Ticking Sound?
Full of wonder and adventure, The House With a Clock in its Walls mesmerizes audiences of all ages and keeps the magic alive when stars Jack Black, Cate Blanchett and Owen Vaccaro arrive as Uncle Jonathan, Mrs. Zimmerman and Lewis Barnavelt. In the most unexpected places, fantastical events, miraculous twists and suspense filled moments ensue in this movie that captivates adults as well. In the tradition of Amblin classics, master frightener and director Eli Roth's The House With a Clock in its Walls is a family-friendly fantasy film that is similar to movies I grew up on as a kid from the 80's.
In The House With a Clock in its Walls, Lewis Barnavelt goes to live with his Uncle Jonathan in a creaky and creepy mansion with an eerie tick-tocking heart. But when Lewis soon finds out he's in the presence of magic practiced by his uncle and neighbor Mrs. Zimmerman, his new town's dreary aura boosts to life in an exciting and dangerous way. Based on the beloved children's classic book written by John Bellairs and illustrated by Edward Gorey, The House With a Clock in its Walls is a sure family hit for movie night.
The Anti-Hero Takes Center Stage
One of Marvel's most enigmatic, complex, and badass characters comes home in Venom, which will make its debut on 4K Ultra HD Combo Pack, Blu-ray Combo Pack, and DVD on December 18! This must-own comic book blockbuster, which has grossed more than $822 million in theaters worldwide to date, is directed by Ruben Fleischer and features an all-star cast including Tom Hardy, Michelle Williams, Riz Ahmed, Jenny Slate and Woody Harrelson.
The perfect holiday gift, Venmo arrives filled with engaging bonus materials that will give fans even more of the action that they loved in theaters with over an hour of new content. The special features include an exciting Venom Mode, where fans will be able to engage with informative pop-ups throughout the film to reveal hidden references to the comics, deleted and extended scenes, a mini documentary called From Symbiote to Screen that covers the history of Venom in comics and his journey to the big screen.
Also a behind-the-scenes peek at some of the stunts, a look at Ruben Fleischer's journey behind the lens, a featurette about what it took to create Venom on screen called Designing Venom. Symbiote Secrets reveals Easter Eggs and hidden references in the film Other bonus materials include multiple pre-visualization versions of some of your favorite scenes, Eminem's incredible video for his hit song "Venom," "Sunflower" from Post Malone and Swae-Lee (from Spider-Man: Into the Spider-Verse), and an early sneak peek at Spider-Man: Into the Spider-Verse.
Venom tells the evolution story of Marvel's most enigmatic, complex and badass character Venom! Eddie Brock is a broken man after he loses everything including his job and fiancée. Just when his life is at its lowest, he becomes host to an alien symbiote which results in extraordinary superpowers – transforming him into Venom. Will these powers be enough for this new lethal protector to defeat great evil forces, especially against the far stronger and more weaponized symbiote rival?
PLUS on Wednesday, December 19th you can win the movie and other prizes on the Geek Show at 9 pm EST/ 6 pm PST on our Facebook page!
A Marvelous Captain
When the universe is in need of a skilled and confident leader, there is no better hero to take command than Captain Marvel! Carol Danvers becomes one of the universe's most powerful heroes when Earth is caught in the middle of a galactic war between two alien races. Imagine the action, missions, and adventures of Captain Marvel with dolls, role play items, and more inspired by the upcoming Captain Marvel movie part of the Marvel Cinematic Universe that includes Avengers Infinity War!
Hasbro will have a lot of great items for your kids to create their own Captain Marvel stories. Some of the items will be:
CAPTAIN MARVEL MOVIE PHOTON POWER FX GLOVE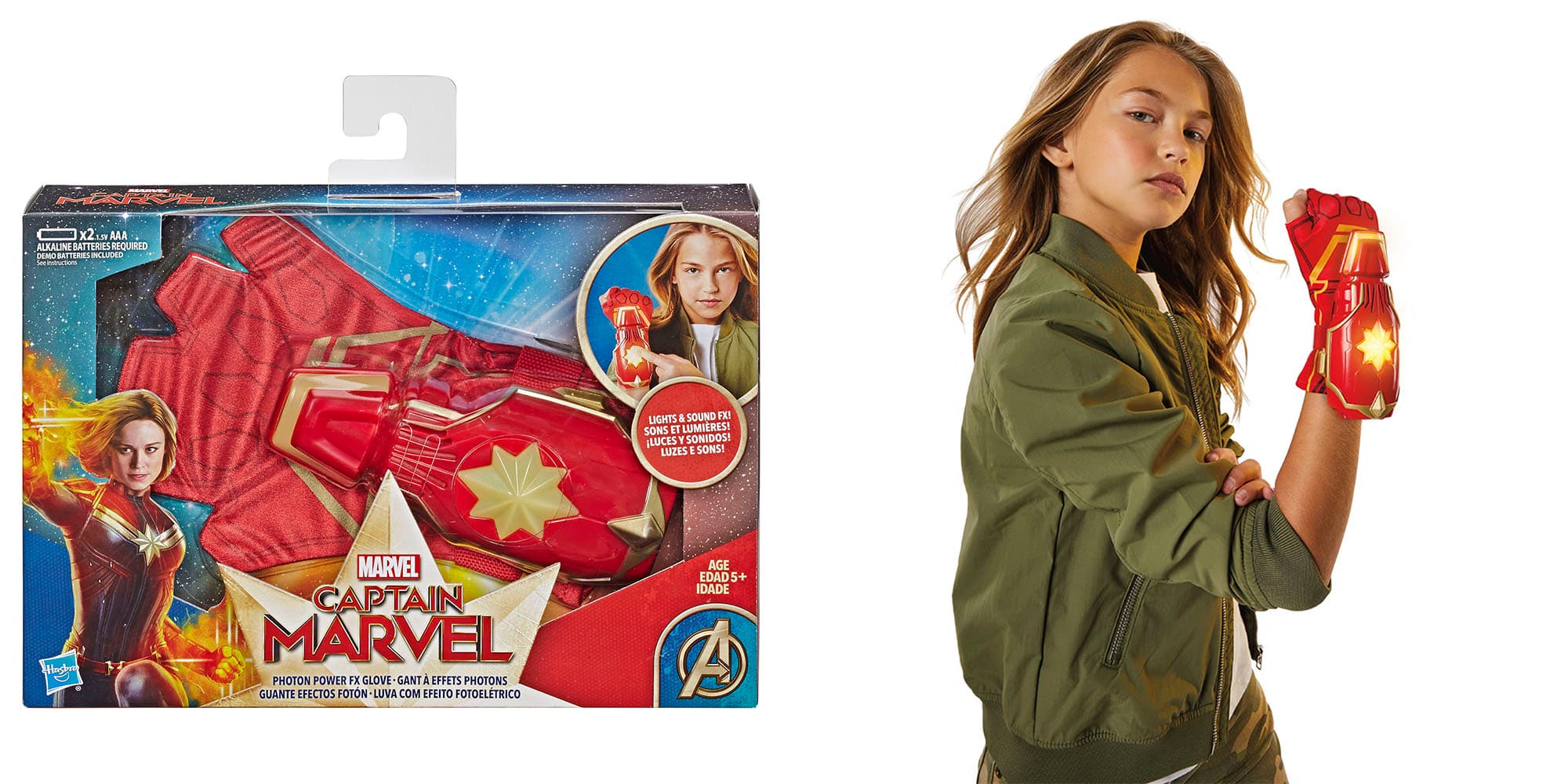 CAPTAIN MARVEL MOVIE PHOTON POWER FX CAPTAIN MARVEL ELECTRONIC DOLL
CAPTAIN MARVEL MOVIE CAPTAIN MARVEL DOLL AND MARVEL'S GOOSE
CAPTAIN MARVEL MOVIE CAPTAIN MARVEL (STARFORCE) DOLL WITH HELMET
Marvel Captain Marvel 6-inch Legends Captain Marvel Figure Marvel Captain Marvel 6-inch Legends Captain Marvel in Bomber Jacket Figure
Marvel Captain Marvel 6-inch Legends Talos Figure
Marvel Captain Marvel 6-inch Legends Nick Fury Figure
Marvel Captain Marvel 6-inch Legends Star Force Commander Figure