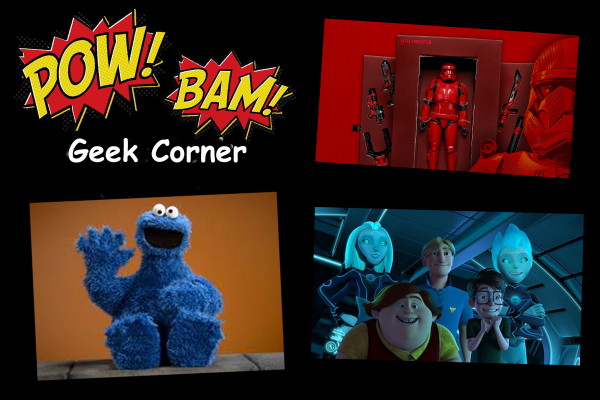 What up fellow geeks? Did you see Spider-Man Far From Home? I did and I am taking my family this weekend to see it again! It was another hit from the Marvel Cinematic Universe. Speaking of movies, news came out this week from Lucasfilm about the new trooper that we will see in Star Wars: Episode IX: The Rise of Skywalker. It was the all red and black Sith Trooper. More will come from this week in San Diego Comic Con. Another geek news smash this week was that Hasbro shared a new project from Hasbro's 2nd HasLab crowdfunding campaign, which is a full size Cookie Monster. Lastly I share some cool new movies and shows that you and your family will enjoy!
Sith Happens
At San Diego Comic-Con 2019, Lucasfilm will celebrate the history of stormtrooper design — and the future. Fans attending the mega pop-culture event (July 18-21) will be treated to a new exhibit of trooper armor from across the Star Wars saga, including a first look at the next evolution in Imperial/First Order soldiers: the "Sith trooper" from the upcoming Star Wars: The Rise of Skywalker. It's a modern and more menacing look befitting its namesake.
"It has some really unique aesthetics to it," says Madlyn Burkert, Lucasfilm archivist, who is co-producing the exhibit. "And it has some subtle ties to previous stormtrooper designs, which I think fans will enjoy discovering."
The STAR WARS: THE BLACK SERIES 6-INCH SITH TROOPER Figure in anticipation of the upcoming film, Star Wars: The Rise of Skywalker. Fans will be able to purchase this figure at the Hasbro Pulse Booth #3329 during San Diego Comic Con and at Hasbro after SDCC.
Me Love Cookies
Hasbro announced an exciting new Pulse HASLAB project that gives Sesame Street fans the opportunity to bring home the ultimate collector's item: a full-sized, pose-able replica of Cookie Monster.
In celebration of Sesame Street's 50th anniversary, fans will have the chance to own this realistic Cookie Monster replica by backing the item via HASLAB, Hasbro's crowdsourcing initiative designed to target fans directly by putting dream products into their hands. With enough fan support the item will go into production in 2020.
Cookie Monster has been a cherished fan favorite for decades, and fans of Sesame Street will revel in the joy and magic of being able to own their own version of the beloved character. The HASLAB Cookie Monster will be a poseable full-body replica armature. Significant in both size and realism, this Cookie Monster stands 38-inches tall and comes complete with premium retro packaging, two original artwork lithographs and a Certificate of Authenticity.
"The success of our first HASLAB project in 2018 exceeded expectations, and we are excited to embark on a new project targeting a diverse fan community with the iconic Sesame Street brand," said Tyla Bucher, vice president of global brand strategy and ecommerce marketing. "To be able to own their very own version of a character has been a wish of Sesame Street fans for years, and we're delighted to put the opportunity into their hands for the first time."
Beginning today, fans can head to https://hasbropulse.com/products/cookie-monster to back the HASLAB Cookie Monster for $299.99. For Cookie Monster to go into production, HASLAB must meet a minimum quantity of 3,000 backers by August 25, 2019. Once the campaign is fully backed, Hasbro will deliver final products to fans in 2020.
Heavy Metal
The Metal Men are back! And back and back and back again, as DC takes a deep look into Doctor Will Magnus' robotics lab as he experiments with what it means to be sentient in a modern world. Beginning this October, DC Publisher Dan DiDio (WEDNESDAY COMICS) and artists Shane Davis (BATMAN, SUPERMAN: EARTH ONE) and Michelle Delecki transform DC's Metal Men in a new twelve-issue maxi-series drawn from events first seen in bestselling hardcover DARK KNIGHTS: METAL.
"I'm a longtime fan of the Metal Men and had a chance to write them briefly in the anthology, Wednesday Comics, several years ago," shares DiDio. "With this new series, we explore the essence of what makes the Metal Men human, by having them caught between Doc Magnus, the man who created them, and, the newly introduced, The Nth Metal Man, the being that gave them life. What I'm enjoying most about this book is the chance to stay true to all existing stories, while building out their mythology in exciting new directions."
With nods to early DC Showcase stories, where the Metal Men first appeared, and DC's long history of science fiction storytelling, the Metal Men discover a warehouse of old robots, older versions of themselves, that are junked and apparently left in disrepair by their creator rather than being rebuilt after their heroic battles. Meanwhile, a mysterious liquid Nth metal has appeared in the science site at Challenger Mountain…the same Challenger Mountain that came through from the Dark Multiverse and landed in Gotham at the end of DARK KNIGHTS: METAL and was the focal point of the DC New Age of Heroes miniseries NEW CHALLENGERS.
"I introduced Superman to a new generation in Superman: Earth One and heard from fans that they truly cared about our perspectives on Clark Kent and Superman," adds Davis. "Dan and I have a goal on this new Metal Men series to give everyone a quality, entertaining story riffing off modern sci-fi narratives in a way that can only be done at DC. Hopefully fans will like our take on artificial life and find the unexpected humanity in these robots."
DC's Dark Side
DC announced today plans to put a twisted and terrifying spin on some of the biggest, most game-changing events in its publishing history with a series of prestige format one-shots called TALES FROM THE DARK MULTIVERSE. Beginning in October, DC's most talented artists and writers will take fan-favorite events from the DC Universe down a dark and twisted path.
TALES FROM THE DARK MULTIVERSE: BATMAN: KNIGHTFALL #1
Co-written by Scott Snyder (DARK NIGHTS: METAL, JUSTICE LEAGUE, THE BATMAN WHO LAUGHS) and Kyle Higgins (DEATHSTROKE, BATMAN ETERNAL, NIGHTWING: THE NEW ORDER), with art by Javier Fernandez (JUSTICE LEAGUE) and a cover by Lee Weeks (BATMAN), this one-shot takes place in a Gotham City 30 years after a broken Bruce Wayne failed to take back the mantle of the Bat. In his place arose Jean-Paul Valley, also known as Saint Batman. Under his iron rule, Saint Batman has turned Gotham into the city of his dreams – killing has become commonplace and criminals live in constant fear—all in the name of justice.
But just when all seems lost, a new hope for Gotham rises: The Son of Bane.
TALES FROM THE DARK MULTIVERSE: THE DEATH OF SUPERMAN #1
The Dark Multiverse takes on the highest-selling comic book event of all time, courtesy of writer Jeff Loveness (Rick and Morty, DC'S NUCLEAR WINTER SPECIAL, DC'S MYSTERIES OF LOVE IN SPACE), with art by Brad Walker (DETECTIVE COMICS) and Andrew Hennessy(SINESTRO, THE DEMON: HELL IS EARTH, TITANS), with a cover by Lee Weeks.
In a broken world much like our own, Lois Lane, twisted by rage and grief over the Man of Steel's death, becomes the Eradicator, taking revenge on those who let Superman die and the corrupt world he could never defeat. Now, with the power of a god, she's going to end the "never-ending" battle by any means necessary, halting the Reign of the Supermen before it even begins.
Joker With A Twist
Today DC announced that acclaimed director, screenwriter and producer John Carpenter and Anthony Burch, writer of the hit video games Borderlands 2 and League of Legends, will make their DC Universe debut in a one-shot comic as part of the publisher's "Year of the Villain" event in THE JOKER: YEAR OF THE VILLAIN #1, on sale October 9.
Now a human-alien hybrid, Lex Luthor has made his appeal to the world, asking its citizens to embrace doom and give in once and for all to evil, humanity's true nature. In exchange, he will grant them the tools to ascend to their ultimate selves. While some DC villains (and heroes) are willing to hear what "Apex Lex" has to offer, the Clown Prince of Crime isn't going to wait around until Lex gets to him. This puts The Joker on a mission to get his swagger back in a world gone bad by out-badding everyone else, proving that the greatest evil is always the one that leaves them laughing.
"The Joker is the greatest villain in comics," said Carpenter. "I'm proud to be reunited with Anthony on this project."
While this one-shot is the first time that Carpenter and Burch will be writing a DC story, they're no strangers to collaborating on comic books that tell big, over-the-top and bombastic tales, having previously co-written BOOM! Studios' Big Trouble in Little China: Old Man Jack miniseries.
"I'm excited beyond words to be writing for Gotham's greatest villain," said co-writer Burch. "I hope the Joker's exploits make you laugh, shudder, and grow nauseous all at once."
Drawing In The Swamp

In a fun time-lapse video that Kirk Scroggs, author and Illustrator of The Secret Spiral of Swamp Kid, posted today of himself drawing Swamp Kid. Warning! Unless you have express permission from young Russell Weinwright to access his personal journal, do not read any further. This blurb is strictly off-limits! Seriously, we mean it.
Okay, if you are still with us, here is what we can share: Russell is a middle schooler; he excessively doodles in his spiral notebook; he has two best friends, Charlotte and Preston; he is not-so-great at sports; and he is pond scum. Nicknamed "Swamp Kid" by his classmates, Russell has algae for hair, a tree trunk of a right arm, webbed toes, and a parsnip for a thumb. Also, Russell's favorite meal is sunlight. Also, a frog lives in his arm.
In this notebook, Russell details, in both hilarious text and green-tinted illustrations (complete with ketchup stains!), what it's like to be different, to be comfortable in his own skin (no matter how slimy), to discover his true talents, to avoid the intense stare of Mr. Finneca (his suspicious science teacher), and to find humor in the everyday weird. This is The Secret Spiral of Swamp Kid by writer and illustrator Kirk Scroggs, and you'll never look at the bayou the same way again.
View this post on Instagram
Breaking On Through
Breakthrough is based on the inspirational true story of one mother's unfaltering love in the face of impossible odds. When Joyce Smith's adopted son John falls through an icy Missouri lake, all hope seems lost. But as John lies lifeless, Joyce refuses to give up. Her steadfast belief inspires those around her to continue to pray for John's recovery, even in the face of every case history and scientific prediction. From producer DeVon Franklin (Miracles from Heaven) and adapted for the screen by Grant Nieporte (Seven Pounds) from Joyce Smith's own book, Breakthrough is an enthralling reminder that faith and love can create a mountain of hope, and sometimes even a miracle. Twentieth Century Fox Home Entertainment presents Breakthrough on Digital now and 4K Ultra HD, Blu-ray and DVD on July 16.
Tales From Arcadia
The second season of DreamWorks Animation 3Below: Tales of Arcadia is premiering exclusively on Netflix July 12th! From creator and executive producer Guillermo Del Toro and the seven-time Emmy Award-winning team behind DreamWorks Trollhunters, executive producers Rodrigo Blaas, Marc Guggenheim and Chad Hammes, the action-packed series features the voice of Diego Luna (Star Wars: Rogue One) as "Krel", Tatiana Maslany (Orphan Black) as "Aja", Nick Offerman (Parks & Recreation) as "Vex", Glenn Close (The Wife) as "Mother", Steven Yeun (The Walking Dead, Okja) as "Steve", Nick Frost (Shaun of the Dead) as "Stuart" and Uzo Aduba (Orange Is the New Black) as "Kubritz".
In the second season of DreamWorks 3Below: Tales of Arcadia finds Royal aliens, Aja and Krel cleaning up the mess that was left behind after their epic victory against General Morando's bounty hunters. Still reeling from the betrayal by their bodyguard, Varvatos Vex, Aja and Krel continue to bravely defend themselves and their "Earthling" friends against powerful dangers old and new, all while attempting to fix their damaged Mothership and return to Akridion-5.