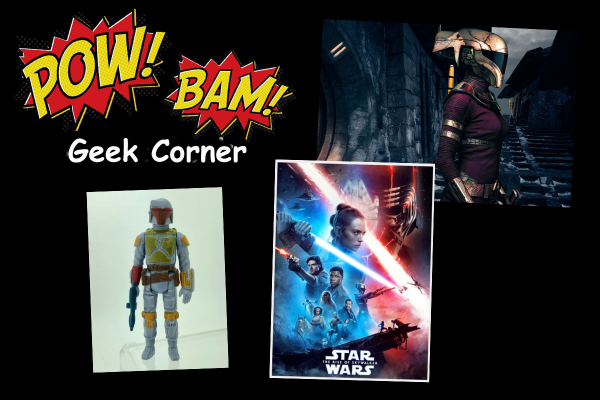 What a week for geek! I am all excited for Star Wars – The Rise of Skywalker trailer dropped earlier this week. I purchased tickets for my family and I to see the film on opening night. We are pumped. I can't wait to see how this saga ends. So this week's Geek Corner will be about all things Star Wars.
The Trailer
A year after the events of The Last Jedi, the remnants of the Resistance face the First Order once again—while reckoning with the past and their own inner turmoil. Meanwhile, the ancient conflict between the Jedi and the Sith reaches its climax, altogether bringing the Skywalker saga to a definitive end.
What Do You Collect
My favorite Star Wars film is The Empire Strikes Back. When I was a kid I remember watching that movie over and over. It got to the point where my parents got my the Star Wars trilogy on VHS because we kept on renting it over and over again. Now, you can convert tapes to digital (click over here to learn more) and we still watch it from time to time. One of the coolest characters in ESB was Boba Fett. He was a bounty hunter looking to find the Millennium Falcon for Darth Vader.
Not only did he look awesome, but his ship, the way he worked and how people feared him added to his cool factor. Now for the most part my parents kept all my toys from my childhood that now my daughters play with there were a few items that was missing from my collection. Recently I worked with a company about how eBay is helping geeks like me get pieces of their childhood memories back. I was sent a Vintage Star Wars Boba Fett Action Figure With Original Gun 1979 from Kenner on eBay.
Earlier this month when Triple Force Friday happened that unleashed a bunch of cool toys, clothes and gadgets from Star Wars, eBay was promoting their own Star Wars collections. If you are still looking for items you had when you were a kid make sure you check eBay. eBay – the largest Star Wars store in the galaxy – is celebrating five decades of the saga's history by releasing 100 rare and retro collectibles and merchandise at www.eBay.com/StarWars. From rare comics signed by Harrison Ford and Carrie Fisher to an original movie banner from the 1977 premiere and a Funko Pop! signed by Adam Driver, eBay has something available for every type of Star Wars fan. So jump into your ship and check out eBay for all the Star Wars stuff you are looking to add to your collection.
New To The Galaxy
Billy Dee Williams and Ian McDiarmid will be joining the Star Wars universe playing the roles of Lando and Palpatine, but there are some new actors in the galaxy. Naomi Ackie plays character named Jannah. She is a warrior and looks to help the Resistance. Keri Russell is playing a person connected to Poe Dameron named Zorri Bliss is in the movie. She is from a frozen planet called Kijimi. Last but not least is Richard E. Grant who is part of The First Order plays Allegiant General Pryde. December can't come fast enough!