Ian Reed Kesler is this week's guest on The Life of Dad Show.
On The Show
Ian Reed Kesler talks with The Life of Dad Show host, Art Eddy about his new show on the Disney Channel called Sydney To The Max, what was going on in his mind when he became a father, driving home from the hospital after his child was born and much more! You are going to love his take on fatherhood.
Ian also answers the Life of Dad Quick Five.
About Sydney To The Max
Set in the present day with flashbacks to the 1990s, the comedy revolves around outgoing middle school Sydney Reynolds who lives with her single dad Max and with her progressive grandmother Judy-three generations under one roof.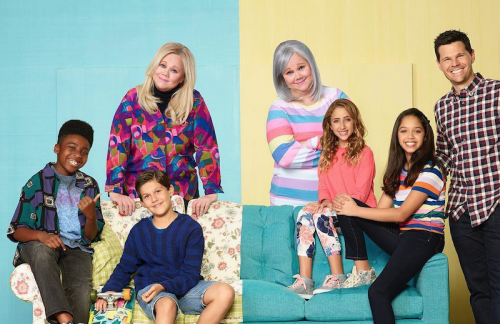 Ian Reed Kesler stars as Sydney's sensitive and doting – but slightly overwhelmed -single father Max Reynolds, in Disney Channel's multigenerational comedy Sydney to the Max. At first glance, Max is very different from his younger and much more adventurous self, seen in flashbacks to the 1990's. He wants to be more hip in order to better understand and connect with Sydney, and he sometimes relies on his more "with it" mother Judy to fully get what his daughter Sydney is going through.
About Ian Reed Kesler
A veteran actor, Kesler is best known for his recurring role of stock market trader and former Pearson Specter Litt tenant, Stu Buzzini, on the popular series Suits. He has guest starred and recurred on a wide variety of series including ABC's Fresh Off the Boat, Disney Channel's Kickin' It, NCIS: Los Angeles, CSI: Crime Scene Investigation, The Loop, Two Broke Girls, Nicky, Ricky, Dicky & Dawn, Justified, Always Sunny in Philadelphia, Lucifer, Weeds, Training Day, Rush Hour, iZombie, and many more. Kesler's feature film credits include the hit romantic comedy 500 Days of Summer, Off the Menu, Poster Boy, Politics of Love and Below the Beltway. Born in Birmingham, Michigan, Kesler currently resides in Los Angeles with his wife and two children.
Follow Ian on Twitter at @IanReedKesler and make sure you check out Sydney to the Max on Disney Channel. 
About The Life of Dad Show
The Life of Dad Show is the multimedia flagship property of the world's largest network for fathers. With 600,000 downloads of its popular podcast and 300,000+ viewers of the Facebook Live show since 2017, The Life of Dad Show has gathered advice, stories and strategies from an unparalleled list of household names, from Shaq to Jim Gaffigan, to Michael Strahan and Mark Hamill, each offering a glimpse into their personal life as a dad. The show airs Mondays and Wednesdays on Facebook Live, YouTube and Instagram TV. The podcast comes out weekly.
Subscribe to The Life of Dad Show on iTunes and leave a review and you could win a Life of Dad prize pack.