"Just be the kind of person you want your child to be. Children learn so much by example. Much more then we can ever teach them. They tend to correspond to what we do to rather what we say."
Art Eddy: You are known for playing some really fun and entertaining characters on TV. I want to talk about your role on Seinfeld as J. Peterman. How much fun did you have playing that role? You played that role so well!
 John O'Hurley: Well thank you. I will tell you that every now and then I will leaf through a script that I have saved from the show. In a very nostalgic way for me that was the day the music died when that show ended. There hasn't been anything like it. It was just a rare moment in time when four of the smartest actors in Hollywood got together and had a lot of fun.
I was grateful that I was one of the people that held onto the belt loops of that show. That show skirted to number one and they will probably be the number one show in the history of television. It was a wonderful time. I miss the championship team and the championship season.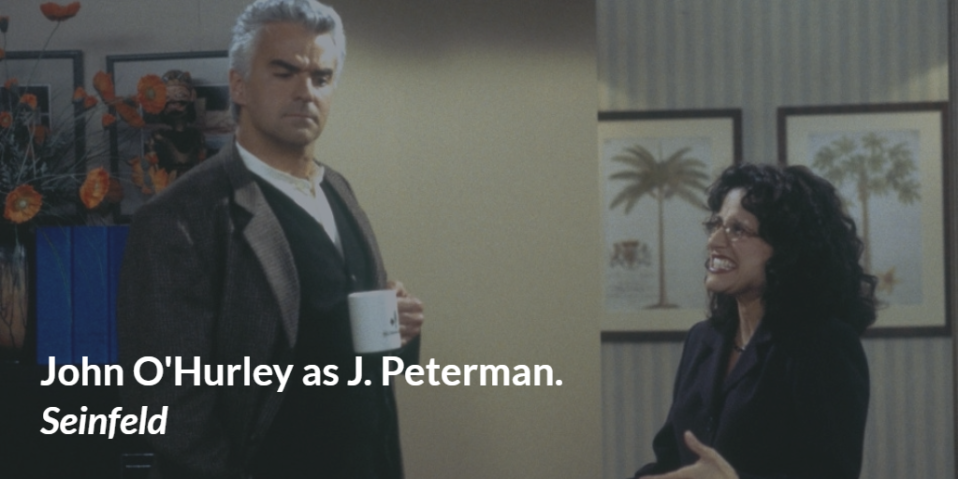 AE: I am a big fan of that show. I love watching the behind the scene clips and blooper reels. I have to say that it is very impressive to watch you not crack up when someone messes up a line or cracks a joke when you were filming a scene. I am guessing that takes a lot of talent as an actor to not laugh during a scene.
JO: (Laughs.) I had enough to worry about trying to remember all of the J. Peterman monologues. They would write in heavy form for me. The character was always very verbose. I was always keeping those lines in my head.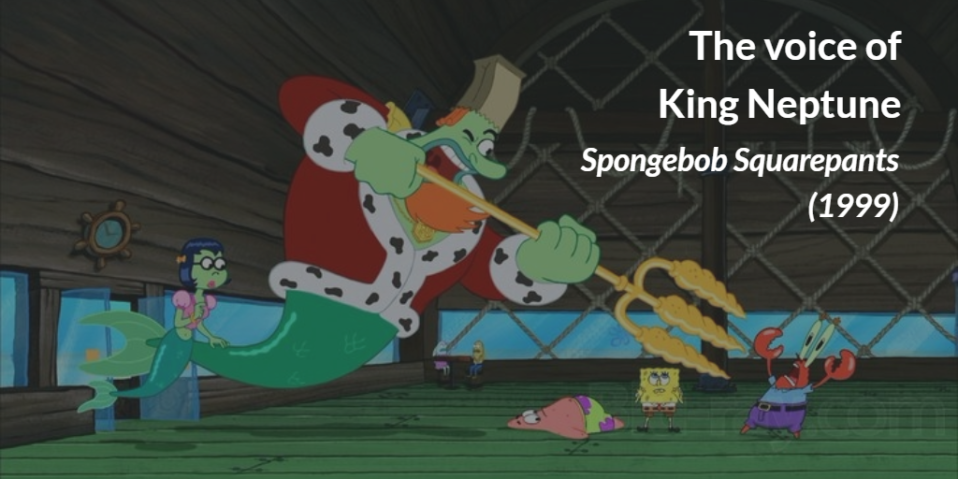 AE: You are also a fantastic voice actor. I know you have a background in theater, which I feel that voice actors need to have to make each character's voice unique. How do you prepare for a role and get that signature voice for each character?
JO: I don't have too many character voices. I have very urbane characters. I am kings, princes, a god and King Neptune. I do those types of heroic and grandiose type of characters that seem to fit with those voice. There are other actors that are wonderful. They can do fifteen different voices. They are very versatile in that respect. I tend to lean toward the more big bravura type of things. I don't have to prepare too much. I just have to open my mouth.
AE: What popped into your mind when you found out that you were going to be a father?
JO: It was overwhelming for me because I am a late father. I waited many, many years until I found the right woman to marry. So fatherhood came late to me. I also believe that it came at the right time. I have more of the means and more the time to spend with my child to do the things that a lot of parents can't do.
Today for example is Little League practice. I will be the only dad there. I like that. The fact that I can sit there in the stands and spend two hours of just watching him practice at Little League.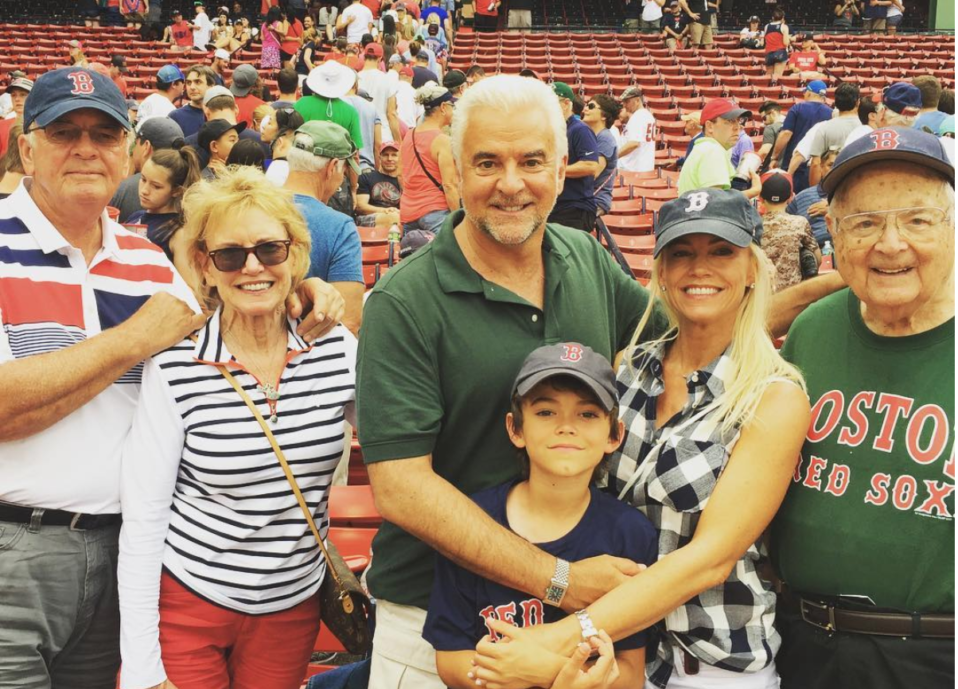 AE: What are some of the core values you looked to instill into your son as he grows up?
JO: I think of things in three basic principles. One is to grow up and live by your imagination. I believe what we imagine is what we should be doing. I have always lived my life that way. That way he has a fertile field in front of him and the world is a sense of infinite possibilities.
The second thing is to live contemplatively. That is to be still. In that comes your sense of spiritualty and your sense of living in that present moment.  Being able to appreciate the wonder of the world that is going on around you.
The final element is appreciation. The idea of recognizing not only the inherit vulnerability in every other human being. From that comes the nature of being charitable, loving and also the fact that everyone has value. All good things come from those three principles; imagination, contemplation, and appreciation.  That is what I try to teach him.
AE: How do you balance work and family?
JO: Unfortunately I have to travel a lot. I really miss my responsibility as a parent when I am away. I don't like that I have to put everything on my wife. I like to be there. These are precious moments. You don't get these Little League moments back. They disappear too quickly. The little creatures become big creatures very quickly. You want to be present in those moments. Just be there. That is what it is all about. It is a shame to have to look back over your shoulder and say where was that little kid that was playing Little League? I miss him. You can't get that back.
AE: What is the one biggest piece of advice you have for new dads?
JO: Just be the kind of person you want your child to be. Children learn so much by example. Much more then we can ever teach them. They tend to correspond to what we do to rather what we say. If you are imaginative, if you are still, if you are a grateful person, if you are polite and fair. Just those simple actions your child will see will probably teach them more than what you tell them.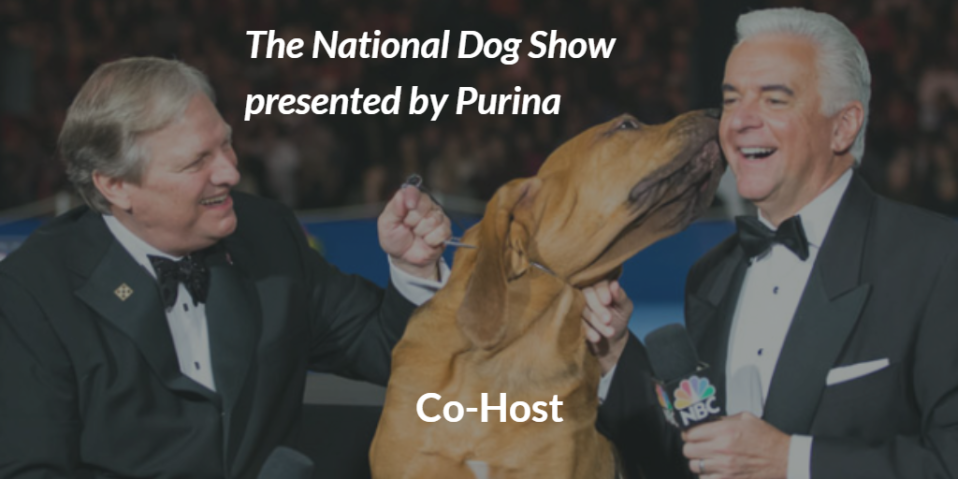 AE: You are the host for The National Dog Show presented by Purina. Tell me about the show and what viewers can expect this year on the show.
JO: This is the sixteenth year that we are bring the National Dog Show presented by Purina to Thanksgiving audiences. It is right after the Macy's Thanksgiving Day parade and just before football starts. It is a wonderful piece of program. It is a wonderful piece of entertainment for the entire family.
It is the largest dog show in the history of television. We have an audience of almost 30 million people watching every year. We have been successful for sixteen years in that endeavor. We have two thousand of the best dogs in the country and 180 plus in different breeds. It is an enjoyable day of entertainment as the dogs compete for Best in Breed, Best in Group and Best in Show.
AE: How did you get involved with the show?
JO: It was a very odd experience. The head of NBC Sports at the time John Miller took the movie Best in Show home. He watched it. He laughed out loud and thought the whole idea of doing a dog show might be entertaining. So on the Monday meeting he says, 'I think I know what we are going to do on Thanksgiving Day between noon and two. We are going to do a dog show.'
They about laughed him out of the office, but sure enough at the end of the day he contacted the Kennel Club of Philadelphia. Tuesday morning he called me up in L.A. I pick up the phone and say hello. He said, 'Woof, woof.' That is how it all started. (Both laugh.)
AE: Do you have a favorite breed of dog and do you have any dogs of your own?
JO: I have three dogs at home. One is a Cavalier King Charles. Another one is an unusual breed called a Havanese. Then I have a little rescue dog that I rescued from the Humane Society out in St. Louis. She has changed the energy in our household. It has been like a sense of renewal.
My favorite breed from a dog show standpoint is an Irish Setter because of the amber hair and the beautiful posture of the dog. When it comes into the arena it looks like the redhead that just walked into the cocktail party. Everybody's head turns. They are beautiful dogs, but they are not for me in terms of owning one. They need a lot of space and they are very active dogs.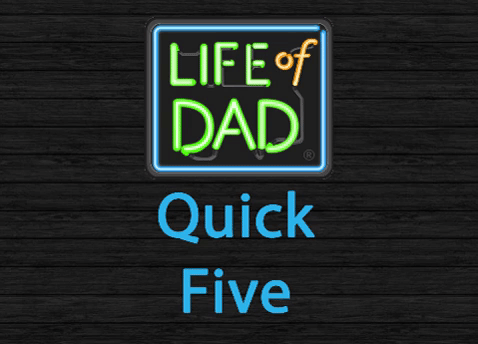 AE: Do you guys have a favorite family movie that you all love to watch together?
JO: Diary of a Wimpy Kid.
AE: Do you guys have a favorite song that you all like to sing to or dance to as a family?
JO: Not one in particular.
AE: Describe the perfect family vacation.
JO: We have a property in Vermont. It sounds pompous, but I bought a lake in Vermont. We have a family compound up there. Every year that he goes back there it becomes more familiar to him. It is a place for him to explore and grow. That always is our perfect family vacation spot.
AE: Favorite Seinfeld character other than J. Peterman is…
JO: I found Michael Richards absolutely fascinating to watch. Not only what he did, but the way that he prepared. Every one of those skid stops that you saw or the wonderful mannerisms he did with his hands or the way he used his voice. He would practice those like (Mikhail) Baryshnikov would practice his ballet moves. Everything was studied. He would practice for hours that skid stop he would do when he came into Jerry's apartment. Everyone was different. Everything had a physicality to it. It was wonderful to watch him as a performer.
AE: Favorite character to voice the most is….
JO: There is a character that I do named Hadithi on The Lion Guard. He is kind of a bombastic hero with a gentle side to him. They built the character into a lot of fun. I loved to do Roger Doofenshmirtz. Just to be part of the Phineas and Ferb series was so much fun.
About John O'Hurley
John O'Hurley has become one of the entertainment industry's most versatile players, Award-winning actor, show host, advertising spokesperson, feature film star and one of People Magazine's 'Sexiest Men Alive'. He has served as host of The National Dog Show presented by Purina on NBC since its inception in 2002.
Best known as J. Peterman on Seinfeld, the #1 syndicated television show in the world, O'Hurley's television career began in daytime television on a number of soap operas. He starred on the inaugural edition of ABC's Dancing with the Stars, and was the show's ultimate cham­pion. O'Hurley went on to star on Broadway in Chicago, as the male lead, Billy Flynn, and hosted the syndicated game show, Family Feud. He has written three books, the New York Times bestseller, It's Okay to Miss The Bed On the First Jump, Before The Dog Can Eat Your Homework First You Have To Do It: Life Lessons From A Wise Old Dog To A Young Boy and The Perfect Dog, published by Penguin Books.
John lives with his wife, Lisa and his son, William in California.
Follow John on Twitter on @ImJohnOHurley and make sure you watch The National Dog Show presented by Purina on Thanksgiving Day.