Jon Seda stars as Det. Antonio Dawson in the Chicago P.D. Intelligence Unit on the hit NBC drama Chicago P.D. Seda, a New Jersey native and amateur boxer, hung up his gloves in 1992 when he made his screen debut as a fighter in Gladiator. Throughout the '90s, Seda's star rose through various film and television projects, but audiences took notice when he played the love interest of Jennifer Lopez in the biopic Selena.
Seda was nominated for Best Male Lead at the 1995 Spirit Awards for his role in the film I Like It Like That, opposite Rita Moreno. His other film credits include Carlito's Way, 12 Monkeys and the 1996 critically acclaimed film The Sunchaser, opposite Woody Harrelson, which was nominated for the prestigious Palme d'Or at the Cannes Film Festival.
In 2010, Seda appeared in the Emmy Award-winning HBO World War II miniseries The Pacific, co-starring as legendary U.S. Marine Jon Basilone. He later joined the cast of the acclaimed HBO series Treme as a series regular.
His other television credits include roles on Chicago Fire, Homicide: Life on the Street, Ghost Whisperer and Oz. Seda has also guest-starred on Hawaii Five-0, The Closer, Burn Notice, House, CSI: Miami, NYPD Blue, Las Vegas and Law & Order, among many others.
Seda and his wife, Lee and their kids live in Chicago.
Art Eddy: Let's first talk about your role on Chicago P.D. as Detective Antonio Dawson. The show is now in Season 5. You came back to the show this season. What was it like to be back on the set?
Jon Seda: I will tell you it is pretty amazing. It has been an incredible rollercoaster ride. Who would have thought back when I started Antonio recurring on the first season of (Chicago) Fire who would have thought it would have turning into little old (Chicago) P.D. to have turned into the whole, big Chicago that it has turned into.
It has been an honor and privilege to be doing something that has never been done before. An actor to have gone on from one show to a spinoff show and then spun off and then brought back. It has been great working with Dick Wolf and NBC. I have worked with them for a long time. It is really a great family to be a part of.
As an actor to be able to work on one show that is doing well is great. To be able to bounce between all of these actors and actresses is incredible. It is like a dream come true. I have my P.D. family and we are in Season 5. So much has happened and we have grown so much. We have grown together. To be able to come back is like a family reunion.
AE: From the start of the series to now how do you feel that your character has grown? Do you have a favorite story arc for your character?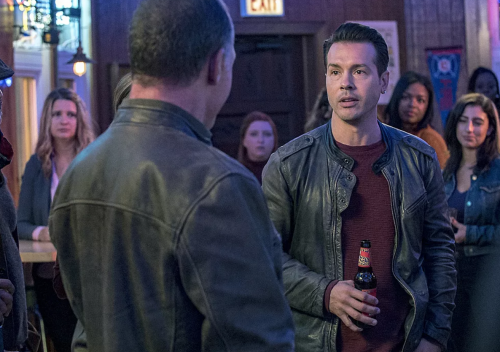 JS: I think what is great is that like in real life in regards to these police officers in particular that changes happen. You move to a different department. Sometimes you come back for whatever rhyme or reason. That said you are continuing to learn more and become more experienced. They see things from different perspectives and angles that you might not have seen from before.
In regards to Antonio he has been everywhere from Vice to Narcotics to Intelligence and then being a Chief Investigator. Those are all different perspectives and angles that makes him a better cop. It makes him better at his job. He can see things from different perspectives. I think that you are always learning. For Antonio bouncing around and moving in different departments serves him better in being able to do his job.
AE: You have been on many films and TV shows. Some of those roles had you play in a similar role to Detective Dawson, but how did you approach this role compared to those in the past?
JS: It is funny. You never know what opportunities that will come your way and what it is going to turn into. I originally turned down the role. (Both laugh.) I was a regular on another show at the time for HBO called Treme.  That was in New Orleans. I was bouncing around there from that show and family life. I was thinking about what I wanted to do next.
This kind of came in the middle of that. I really wasn't ready to wrap my head around what it was. At that time Chicago Fire hadn't aired yet. I really didn't have much of a visual of what it looked like. Dick Wolf explained what it was going to be about and what the character was going to be about. I was talking with Eamonn Walker and David Eigenberg. These are guys that I respect so much in the industry and I have worked with in the past. Coming on to play Monica Raymond's brother, Detective Dawson seemed really intriguing.
Were they thinking of P.D. back then? I have no idea. Maybe they were. I am glad that I ended up doing it because looked what it turned into. My approach to it was to just start fresh. We have incredible writers and producers. It makes my job easier. I just see what they are writing and where we are going and do my best on what they want me to bring to the show.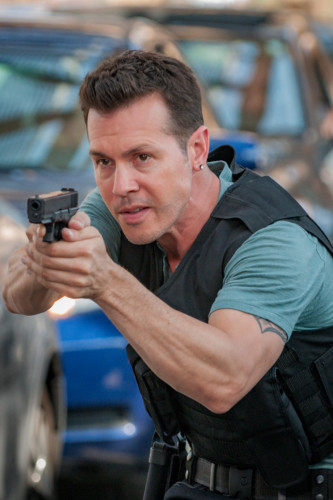 AE: You are on social media. Do you engage with fans of the show when an episode is airing on NBC?
JS: (Laughs.) I have gotten better. I am still a little old school. Hey look I am on there. I am on Twitter and I am on Instagram. It took a lot of pushing by my wife. She said that I wanted to get on it. I told her I didn't. She pushed me to get on there.
It is cool. I think it is pretty amazing on how you go from back in the old days when somebody had to write a letter. Maybe and hopefully they will get a response from someone that they wrote it to. Now it can be so instant. It is pretty cool. I do it now more. I am getting better. Without the fans we don't have a show. The fans are the number one most important thing. I try to interact as much as I can.
AE: What popped into your mind when you found out that you were going to be a father for the first time?
JS: Oh man. Wow. I will tell you that honestly I didn't think I was ready. I was really worried. I remember thinking right away that I was going to fail. My soon to be son is going to hate me. How am I going to change a diaper? I was just so worried as we were getting closer and closer to when my son was going to be born.
Truthfully and honestly the moment that he was born and I looked into those eyes for the first time I felt in my heart that everything was going to be fine. Everything is just going to be fine. All of a sudden I was the diaper king. (Both laugh.) I was changing diapers better than my wife. I was Mr. Perfect. A fold here and put the tape here. I was the king. I was feeding him. That part came real natural.
AE: What are some of the core values you look to instill into your kids as they grow up?
JS: One thing is that first and foremost is our faith. We want to instill and make sure that they have a solid foundation with their faith and having God as part of their lives. It is not about being perfect. Just trying to do the best they can. Try to be respectful. It is the same thing that I was taught. Having respect for everyone. Trying to have an open heart and a kind heart. Trusting the spirit in them and dating the right guys. (Both laugh.)
AE: What is the one biggest piece of advice you have for new dads?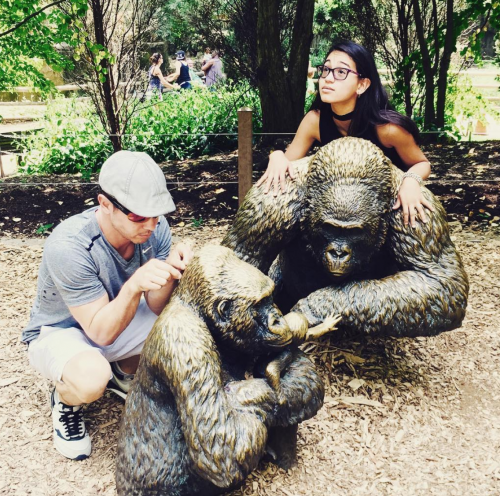 JS: Trust your heart. Know that if you trust your heart you can't go wrong.
Life of Dad Quick Five
AE: Do you guys have a favorite family movie that you all love to watch together?
JS: One of ours is Clue. We love Clue. Oh and also Elf. Every time near Christmas we watch Elf.
AE: Do you guys have a favorite song that you all like to sing to or dance to as a family?
JS: We are a big singing and dancing family. I got to say that. This might be cheesy, but we do Grease a lot. My wife loves Grease.
AE: Describe the perfect family vacation.
JS: We really don't have a place that we call our favorite spot. It is just making those memories wherever we go. When we are together as a family it is the vacation and the memories of us together laughing and having a good time. Those are the things that we remember. It is not necessarily the place that we go to together. It is from the time between the packing and unpacking that makes that time so special.
AE: Name one role you would love to land for your next project.
JS: There is this super hero called The White Tiger. I don't think it has ever been made. He happens to be of Puerto Rican descent. He interacts with Spider-Man as well. That would be awesome. If we could do a movie or a TV series that would be cool.
AE: When you are not working your favorite thing to do or hobby is….
JS: For me I love hitting my bag. It is a boxing bag. It is in the garage. I have my jump rope. I always do my boxing routine. That is sort of zen time. It is my thinking time. You can get stress out with that. So I love hitting the bag. I am a little of a jack of all trades master of none for music. I play a little guitar too.
Follow Jon on Twitter at @JonSeda and watch Chicago P.D on NBC on Wednesdays at 10/9 Central.