Kevin Cleary is the chief executive officer of Clif Bar & Company. Kevin focuses on expanding Clif Bar's growth in the sports nutrition and healthy snacks category while leading the company's day-to-day business operations.
Guided by their Five Aspirations, which are; Sustaining their Business, their Brands, their People, their Community and the Planet – Kevin has grown Clif Bar's product portfolio, expanded national and international distribution and increased the company's use of organic and sustainable ingredients.
Kevin joined Clif Bar in 2004 as executive vice president of sales. In 2006, he was promoted to COO. In 2009 he was promoted to president and COO, and in 2013 Kevin was named CEO. Prior to joining the company, he was senior vice president of marketing at R.R. Donnelley, where he oversaw the company's sales, marketing, business development and operations. He was also a director of customer development at Quaker Oats.
A competitive athlete and father of three, Kevin knows that good food feeds great adventures. A runner and cyclist, Kevin runs over 20 miles a week and bikes to work as often as he can. He is a two-time Ironman finisher, has competed in several Half Ironmans and has completed six marathons. In 2015, Kevin competed in NBC's American Ninja Warrior. When he isn't running, cycling or racing over obstacles, he can be found coaching his sons' soccer team. Kevin lives in Marin County with his wife and their sons.
Art Eddy: Let's first talk about your position as the CEO of Clif Bar and Company. I love the five aspirations of sustaining your business, your brands, your people, your community and the planet. Tell me how you incorporate that into work each day.
Kevin Cleary: We are a purpose driven organization. Gary (Erickson) and Kit (Crawford), they are husband and wife. Gary is the founder. Probably 15 years ago they decided not to sell the company. They had an offer for a 120 million dollars. Clif Bar is never about the money. They decided to walk away from the money. They wanted to keep this company private because they could chart their own course.
At that time we got really clear about what the company was about. It was about sustaining our business, our brands, our people, our community, and our planet. We think about all those five things as our business. That is how we run the business today.
Decisions large and small I ask everyone in the company to think through what is the best option when you consider all five of those things. We are not perfect. We are not a perfect organization, but by looking through that lens of the five aspirations we come up with better decisions. So our decision to put our bakery in Twin Falls, Idaho, which was a 100 million dollar plus decision; we ran that site versus other sites we were looking at. We ran it through that business model of the five aspirations and what is the best thing considering all five of those.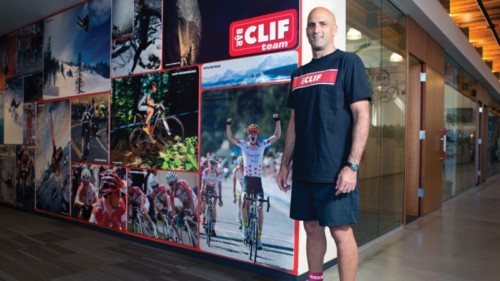 AE: When did you realize that you wanted to become a CEO of a company?
KC: It is funny. I had a vision pretty early on when I was 22 years old. I was just working for a few months. I wrote down on a sheet of paper what my goals were. In one of the professional goals I wrote down that I wanted to be a CEO of a food company. I never imagined that it would be at a cool place like Clif Bar, which aligns with not only my passions on how I want to run a business, but my personal passions as well around biking, cycling, and personal exercise. It has been just a great ride.
AE: One of your goals is to break the current food system to make it better for people. How do we as a whole go about doing that?
KC: One of the things when we made this decision back in 2001 to run this company on the five bottom lines was to sustain this planet. We took our products organic. Today over 75 percent of the ingredients we buy is organic. Since 2002 well over half of the things we purchased were over one half billion pounds of organic ingredients.
It is important to us because we think it is better for farmer health. It is better for people working on the farm because they are not being exposed to toxic pesticides. It is better for our planet, our streams, and our waters and our soil. We are not having the runoff of all these pesticides and herbicides that are toxic that are running into our water systems.
On the other side of it we just firmly believe that it is better for people when they are eating the products and food. It is an option that we need to cultivate. We are working hard on making sure that we are doing our part to help educate consumers about organic. Making sure people understand the benefits and working to increase the acreage here in the U.S. for more organic acreage. That is one of the challenges that we have today. Less than one percent of the agricultural land across the U.S. and the world is spawned organically.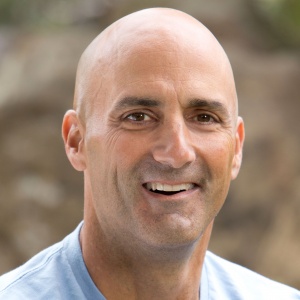 AE: Switching to fatherhood, what were some of the first few thoughts that popped into your mind when you found out that you were going to be a dad?
KC: When I found out I was going to be a dad was the same moment I found out that we were going to have twins. So that kind of popped my head off. Although we have been trying for a while and so when I first heard it I couldn't stop smiling. I was bouncing off the walls. There was of course that oh my God moment. You know as a dad where you say okay something has changed here. While I can live my life the way I have been living it for the next seven months you are like wow this is going to change big time.
The crazy thing is that it just changes overnight. As soon as they are born your whole life changes in so many wonderful ways. It was a trip. I was super fired up about it.
AE: How is running a company similar to that of being a father?
KC: (Laughs.) Well let's see. First off I would say running a company is easier than being a father. We are going to put that out there first. I think a lot of it is sharing your values with people. Whether you are a CEO of a company or you are a dad is that living by example is critical. That is something that I try to do as being the CEO of Clif Bar as well as being a dad, which is really living it. One of the things we do here at the company is to pay people to work out. We give people a half hour a day to work out on company time. We pay you for it. It is on company time.
That is part of what I do. I go into the gym and work out. I go for runs. I go for bike rides. I make it very visible for the company so that they know it is okay. It is the same thing that I do with my kids. It is really setting the example of the way I want to Clif Bar to be and how I want my kids to be.
AE: What are some of the core values you look to instill in your kids as they grow up?
KC: When I hear that question I am kind of intimidated. It is a daunting thing that you have these lives you are helping nurture and bring along. The things for me that I try to instill in them is a sense of compassion. I have three boys. The twins are eight and the youngest is six. You can imagine that there is not a ton of compassion for one another right now. (Both laugh.) They are always trying to go after one another. They are wrestling or fighting. It is always happening. Compassion is just so critical for us to understand differences in people. Having compassion for differences and having compassion for other humans and other living things. Compassion is critical for me.
The other one is owning it. That is one I have lived in my own life. What that is all about is just owning it. Being honest with yourself about how you showed up. Being honest with others. Just owning your product or your behaviors. You can imagine talking to kids who are eight and six. They just cringe. They are going to be throwing this back in my face. I talk to them about it all the time.
The last thing for me is trying to cultivate an environment where they are just themselves. That idea helps with self-esteem. Just being yourself, which is actually one of the ingredients here at the company. I think it is important that we don't all try to fit in. Whether we are employees or kids, we don't try and fit into a mold. We bring our best selves into every situation that we are in. It is okay. We should be cultivating those differences and not trying to be something else. Being yourself is another thing that I am trying to work on with them.
AE: How you balance work and family?
KC: I have been given a couple of talks lately about work life balance. We got to throw that out of the window. That whole concept of people somehow managing a balance sheet of love to and how. It just doesn't exist. With the iPhone and technology today life is just life. It is just all life.
So I think the question we need to be asking is how do we stay whole? A lot of the things we do here at the company is about staying whole. Like what I mentioned about the workouts. We pay people to work out. We pay people to do community service. It is a minimum of 20 hours a year, but there is no cap on how many hours that they can contribute. It is about staying connected to the things that you love. We have on-site child care here. You will see kids coming in and out either for lunch or just during the morning or afternoon.
It is all about trying to keep people staying whole. I believe that when people are whole they are at their best. I will take seven hours of pure productivity over ten hours of drudgery any day of the week. We have high engagement here. People are committed to the purpose of the company and doing right by those five aspirations. So we get a lot of passion from the organization.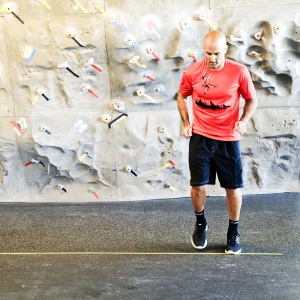 I want people to stay whole. For me it is all about living the life through the company. So I will go for a bike ride on Fridays. Sometimes I am working on Sundays. Sometimes I am cutting out early because I am coaching my son's baseball team. There were a lot of times that I would leave at 3:30 or 4 to go coach my son's team to stay connected with them. That is just important for us to think about how we stay whole, how we live our lives through work and how it becomes seamless so it doesn't become a separate thing like my work life and my life life.
AE: What advice do you have for new dads?
KC: My advice for dads is to soak up every minute. As you know those first few months sound like heresy because they are so challenging. I mentioned coaching my kid's baseball team. I have coached over the past four years over ten teams of my kid's sports. So there are no excuses.
Be involved. Get involved with your kid's lives. Watch them flourish. You don't have to be a perfect. I am not a perfect dad. I think about the times I make a mistake and say how can I learn from that? It is just like what I do at work. It is about being present for them and really engaging with them and being part of their lives. We can get lost. Being a CEO of a company I can make plenty of excuses for not being at their games or coaching them, but there are no excuses. I am going to be involved.
Life of Dad Quick Five
AE: What is your favorite family movie you guys like to watch together?
KC: It is Cars. You know how it is with kids. They find a movie and latch onto it. So right now it is Cars.
AE: Do you guys have a favorite song that you all like to sing and dance to as a family?
KC: Embarrassing, but yes. It is the Whip/Nea Nea song. (Both laugh.) That is always playing. We do the little dance that they call the stanky leg.
AE: Describe the perfect family vacation.
KC: The perfect family vacation is a beach vacation. My kids hang out and roll around in the sand and play in and out of the water. They don't get tired of that. So it is a beach vacation.
AE: You have completed many Half Ironmans and marathons. What is your next challenge you look to take on?
KC: I am racing Kona Ironman, which is the world championship in October. That is the big thing that I got on the agenda right now, which I am totally pumped for.
AE: What is your favorite Clif Bar snack?
KC: It is a brand new product which we just launched. It is our Clif nut butter filled bars. My favorite one of that is the coconut almond butter bar. It is a Clif Bar with nut butter filled inside. It is outrageous.